By Tamara Koedoot
Dear Peter, Don't worry but my plans have changed drastically.
Those were the beginning words of an email I sent to my boyfriend one day during a six-week solo trip through Southeast Asia. This was my first solo trip I had been on since Peter and I had been together and he was apprehensive, at best! He is a worst-case-scenario kind of guy, always imagining some hidden danger lurking around every corner. He tried his best to convince me not to go, without success.
Half way through my trip, I was in Luang Prabang, Laos, sitting on a bench under the shade of a large tree when a young boy on a bicycle rode past with a friendly wave. I waved back and he circled around, parked his bike and sat down next to me. He introduced himself as Chit and asked if he could practice his English with me. Although he was far from fluent in English and I only know a few words in Lao, I was able to deduce, through a combination of sign language and spoken words, that he had left his village at the age of 12 and had been a novice monk for the past 5 years. He had just left the monastery a few days earlier and found a job in a local restaurant.
We shared much laughter while bumbling through our conversation. Then Chit asked, "Would you like to visit Ban Naxan, my village, and meet my family?"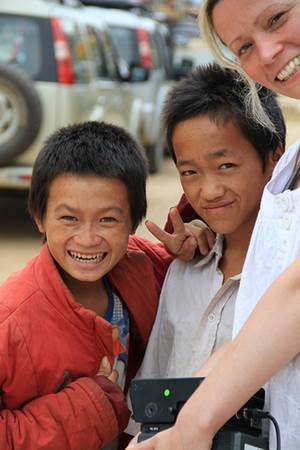 My heart skipped a beat with excitement over such a great opportunity. I imagined a ten-minute walk to a nearby village to experience an interesting cultural exchange with his family. Then Chit informed me the village was six hours up the Mekong River on a wooden boat and then a one or two hour hike into the jungle to his village! Needless to say, this complicated matters. I had a plane ticket to fly to Hanoi, Vietnam, the following day. I told Chit that I would see if I could change my plane ticket and stop by the restaurant later to let him know if I had been successful.
The first two travel agencies I walked into said it was impossible to change my flight. Not easily dissuaded, I walked into a third travel agency and they informed me that I could change my ticket for a $5 change fee, but the next flight available was in six days. Minutes later, I walked into the restaurant where Chit worked, let him know I had changed my ticket and I could go visit his village. His eyes lit up with excitement. He had not been home in five years!
We made arrangements to meet at the market at 8:00 the following morning to pick up some things for our journey. My first stop was at an Internet café to send my boyfriend the following email:
Dear Peter,
Don't worry but my plans have changed drastically. I am no longer going to fly to Hanoi tomorrow. Instead, I am going to a small village 6 hours up the Mekong River and then a 1-2 hour hike into the jungle with a boy named Chit. I won't have any method of communicating for the next 5 days, but please don't worry. I will be careful. I am bringing plenty of drinking water and I have my antibiotics in case I get sick. I will call you as soon as I am back to civilization 5 days from now. If you don't hear from me in 6 days, please ask around for a boy named Chit who works in a restaurant on the main street in town.
Much love,
Tamara
I met up with Chit in the market, picked up some food and water and purchased the tickets for our journey. Tickets were $8 each, one way, a fare that someone making $2 a day just can't afford.
Essentially, I was Chit's ticket home. We boarded the long wooden open-air boat, took a seat on the hard wooden benches and headed up the Mekong River. Six hours later we pulled up on the shore, hopped out and began our hike along a narrow dirt path, deep into the humidity of the jungle. Three hours after we set out on foot, we made it to Ban Naxan.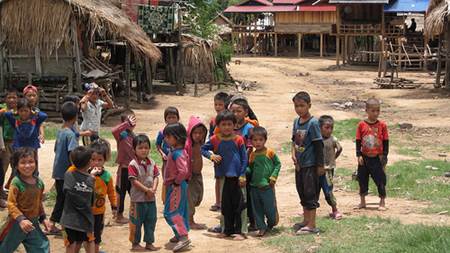 As we came into the village, children poked their heads out the windows of their huts and excitedly called out "Falang, falang!" Falang is the word that people from Laos use for all Caucasians. The children and an occasional adult began to follow us through the village, looking at me as if I were an alien from a distant galaxy. Most of the children and many of the adults had never seen a falang before. I felt like the Pied Piper of Hamelin!
When we reached Chit's hut and climbed the stairs, his family nearly cried with joy of seeing him again. I had brought their boy home! I rarely saw Chit, the only English speaker in the village, after his homecoming. He was busy catching up with friends he hadn't seen in years.
My home for the next five days provided nonstop adventure and, to be honest, a little more than a slight fear of contracting some debilitating intestinal ailment from drinking water that came from the same river in which people bathed in and water buffalo wallowed. I lived with Chit's family in a wooden house on stilts with a thatched roof and farm animals living below the house. I felt as if I had stepped back in time into a village with no electricity, no running water, no restaurant or grocery store, and only one English speaker in the entire village of 200 or so people.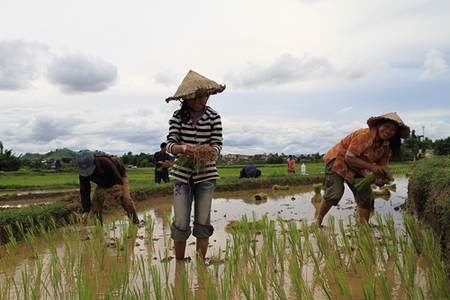 My days were spent with the women of the household collecting vegetable greens from high in the verdant hills, gathering moss from rocks in the river and making dried seaweed, and harvesting rice by hand with a long handled knife. After a long day as a gatherer, I returned to the hut, stripped off my sweaty clothing, wrapped a sarong around my body and headed to the river to bathe, along with an audience of villagers straining to get a glimpse of skin whiter than any they had ever seen. The children of the village followed me around in the afternoons, pointing at things so they could hear me say the name of something in English. They would repeat everything I said with long, drawn out words. Tree became "tweeeeeeee," shoe became "shoooooo" and rice became "riiiiiiice."
In the evenings, we would all gather around the fire for dinner, sharing bowls filled with boiled greens and baskets of sticky rice dipped in a spicy paste made of peppers and herbs. No utensils, just many fingers dipping in and out of bowls and in and out of hungry mouths. Although we had no common language between us, we somehow managed deep conversations. One of the elders of the house was a beautiful woman with long grey hair, a face creased with smile lines and lips and teeth stained brown from decades of chewing betelnut leaves. She kept motioning for me to take one of the toddlers home. Through a series of amazing pantomimes, she shared with me that this little boy's mom had died in child birth and that his father had died of an illness shortly after that. It is incredible what can be communicated without a common language.
On some evenings, other elders in the village would invite me to their hut for food. I felt like an honored guest, with villagers at one point literally fighting for me by playing tug-o-war with my arms. On another evening, a family had bled their water buffalo and proudly passed me a bowl filled with congealed blood. Again, through the power of pantomimes, thankfully I was able to convey, without offending, that I didn't eat red meat and that my "falang" stomach would not be happy with such a meal.
After a hard day's work in the heat and humidity, I slept like a baby on a mat under a mosquito net. The sound of frogs and insects rang through the trees and the clucking and shuffling of chickens and turkeys below the house echoed through the wooden floorboards. With the smell of smoke from the fire pit that burned through the night just a few feet from where I laid my head, I fell into a deep slumber each night.
My final evening in this village will be a memory I cherish forever. Many of the villagers gathered in the home of Chit's family and threw a Baci Ceremony for me. All the adults wore bands of brilliantly colored cloth draped over their shoulders, in the way of a beauty contestant. Cut pieces of white strings were set out. A chicken was butchered. Flowers were placed on a platter. The first of many strings was tied around my wrists while the villagers chanted well wishes. We drank Lao whiskey, talked and laughed into the night.
The following morning, with warmth in my heart and tears in my eyes, I said goodbye to my newÂ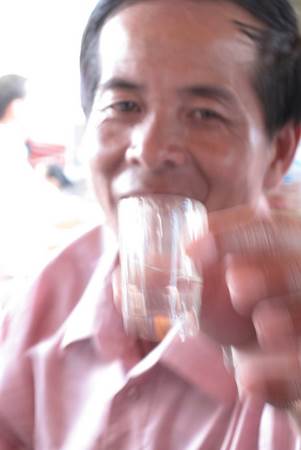 Lao family and headed back down the trail to catch a boat back to Luang Prabang. Chit explained that I just needed to stand on the shore and wave a t-shirt over my head to try to get a boat ride back down the river. After two hours of waiting along the shore of the mighty Mekong, a large boat came into sight. I frantically waved my t-shirt over my head and was disheartened to see that it was a freight boat carrying beer bottles and motor bikes, not a passenger boat. I stopped waving and with shoulders slumped forward, I imagined being stranded on the bank of the river overnight, being eaten alive by mosquitoes. Much to my surprise, the freighter pulled bow end first toward the bank, fighting the strong current of the river. As it neared the bank, the captain motioned for me to hop on to the bow and he opened the front windshield to allow me to crawl in.
Safely situated on a beer crate on the captain's bridge, I thanked the captain for the ride. It was a quiet ride for the most part, with me deep in reflection over my past five days and exhausted from my experience. As we neared Luang Prabang, the captain brought out a bottle of Lao Lao whiskey and we all took a shot. He then held out two fingers and indicated he had two legs, two eyes and two arms, therefore we all must do two shots! I gladly obliged and drank a final toast to my adventure in Ban Naxan Village.
Yes, my plans had changed drastically, and for that I will be forever thankful.
*****
Photo credits:
Mekong River Boat: Dan Searle via Flickr
Woman with Lao Boys: MAG via Flickr
Lao Village Children: Michael Berger via Flickr
Lao Women Harvesting Rice: MAG via Flickr
Eat with Hands: addianto via Flickr
Lao Lao: Michael Berger