by Karen Regn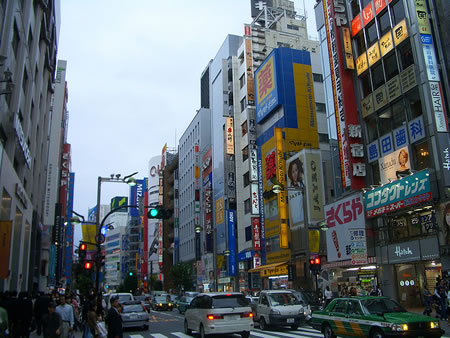 My skirt is too short.
At least that's what my salsa teacher tells me on the way to the club as we walk through the streets of Roppongi, the racy bar and nightclub district of Tokyo.
I'm surprised. I didn't expect to be told that a salsa club would require me to be dress conservatively. I'm wearing a black, pleated skirt, not so short, by Tokyo standards.   Young women here in the city wear very short mini skirts and heels. Since bowing precludes showing of cleavage, short skirts are Japan's answer to a scoop neck and push-up bra. My skirt is not so short, so why would I need a longer one than for a typical night out? Aren't salsa clubs sexy?
As we walk along crowded streets of clubs and restaurants, Billy Jean and Thriller blare out of the open doors as we pass. Tonight happens to be the night following Michael Jackson's death. His music videos play on TV screens everywhere. The shock of his death has reached Roppongi, and the population is grieving. I see one clubgoer wearing a red leather jacket, and another doorman wearing a sequined glove and fedora. We arrive at Club Sudada. It's a third floor windowless space, with wooden walls and floors. There's a stage at the back and a bar along one side, festooned with brightly colored flags. Salsa concerts play on TVs above the bar.
Sudada is supposed to serve best mojitos in Tokyo, according to Victor. But I am skeptical. I doubt that a club on this gritty strip can produce a mojito with the fresh mint flavor of authentic ones in Latin America. The club is packed since its Friday at peak hour. The couples on the floor are having a hard time finding room to dance and some are dancing in the aisles in front of their tables.
Victor and I have been dancing in his apartment, a tiny space, for about a month, practicing the basics. As we start to salsa tonight, it's like we are in his apartment, except now I'm wearing shoes. The smooth soles make it easier to turn I find. As Victor and I spin around the floor, we are as careful as possible not to knock into other couples, but it's hard. Now I see his point about the skirt. What happens to skirts when one spins? They furl out, and up. I am seized with fear I might flash any spectators. I try to catch a glimpse of myself in a wall mirror to see exactly how high my skirt is spinning. Luckily, however, for the moment there are too many people on the dance floor for anyone to get a clear view. I'm actually grateful for the dense crowd.
A couple of songs later, it's time to give it a whirl with a new partner. Victor taught us that if we want to dance we should stay close to the dance floor and move a bit to the music as a signal. So I stand up and move to the front of our table, my shoulders swinging to the beat. A Japanese man offers me his hand and I take it. The dance is not a salsa, it's a meringue. The steps are different but I can follow along all right.  My partner is extremely energetic, almost jumping with each meringue step. The enormous smile on his face does not waver. His neck seems to be detached from his body in a cartoonish way craned up and back smiling as we meringue at a very fast speed. He is sweating. My face begins to hurt from smiling back. When the dance is over I exhale, "Arigatou," as he wipes his forehead with a handkerchief. We bow slightly to each other. "Arigatou," he responds, still smiling widely.
An older Japanese man asks me to dance, then another. After a few songs of practice I feel as though I am doing fairly well. I haven't sat down a dance yet. Here and there, I miss a turn. When I lose the rhythm from time to time I repeat to myself "tempo, tempo," echoing Victor's teaching. The salsa beat is loud and every song is as high-energy as the next. I am sweating now too.
Several dances later my partner is a short Latin man. We've had a fun turn around the floor. As the music ends he says "Gracias"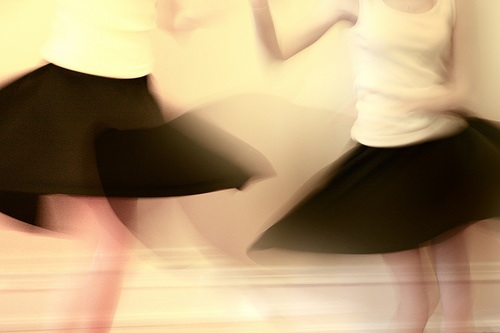 to me, then, "Thank you". But instead of releasing my hand, he holds it and smiles at me, indicating to me to follow him. He leads me to the opposite edge of the dance floor and toward his friend standing aloof with one elbow leaned against the bar. With an arrogant expression, the friend is observing the newly paired couples finding their way back onto the floor. His arm muscles bulge out from under a fitted T-shirt. He has a dark tan and curly hair but his extremely handsome features look Japanese.
He gazes at me with little interest as he exhales cigarette smoke and taps his cigarette in the ashtray on the bar. I wait, not sure what to do. The two men speak Spanish to each other, and my first partner leaves to find a new dancer. My new partner walks onto the dance floor and takes my hands in his, the cigarette still in his mouth. He distractedly nods hello, then steps in closer to me. We find the beat and start to dance.  Then he slows the step a bit and turns to tap my original partner, now dancing with a Japanese woman, on the shoulder.
The small man takes the cigarette without asking and puts it in his own mouth. My partner turns back to me. All right, it's time to dance is the message. Have I just graduated to Level 2, I wonder? He introduces himself, in Spanish-accented English, as Alejandro. He's half Japanese, half Argentinean he says.
We speed up again into a true salsa dance. It is immediately clear that Alejandro knows how to salsa. His movements are easy to pair with and I am a different dancer in his arms. I lose my inhibitions in the music and the flow of the steps. Alejandro starts to smile when I spin, catch hands, and come in close again without breaking the rhythm of the step. I feel myself making real discernible progress in my salsa abilities.
With Alejandro, I feel the joy of having a very good dancer as a partner. Thank god I am a woman and I don't have to be responsible for the quality of the dance on which rests the joy or disappointment of women who partner me. For the first time, I have stopped following the beat with the voice in my head and instead follow the rhythm of the music. I have stopped worrying about my skirt. I am incredulous I have lived my life never having experienced this sensation. I wish I'd always been able to dance salsa. I envy dancers who move as if it were second nature. But all too soon, the salsa ends, and Alejandro disappears quickly with only a slight nod. I make my way back to my table a little dizzy, a little out of breath.  I wonder if I've passed Alejandro's test.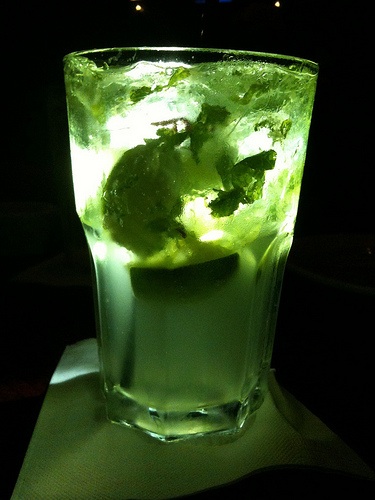 When I return to the table, I find a mojito waiting for me. More women from Victor's circle have arrived and they've also been dancing. "Kanpai!" we toast. "To Michael Jackson," someone adds. The mint is delicious, and the drink is very sweet and strong.  I'm impressed and surprised by how refreshing it is. The sugar is different, it tastes more refined. It's harsher than the organic local sugar of the mojitos abroad…but it works. I'm hot and I drink it fast. Handling the two straws in the glass like chopsticks, I get at little pieces of mint at the bottom and eat them all too.
There are so many dancers here tonight. There are several very, very good Japanese salsa dancers. One couple in particular moves in ways I've never seen Japanese people move. The woman looks amazingly like my next-door neighbor, who sweeps the gutters in front of her house faithfully every morning, greets me with "Ohayo Gozaimasu" and walks her children to the nearby elementary school, all with small movements and a graceful formality. But the woman dancing in front of me is all sensuality, open smiles, passion, and joy. Her partner is very thin and wiry, dressed in a business suit. I've passed him a million times in Shinjuku train station, I think. Here he's burning the floor with a suavite to which even a Latin man could aspire. They exit the dance floor laughing and flirting, kissing and drinking with such freedom. I can't help but stare with surprise. I am not used to seeing Japanese people acting this way in buttoned-up Japan.
For the Japanese, homogeneity of the population is a prized asset. But the mainstream doesn't flow here. These people work all day at Japanese companies and salsa passionately at night. Here in Tokyo, there are endless Latin shows, concerts, and club events to attend. Some believe that it is the 30-somethings and above who gravitate to Latin dance and salsa. Having outgrown J-Pop and the Japanese youth culture machine, they are moving to something more sophisticated and global. The passion and freedom of expression are the most attractive benefits and it is the reason everyone here has come — to get a different flavor and join the dance floor, a melting pot of races, languages, and cultures.
One particularly good dancer has been catching my eye all evening. Victor tells me he is one of the professional Cuban dancers who is just passing through Tokyo on tour.  His all-white clothing, his dark skin, and his dancing make a spectacle incredible to watch. He moves his whole body as he dances. Every muscle moves in a seamless flow. I can't look away as he grooves with a skilled Japanese woman whose gorgeous skirt, which I must admit is quite a bit longer than mine, twirls around her beautifully.
He has seen me watching him and when the next song comes on he steps over to me.  He takes my hands and says hello as we start to dance. He pulls me in close. He smells of an earthy, manly cologne I don't recognize as familiar. The skin of his arms is soft and smooth. We spin and dip together. As I come up from the next dip, he reaches into my hair, up the back of my head to the roots, and gives it a sharp tug.
Holy smokes. I didn't know that was done on the dance floor. I guess the pros know all the tricks — and some dancers are clearly sexier than others. As we dance, it becomes steadily more obvious that I'm still a novice. I can't keep up with him and I turn in the wrong direction several times. When I make a wrong turn, he redirects me, pulling me back in close and helping me find the way back to the dance. What a flop I've turned out to be. The dance is ending and I lost my rhythm somewhere in the middle. I am disappointed with my own performance, but my partner is all gentlemanly smiles and encouragement as the song ends.
While the salsa fades, the music changes. Thriller comes over the speakers and the place goes nuts. People who had been seated jump to their feet and dancers rush onto the floor. The salsa has been forgotten. Through screaming and whooping, I make a move to head back to my friends. I take two steps through the crowd and in the next moment feel a hard Whack! to the side of my head. I have no idea what has hit me and grab my head in pain. Victor has seen it and is rushing toward me from my right.  But I am caught up in the next moment from the opposite direction, my head embraced by my professional Cuban dance partner, who is kissing my hair and head and apologizing profusely. Apparently, he'd head-butted me in his excitement.
One by one the professional salsa dancers take to the floor in a dance-off. Taking turns, they pay tribute to the deceased king with impromptu Jackson impressions. I fall back with my friends and we cheer them for the time they dominate the floor.  The homage continues through the dance break and halfway through Vincent Price's rap the dance-off is called a draw. Glasses are raised around the room to toast Michael. I hear several exclamations around me, people retelling where they were and what they were doing when they heard the news. I am dancing the Thriller zombie dance, simultaneously nursing my head and my mojito. As I dance, I start scanning the crowd for my next partner. Thriller is ending, and the rhythm of the salsa is starting to play through.
Photo credits:
Tokyo: agapfel
Twirling skirt: it's life
Mojito: miamism
Salsa dancers: thomaswanhoff