by Justine Hanson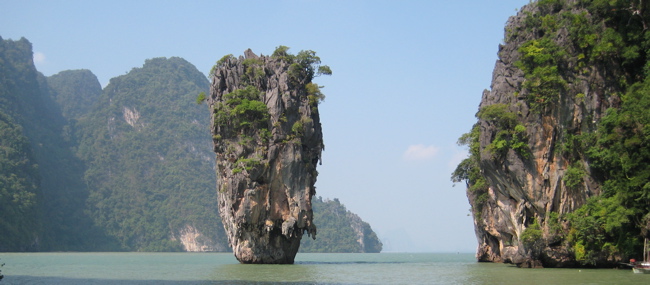 "If Eden had an ocean, it would look like this." The Lonely Planet description of Phang-Nga Bay seduced me on the spot. I was on the Andaman coast of Thailand, trying to find my solo traveler groove. It was the beginning of high season and I was caught off balance by the hordes of backpackers and package tourists. I didn't fit easily in either group: I was on a backpacker budget, but not interested in partying, and as a thirty-something woman, I was older than most backpackers. At my first stop, I befriended a trio of Brits. We went snorkeling and ate meals together, played cards and swapped travel stories. When they moved on, I suddenly felt very alone and packed up my backpack, attempting to flee the feeling.
I crammed myself into a minibus heading north, and was dropped by the side of the highway, into the arms of a waiting sawngthaew. I wasn't pleased, imagining that now I'd have to pay for transport by the driver, clearly a friend of the bus driver. I was puzzled when he told me "no charge." That is, until he delivered me directly to a small storefront with a sign proclaiming, "Mr. Kean Tours."
Mr. Kean himself walked out and greeted me with a big smile, flyers for his services, and a book of glowing compliments written by satisfied customers. I felt like a fish unknowingly lured into the tour operator's invisible net. My first instinct was to politely take a flyer and fight my way out to comparison shop. But as the webs of the net drew me closer, into Mr. Kean's office and the seat in front of his desk, I felt my resolve begin crumble. He offered what I was looking for at a good price. I asked many questions, but I couldn't uncover any carefully-withheld fine print. He dangled an optional overnight-in-the-floating-fishing-village in front of me, and to my surprise I found myself saying "maybe."
I'd seen the fishing villages on stilts along the coast of Thailand. They were always separate from the rest of the town, and always Muslim. They looked a bit sad, and I imagined poverty on stilts with a whiff of fish and raw sewage. But there is a strange alchemy that takes over at certain moments when I'm traveling. I'll have made elaborate plans, but out of nowhere, a course of action — a bus ride, a city, a mountain — I had considered completely out of the question suddenly becomes exactly the right thing to do.  I can't even pretend to understand how the not-even-considered-option transmutes itself into The Perfect Plan. But in that moment, spending the night in the fishing village was suddenly desirable. Maybe it would be good to get away from buses, motorcycles and tour operators for a night.
Even as the fish flopping haplessly in the net, I was impressed with Mr. Kean's catch-and-release skills. After the "free" transport, it would have been rude to not listen to his sales pitch. And I had no idea where, exactly, I had been taken, so finding my way to his competition would be a challenge. He had snared me, and we both knew it. Once he collected my money, he offered me "free" transport to my guesthouse.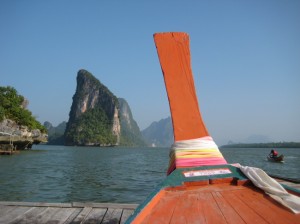 At breakfast the next morning, I chatted with a Swiss woman. She was trying to decide if she'd come with me on the overnight. A German man joined us and said he had done the trip the day before. He spoke disparagingly of the fishing village, saying, "It's not much. There's nothing to do there. I don't know why you would want to stay there."  His tone was judgmental and dismissive. The Swiss woman worried that the accommodations would be too basic. I wondered if I should be worried, too, and the German man's words, "it's not much," echoed in my head as we boarded the longtail boat.
**************
To reach the bay, you follow a circuitous path of shallow, narrow channels through a mangrove forest. The tide was low and we almost got stuck in the muck.  Whenever we shifted our weight, the driver would bark commands at us like we were new military recruits. It's a style of communication that cleverly inverts the power relationship between English-speaking travelers and the broken-English-speaking drivers and guides who shepherd us through Southeast Asia. By shouting commands – "You go here!" "Now!"– we become the ones with limited comprehension. We are the simple people who must be spoken to in simple sentences and loud voices. We are told only what is absolutely necessary. Our driver was well schooled in this form of command-communication: "Hello! Now you get off boat. One by one!" "Hello! Leave bag, bring only camera!" "Hello! Thirty minutes on island! Go see cave!" There was not much information on what we were seeing or where, exactly, we were.
We emerged from the mangrove forest into Phang-Nga Bay, east of Phuket and northwest of Krabi. It's a large expanse of deep green water dotted with towering, oddly shaped limestone karst islands, sheer cliffs of porous rock covered with green vegetation gone rampant, wild orchids, and miniature forests of bright green bamboo. Our longtail boat wove through the islands, and we dutifully put our cameras to work. A hazy sky coupled with the fantastically shaped islands gave a dream-like quality to the morning, and our group of six was quiet as we motored through this forest of sea, stone and green.
We stopped for lunch at a small beach — "Hello! Eat, now!"  "Thirty minutes!"–and I swam out into the bay, floating on my back in the green water, gazing up at the towering grey limestone cliffs above. In this moment of solitude, I tried to take it in; to savor each moment of the singular experience of being in a beautiful landscape.
This is the paradox: I can ooh and ahh, take photos, and try to absorb the sights, smells and place. But it is just a fleeting moment of my life, and I am just one more foreign body out of thousands who visit every year, always just passing through. This is the nature of traveling: to travel through, to be a body in motion juxtaposed against stationary places and people. I try to feel, to understand, to forge my own connection to each place, but this time and place will fade like the next and the last. I will have photos of myself standing on this island and I will be able to say, "I went there" and share an anecdote. But, am I altered by it?  Is it altered by me?  What are the traces we leave upon each other?
*********
If you tell anyone connected with the Thai tourism industry that you want to go to Phang Nga Bay, they will respond with "James Bond Island?" This is what is called the marketing hook for the bay. There are thousands of oddly shaped islands in the bay, but only one that has appeared in a James Bond movie. According to the conventional wisdom of tourism operators, it is thought that tourists will be eager to see the island made famous by the 1977 movie, "The Man with the Golden Gun." Most tours of the bay are simply called "James Bond Island" tours. These were the ones I avoided, but not even Mr. Kean would deprive me of the James Bond
Island experience.
The island was identifiable by the ring of tour boats surrounding it. We disembarked–"Hello! Get off boat!  One by one!"–and were directed onto a path that wound around the island's perimeter, bringing us to the recommended viewing point of the actual "James Bond Island," just offshore, a narrow karst tapered like a nail. After taking the obligatory photos, we continued along the path. Around the bend, a small market appeared, carefully placed out of sight from the viewing point. Once you've seen the famous island, you are fed into a holding area on the beach, where assertive ladies sell T-shirts, shell and pearl jewelry, sarongs and trinkets galore.
I rolled my eyes at the obviousness of it all, the tours that lead tourists from one opportunity to spend money to another, with a few sights thrown in along the way. I turned away, the German man's words returning to me in a tone of disgusted irony, "Of course. There is nothing here."
As I walked away from the market, I spied a cave, created by a giant slab of limestone split in half, one side leaning against the other. Several metal plaques are bolted into the face of the rock, carved with handwritten words. I looked for someone to explain what it was, and found a peach-shirted Thai man, wearing a badge, a bona fide tour guide on one of the tour boats out of Phuket.
He told me that the name of the island we were standing on is Koh Ping Kan, named for this spot where two giant limestone slabs lean against each other.  It translates to "backing each other island." According to legend, it represents a united couple, one side male and the other female, supporting each other. He told me that couples will visit, and kneeling together, will place their hands on the rock and pray for a good relationship.  Single people come to the site to pray for a partner. It's a sacred place.
Long before James Bond movies existed, the King of Thailand visited Backing-Each-Other Island. Rama V, who ruled from 1868 to 1910, visited with his family, and left behind five tiled plaques, with the signatures of members of the royal family. For Thai people, who revere their king above all else, this adds great significance. In the ten minutes I stood there, three separate Thais came up to me to point out the King's signature.
Meanwhile, foreign tourists were taking pictures of themselves "pushing" against the giant rock face, Sisyphus-like, presumably with little knowledge of the legend or the royal family's signatures, taking no notice of the Thais kneeling in prayer beside them.  The kneeling Thais seemed to take the tourists in stride, happy to point out their King's signature to those who showed interest.
I stood there, marveling over the layers of meaning. Tour companies will continue to push the "James Bond Island" mystique even though most tourists are more interested in the landscape than seeing a location from a 1977 James Bond movie. Tourists will continue to snap photos of themselves pushing against the rock, and local women will continue to hawk pearl necklaces and James Bond Island T-shirts. Thai couples will continue to come quietly to the island, ignoring the foreigners as they kneel together and pray for their love to last at this massive rock face, while a centuries' old king's signature silently watches over it all.
***********
Our last stop of the day was Koh Panyi, the floating village where I would spend the night. Technically, it's not floating, but is held up on stilts above the water, pegged onto a small island. While everyone went to explore, I checked in. The woman in charge asked, "Just one person?" with the look of equal parts curiosity and concern that had become familiar to me.
"Just me," I answered.
I waved goodbye to the group, and prepared myself for a night of solitude. Even though I was looking forward to exploring the village, I couldn't help feeling a pang of sadness watching my temporary travel family pull away, leaving me alone. To allay the fears of loneliness that began to scratch their way into my head, I reminded myself that I had Many Things To Do, like exploring, catching up on journal writing and trip planning. If loneliness dared to show its claws, I would beat it back by Doing Things and Keeping Myself Occupied.
In the late afternoon, I wandered through the maze of narrow walkways that connect the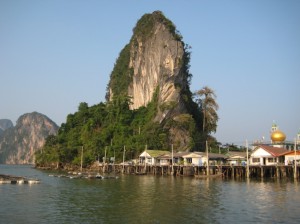 buildings of the village-on-stilts. I stumbled upon a primary school, a large concrete football "field", and a gold-domed mosque. The paths seemed designed to steer me through looped pathways lined with market stalls, selling the same jewelry, T-shirts, scarves, and sarongs I had seen on James Bond Island. But by now, the tourists had gone home and I could glimpse bits of daily life.  Men were fixing boats and engines and mending fishing nets; women in Indonesian floral print sarongs were packing up market stalls, feeding small children, cooking dinner and chatting in groups. A group of men sat in a small restaurant watching Thai boxing on TV.
Most people were simply going about their end-of-day business, responding to my presence with a guarded friendliness that seemed to say, "Visiting hours are now over." I cannot impress you with tales of establishing a deep and meaningful rapport with the locals, nor even recount a funny anecdote of cultural misunderstanding that ultimately leads to a shared understanding of our common human condition. I have no heroic tale of braving and triumphing over the unknown. No, I was simply an observer, nothing more, nothing less.  I couldn't even claim to be the chosen foreigner, allowed to stay after the others were sent home. I was, after all, paying for this privilege. But that is what it was — a simple privilege. I was a privileged visitor to this small world on stilts, and I wanted to honor this moment, to see the island and its people through eyes that were open, not closed.
At the guesthouse, my room consisted of a mattress on the floor and two windows. I could see the waves below through the cracks between the floorboards, and I smiled as I listening to the water slosh below me. It was a windy evening and the entire structure seemed to sway in the stiff breeze. I walked down to the dock and watched the moon rise over the dark horizon of the opposite shore.
I sat in the dark, buffeted by the cool wind and never in my life have I seen Orion as bright and as low on the horizon. It was quiet and dark and I was alone. And it was marvelous. It felt thrilling to sit there in the darkness, not Doing Things, but simply being in a place that felt extraordinary to me. I was filled with inexplicable joy, and gratitude that I had not allowed myself to be scared off by another's judgment of the place. I was reminded how intensely personal traveling is, and how one person's "there's nothing there" is another person's Eden's ocean. The next morning, I woke early to watch the sun rise through the haze as small grey herons fished for their breakfast. Sea eagles with white heads and bellies and red bands on their wings soared overhead, and I watched, with open eyes.
* * * * *
Justine Hanson is a writer and anthropologist based in Boston.  She has lived and conducted research in Ireland and Northern Ireland, Nicaragua, Spain, Mexico, at the United Nations, and on both coasts of the US.  After barely surviving writing a dissertation, she abandoned the academic career track and spent all her savings to travel solo in Southeast Asia.  The biggest surprise of her journey was falling in love with the pleasures and freedoms of solo travel. After five years of moving constantly, she is currently experimenting with staying in one place while she writes a memoir of her travels.
Photo credit:
All photos: Author