by Wendy Bone

Grand Prize winner – WanderWomen Write Contest 2010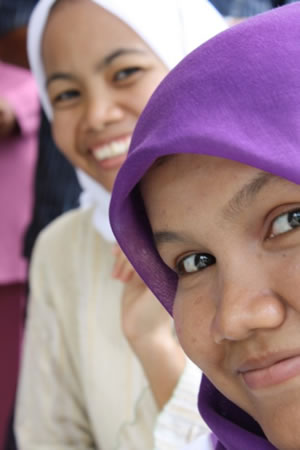 I want to look away in horror but cannot. My eyes are transfixed on the most shocking thing I've ever seen, and I struggle to contain my emotion. Ibu Tina has opened her shirt to expose the cancer on her right breast. It has grown so large it is the size of a coconut, creating hard, black bubbles where it has eaten into her flesh. Occasionally a drop of blood drips onto a piece of folded gauze her daughter has placed beneath her nipple. The smell is overpowering in the hot, airless room. Yet, despite this horror that has befallen her, Ibu Tina's face is serene, her eyes warm and full of light.
I look over at my husband, kneeling beside me on the tiled floor of Ibu Tina's living room. Darma's eyes are wide; he is also trying not to look shocked, but there is concern in his eyes more than anything. He has known and loved his aunt since he was a boy, when she married his Uncle Am–her picture is on her nightstand in the open door of her bedroom. It is a picture of a proud young Minangkabau woman with thick black hair and almond eyes, full lips filled with pink lipstick. When Darma was small, they took the bus to Bukit Tinggi together, their ancestral home in West Sumatra, a journey he talks about to this day.
The same woman sits before us, though older now, and even with no makeup and her hair cut short, she is beautiful. Except now her body is being ravaged by cancer, and we are powerless to help. I can see she feels relief at opening her shirt and letting her breast free from confinement. Its weight has become a burden, she says, though in the nine months since she discovered the lump, she has felt no
pain at all. She apologizes for the smell as her daughter Rita, Darma's 22-year-old cousin, sits next to her, fanning the air with a magazine. Rita is silent, but her eyes are wide like Darma's as she glances at her mother's breast. She is scared, very scared of what that cancer is doing to her mother.
Like most Indonesian women, Ibu Tina is not given to crying or complaining about her lot in life. She speaks in a calm, melodious voice, and I understand a good amount of what she says while Darma translates the rest. Ibu Tina tells of how she met Pak Am, laughing softly at the memory.
They met at the traditional market, she says, where he had a small shop selling clothing. A seamstress by trade, she came to his shop one day to sell some of her wares. "He's so cute!" she thought, rightly so because the men in Darma's family are quite handsome, and the women beautiful, too. So, after a brief courtship, she did what any Minangkabau woman would do: she asked Pak Am to marry her. When Pak Am returned to his family house after work one day, she had filled it with so many delicious things to eat that there was hardly any place to walk. All of it she had made herself. How could a man say no? He was hers, and they have since been married for 25 years.
As Ibu Tina speaks, her old fashioned sewing machine sits idly behind her. She can no longer lift her arms to sew, and Pak Am must buy his T-shirts and pajamas from a factory to make ends meet at the shop. Darma has told me privately that an operation for Ibu Tina would cost about 50 million rupiahs (US $5,000), and since they can't afford it, they are currently spending about 70,000 rupiahs ($7) a day for less expensive traditional medicine. In the corner of the living room is a shallow wicker basket filled with the dried leaves she uses to make medicinal tea in the hopes it will cure her.
I remember the first time I met Ibu Tina at her house, just before Darma and I got married two months ago. I didn't know about her cancer yet; and to think about how I prattled on about my plan to bring Darma with me to meet my family in Canada–about a $5,000 trip–and how she and Pak Am smiled, so genuinely happy for us, makes me cringe with embarrassment. She never said a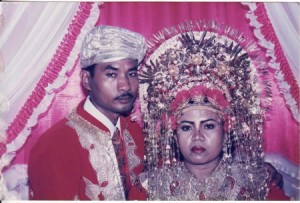 word about needing money, and not once did they look resentful.
On leaving Ibu Tina's house, I press my forehead to her hand in the Indonesian gesture of respect and slip a white envelope into it. It's not much, but it's all I can do.
Smiling, Ibu Tina waves goodbye to us from her front gate. Later Darma says to me, "I now realize my money troubles are nothing. Good health is far more valuable." I couldn't agree more. Never have I been so thankful I was born in a country where good medical care is available for everyone, whether rich or poor.
*Â Â  *Â Â  *
In western culture, death is a strange thing. Everywhere we look on television and in the movies it is glorified and sensationalized. But when real death arrives, we are so afraid of it. The reality of death becomes an intensely private matter, to be tiptoed around gingerly, and I can't help but think that the current craze for plastic surgery is just another way to deny that the older we get, the closer we are to dying. Here in Indonesia it's just the opposite. Death
is accepted as a part of life, often because of necessity, and everyone gets involved.
It's the Easter weekend, a non-occasion for Muslims, though Darma has explained to me that in Islam Jesus is much loved and respected, a fact that makes me happy as I think of my family at home who will be going to church in a few hours.
At our home in Medan, we awake in the early morning, we bathe and we pray. We are getting ready to go to the traditional market for vegetables and kampung eggs when he gets the call from his sister Eva, and I know right away it's not good news.
"My aunt is dead," Darma cries. I take him in my arms and we hold each other a long time. It has come so suddenly, only two weeks after we saw Ibu Tina. But then death is always sudden, no matter how much we prepare for it. We hop on our motorbike and return immediately to Ibu Tina's house.
The house is already busy with activity when we arrive, not the reverential silence I had expected. Ibu Tina is laid out on a mattress in the living room, covered with a traditional Indonesian batik cloth, Pak Am kneeling next to her. When Darma goes to embrace him, he releases a wail of anguish so deep that it reverberates in my soul. Ibu Tina's mother and six sisters, each wearing a different colored headscarf, known as a jilbab, surround her so that she looks like the center of a bright flower.
A group of young girls, about ten to fourteen years old, all cousins, are sitting in the corner, staring at me in fascination. They smile at me shyly, and when I smile back they whisper to each other and burst into fits of giggles. It's the first time they've seen a westerner before, much less a relative–and she's even wearing a jilbab!
Pak Am touches Ibu Tina's face, kisses her cheeks. One of Ibu Tina's sisters recites from the Koran in a sing-song voice as their mother, a tiny woman with the same warm eyes, tells a
story to a group of newly arrived women who are settled around the periphery of the room, making a garden of colored jilbabs. Just a few days ago she says, flapping her hand to shoo away the flies, Augustina went to work at the insurance company as usual, and dropped a pen on the floor. When she stooped to pick it up, her breast hit the table, speeding the inevitable–the cancer was knocked loose and she began to bleed profusely.
As the story circulates amongst the women, another of Ibu Tina's sisters brings out a packet of mothballs, arranges them around her body and places a square of white embroidered cloth on her face. Now and then a new arrival lifts the cloth and gazes at Ibu Tina's face, touches it, and lays the cloth back down again. Beneath the thin white veil she looks like a new bride.
The story of the dropped pen re-circulates every time a neighbor, family member or friend arrives.
Then a new story emerges: How last night Pak Am had taken her to the hospital to receive a blood transfusion but her body wouldn't receive it. As they sat together in the hospital room Ibu Tina asked, "Who is in the room with you?"
Pak Am looked around. "Nobody. Just me and Rita."
"Really?" she said. "But someone is standing next to you."
Then she gave four breaths and was gone.
"It was an angel who came to take her home," declares Mamak, Darma's mother, and everyone nods.
Two older women arrive to sew the burial cloth. One wears a red housedress and bright green turban folded over her head in Minang style; the other is tiny and childlike in white. They get to work straightaway, measuring Ibu Tina with a long piece of tape, pulling the white cloth out of the box provided by the local mosque, then cutting and sewing large pieces together and sprinkling them with scented spices. In Islam, all people are buried this way, in a simple white cloth.
As the women work, more people arrive, filling the room to overflowing with every shade of emotion–keen crying, excited chatter, girlish laughter. The group of young girls is next to me now, finally working up the nerve to talk.
"May I… have… your Facebook address?" a chubby, sweet-faced girl in a sunflower yellow jilbab asks in clumsy English. Another girl sidles up, places a candy in my palm and scampers away. Their youthful energy and smiles are irrepressible, buoying my spirits.
When the cloth is ready, it's time to wash Ibu Tina's body. Darma carries buckets from the tap in the garden to the back room, filling a large drum with fresh water. He helps his uncles carry Ibu Tina to where the women are waiting, sitting on the floor with their legs outstretched. Her mother, daughter and sisters accept Ibu Tina's body across their legs as the men lay her gently down.
The old woman with the green headdress lifts the sarong, exposing the cancer. Aided by the other women she scrubs Ibu Tina's face, her hair, her neck. When they begin to work on her breast, we gasp as pieces of dead flesh suddenly fall away from her body. The girls race to the doorway, jostling each other to get a look. My western sense of privacy compels me to discourage them, but they are too morbidly fascinated to budge and nobody else seems concerned about it.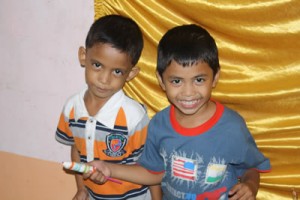 I can bear no more; I turn to take refuge in the cuddles of Darma's smallest cousins, Noori, Fathir and Furqan, who tousle like puppies in their best clothes, full of brightness and laughter. "Kak Wendy, Kak Wendy!" they shout, crowding around their "big sister," cuddling my grief away.
When Ibu Tina is scrubbed clean she is wrapped in a fresh new sarong and carried to the white burial clothes laid out for her. We have the task of holding sarongs up like a fence to protect her privacy, but everyone can see over it anyway. The old women place the cloth sprinkled with spices over her body, rolling her in layers of white. They secure the cloth neatly around the middle of her body and her legs, then at the top of her head, leaving her face exposed. She looks snug, like a caterpillar in a white cocoon, ready to become a butterfly.
We say a last prayer for Ibu Tina, and each of us in turn kisses her goodbye. A stretcher with a steel cylindrical cage over it waits in the driveway, adorned with flowers and draped in a green cloth emblazoned
with yellow Arabic script:
From Allah we come, to Allah we return.
Darma and his uncles carry Ibu Tina from the house and lay her on the gurney. We set off in a motorcade through the bustling back streets of Medan, the villagers staring as we pass. Darma goes with Ibu Tina in the van and I am sandwiched between his sisters Eva and Dikna on the motorbike, our jilbabs fluttering in the breeze–Eva's of silver, mine of heather grey and Dikna's of pink and gold.
Trailed by giggling children, we step through the place in the wall that is broken and overgrown with vegetation, picking our way carefully over the graves planted topsy-turvy in the uneven ground. The men carry Ibu Tina aloft in the draped gurney, their feet curving nimbly to accommodate the curve of stone.
A rattan mat goes up over the open grave. We gather around, balancing on the edges of the other graves, careful not to step directly on them. The sun is slipping behind the banana trees, rendering our faces golden. In Islamic tradition, we must bury her within the day. The men jump down into the hole and lower her in.
After the first handful of dirt is sprinkled over her, Darma returns to my
side, reaches for my hand and gives it a squeeze. Together we return to the tumult of vines and banana trees, where life still clamors at the entrance. We cup our hands to the sky, and Darma says a prayer for Ibu Tina in Arabic I have yet to understand.
When we are finally alone in each other's arms after a harrowing and emotional day, Darma says, "Thank you, babe."
"For what?" I ask.
"For doing what you did."
"It wasn't much, though. I don't feel like it helped anything."
"But it did. Mamak told me. It gave Ibu Tina peace of mind. She could pay Rita's tuition and the bills. She didn't have to worry so much in those last days. She could go in peace."
I think about how I almost didn't go that day because, I thought, what good would it do? Besides, I was so busy with my own life. Yet my heart wouldn't leave me alone; it kept urging me to go visit Ibu Tina. After ignoring it for weeks, I finally listened.
Thank you, Ibu Tina, for giving me the opportunity to learn how to follow the voice of my conscience and do the right thing. I am glad it helped you in some way, if only a little. And thank you for reminding me just how good it is to be alive. May peace be upon you on your journey.
Photo credits:
Woman in red jilbab: Rikie Rizza
Indonesian street market: DMahendra
Women on motorbike: simminch
All other photos: Author