By Sarah Katin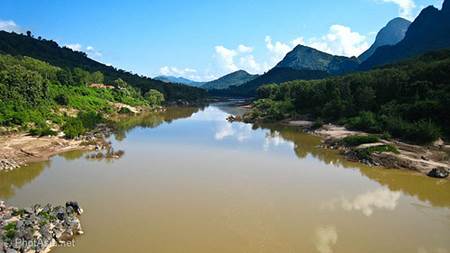 I awoke to the friendly chirping of my roommate, the gecko clinging to the flimsy wall of my palm-frond hut, and tossed on a bikini. No need to shower; the ocean was my bath, and salt and sand my natural exfoliants. My hut neighbor, the Dutch man, stopped by for a smoke. He was trying to quit, so he was having me hold his ciggies and ration accordingly. I didn't think he was smoking any less, but I was getting my fill of long-winded existential conversations for which I had no answers.
I ate breakfast on a sprawling wooden deck with swaying hammocks and boldly colored triangle cushions, overlooking the blue-green water of the Gulf of Thailand. I'd been staying in this island hut for a week now, waiting for my next teaching contract to begin, and my life was starting to resemble a screensaver. I listened to Bob Marley, sipped coffee sweetened with thick condensed milk, munched slightly burnt toast, and contemplated how I'd spend the rest of my day in Paradise. And then I went to the Internet café, where Paradise fell apart.
There was the usual email:
Spam–Gran sends her love along with a coupon for penile implants!
Family–somewhat concerned inquiries as to where I am exactly?
Friends–Pam and Steve got engaged; Tim and Tina had a baby; Bobby and Jen bought a new home.
Skip, skip, skip, and then STOP. There it was harmlessly sitting in my inbox. From Him.
I alternated between a trigger-happy urge to fire open the letter and some sort of frozen-but-jerky paralysis. Like a video buffering. Finally, slowly, I clicked, and read, until the annoying pounding in my heart stopped at one sentence:
Allison and I got married.
Tears instantly welled in the corners of my eyes. Suddenly chilly, I pulled a ratty old gray sweatshirt from my beach bag and wrapped it around my body like a protective shield. Why was I reacting like this? It's been two years. I pulled the sweatshirt tighter.
* * *
Nigel was a handsome man. I could cliché for days about his lanky athletic frame, his hair soft like butter, eyes bluer than the Gulf of Thailand, voice smooth as warm honey. I won't. I also won't mention his skin–silky, or his teeth–gleaming, or his wickedly charismatic smile.
We'd spent a summer together in Korea. I met him on my second day there, he broke up with his girlfriend on the third day, and was my boyfriend by the fourth. By the end of the week we hadn't left his bed. Life was good. So good, in fact, that six months later I was meeting him in Thailand. He and his best friend were heading there as they traveled though China and other parts of Southeast Asia. It was unfortunate that we had to be separated for six weeks while I finished my teaching contract, but it would be OK, we said–six weeks wasn't long at all.
Looking back, there were signs. There always are.
Sign One: He stopped writing. For which, of course, there could have been any number of plausible explanations. An elephant could have stepped on his laptop, or there might not have been Internet at the Kung Fu monastery. Then one day I got a bunch of emails all at once!
Sign Two: The emails weren't meant for me. They were addressed to three Swedish whores he'd met at a Shanghai McDonald's. (Okay, I don't actually know if they were whores, but it's my story, so whores it is.)
Sign Three: What was he doing at McDonald's? He hated McDonald's. Said it was bad for his skin. His silky skin.
I could have let these flashing neon signs of relationship failure get to me. Instead I boarded a plane as planned and landed six hours later in the steaming city of Bangkok.
Nigel was at the airport to greet me. The next day we were on an island downing fresh mango smoothies and rolling in the sand. On the third day he broke up with me in the shower. By the end of the week he was off to Vietnam to see about his Scandinavian sluts, and I was on an overnight train to Laos with his best friend Sean.
How did this happen? I'm sure Sean was thinking exactly that as he boarded the train with his friend's sobbing ex-girlfriend. We didn't know each other well, and I really should have just gone home. But home was too far from Nigel, who was at least still in the same time zone, give or take an hour.
I cried a lot in the beginning. Sometimes I sat by the Nam Song River and cried while naked children splashed in the water with their pet cows. Other times I cried on the porch of our guesthouse as Sean strummed his guitar and made up sad lyrics. He had a sweet voice, calm like a yogi. I was surprised. Sean had a reputation as a bit of a ladies' man, yet here he was content to idly strum beside a sobbing mess. It wasn't fair that he got stuck with me in the breakup, especially when he could be out chasing Swedish tail. I told him that much.
"It's not fair that you got stuck with me in the breakup. You should be out chasing Swedish tail."
"Nah. I'm tired of that," he replied, then continued to hum and strum along.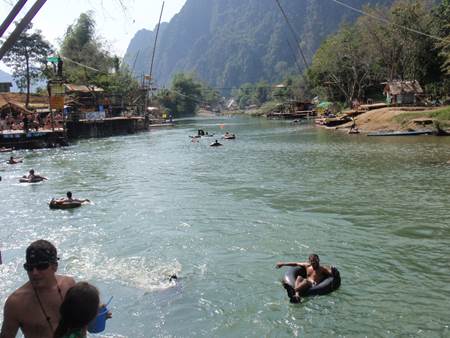 We became inseparable. Our days were picnics of crusty baguette sandwiches and orange Fantas, hikes through rice paddies and dusty two-chicken towns, and idyllic floats down the river in big rubber inner tubes, stopping at times to grab a semi-cold beer from an industrious local who set up shop where the current slowed. But I still thought of Nigel, and talked about him to the only person who would listen.
"He's just not baked yet," Sean explained as we bobbed along in the water.
"He's like a cookie. He looks ready. He's all crispy golden, smells delicious. But don't be fooled, he just needs a little more time in the oven. He's still gooey on the inside."
I smiled. Sean must be baked himself, I thought. Only a guy baked out of his mind could come up with a hippie metaphor like that. The joint hanging lazily out of his mouth was also a giveaway.
After about a week in the small town of Vang Vieng, it was time to move on. We'd heard of a gibbon refuge in the far northern corner of Laos, near the China/Burma border, where guests could sleep in a tree house. This little bit of backpacker folklore proved too enticing for us to ignore.
In every town we stopped, somebody knew something about the gibbons. An eighteen-year-old German girl escorting a bear to Cambodia pointed us in one direction. A local man selling warm soy milk in a plastic bag pointed us in another. Our passage through Laos resembled one of those old Family Circus comics, loop-the-loops and detours galore. Neither of us seemed to mind. We just liked going, so we went.
Transportation in Laos falls into one of three categories:
Option one: Bus. Usually donated from another country that deemed it no longer safe to operate. Holes in floorboards allow for breezy airflow! (A perk when your window won't open.) Prone to breaking down in the most inconvenient locations.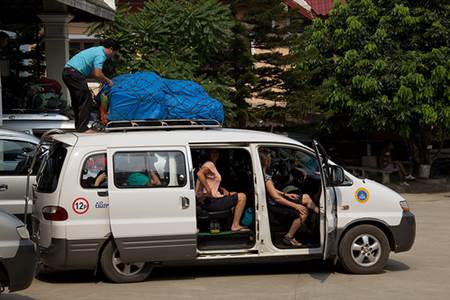 Option two: Minivan. Always advertised with air-conditioning. Doesn't mention air-conditioning is broken. Plastic stools and chairs crammed in for extra seat space! Prone to breaking down in the most inconvenient locations.
Option three: Pick-up truck. Popular with chickens and pigs. Sturdier livestock may be used as a footrest. Passenger participation required on muddy steep inclines–you can either jump out and push, or stand on the back bumper hopping up and down to create traction. I prefer the latter. When the pick-up does take off, however, if you don't leap back in quickly enough, you're walking. Prone to breaking down in the most inconvenient locations.
It had been a minivan day. Sean's plastic chair fell apart not long into the journey, and the minivan soon followed suit. We were exhausted when we finally arrived in a tiny one road town that began, I believe, with the letter D. (We'd been to so many by this point.) But it was there that we received our most promising news.
"Oh, yes. Of course. The gibbons! You are not far. Just go to Huay Xai. Ask for the French man," the owner of our guesthouse informed us, happy to have guests presenting such tourism quandaries.
"Wonderful news. How do we get there?" I asked.
"You can take a bus," he responded helpfully.
"Is there an actual road?" I had come to understand that roads were more like ideas.
"Of course. A very good road." He declared. Sean and I let out a collective sigh of relief.
"They are building it now!"
Sean and I opted for the slow boat up the Mekong. We sat on the deck watching the scenery: mostly jungle, with small pockets of fishing villages dotting the landscape. I desperately wanted to see an elephant emerge triumphantly from the dense tropical foliage. It didn't happen, so Sean wrote a song about it happening instead. We slept that night in a village lit entirely by candles. There was no electricity, but as I lay down beside Sean on a candle-lined road to gaze at stars, I felt a buzz.Â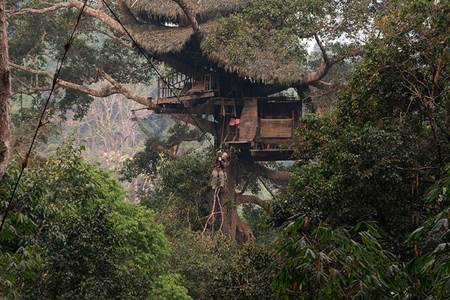 We eventually made it to the gibbon treehouse. The proprietor gave us a bottle of local hooch, two zip-line harnesses–the only way in and out of the tree–and a hearty, "See ya!" I loved Southeast Asia with its blatant disregard for pesky safety regulations.
Our companion in the treehouse was a spirited primate named Willy. He was a baby black-crested gibbon with the face of a fuzzy old man. He wore a blue cast on his leg because he'd recently fallen out of the tree and broken it. Willy liked to cuddle, and when he wasn't cuddling, he enjoyed taking my personal possessions and dropping them over the side for the rooting pigs far below. It was like having a really hairy toddler around. I could never get mad at the little guy, though. Poachers had killed his parents. Willy clung to me like a two-year-old, then stared longingly into the rain forest when he heard the cry of his fellow kind. He didn't know where he belonged.
That night Sean and I slept on a futon mattress in the master bedroom. The bedroom was perched in the tiptop of the tree, above the living room, kitchen, and bathroom. There were no walls, just 360 degrees of inky black jungle night and the occasional terrifying thud and scamper of creatures lurking amongst us. Then, suddenly, the sky filled with little bits of dancing light. I'd never seen anything like it–I didn't know what I was seeing.
Sean pulled me from the bed. "Fireflies," he explained. He walked me to the railing, and then wrapped his arms around me from behind. I leaned back into him. A sprinkling of fairy lights filled the darkness all around. I can't recall how long we stood there in silence. Five minutes, forever.
Days later we arrived at the Northern Thai/Laos border crossing. Already a month had passed. By this time we'd spent almost every moment together. Most people assumed we were a couple. I used to say I was going to make a T-shirt that read: I'm not with him, but he's a really great guy!
Somewhere in that month I stopped making that joke. We also abandoned the pretense of making friends with fellow travelers, preferring our own company. We read together, played together, laughed, danced, ate, drank, whispered, walked, talked, everything together. We even shared a bed together, sleeping in little more than our underwear, holding hands. But that was all. We were intimate, yet innocent.
At immigration I handed over my passport and prepared to board the narrow wooden boat that would take us to the Thai side. Sean fiddled in his backpack. Soon he had the entire contents emptied on the ground.
"What's the problem?" I asked.
"My passport. It's gone," he responded in his typically relaxed manner. "We'll just have to go back to Vientiane. To the embassy."
He said it so casually: we'll. He and I will both go together. It was an easy assumption to make. I froze. Hesitated. Just for an instant, but he sensed it.
"Nah, it's cool. I'll go back," he said, slowly zipping up his pack. "You go on."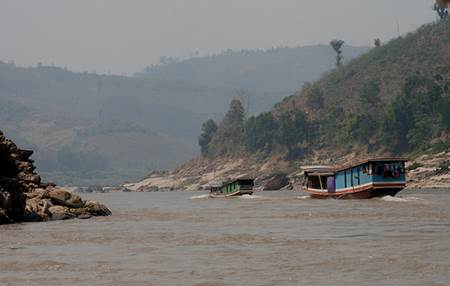 He made it so easy for me. He knew about the email I'd gotten from Nigel. He knew Nigel would be in Bangkok for the next two days, and that I wanted to be there. There was no doubt in my mind that if I'd been the one to lose my passport, Sean would have stayed by my side.
I got in the boat, and Sean didn't. In the middle of the river, I was in the middle of nowhere. Halfway between Laos and Thailand. Halfway between Sean and Nigel–the very last moment where I could turn in any direction. But moments ride on currents. If you don't act, you'll just be tossed along.
I climbed out of the boat in Thailand, and looked back to Laos. Clinging to the idea of Nigel, yet longing for Sean. I didn't know where I belonged.
It was then that I remembered. I was still wearing his ratty gray sweatshirt.
*****
Sarah Katin has been a television host in Korea, professor in Japan, treehouse dweller in Laos, house painter in New Orleans, sangria swiller in Spain, dragon hunter in Indonesia, and fishmonger in Australia. These days she can be found in her Southern California office (the cushy chair by the window at–insert café du jour) where she writes for film and television. Or in Costa Rica bathing baby sloths. You never can tell about these things. Find out by following @SaresKat on Twitter.Â
*****
Photo credits:
Mekong River: Photasia via Flickr
Crying Woman: Dyanna Hyde via Flickr
Nam Song River Tubing: lawtonjm via Flickr
Laos Minivan: Nick Hubbard via Flickr
Laos Gibbon Treehouse Experience: Christian Haugen via Flick
Mekong River Boats: Akuppa John Wigham via Flickr