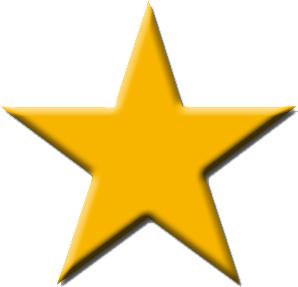 Food & Drink Category Winner in the 2011 WanderWomen Write Travel Writing Contest!

By Judith Ritter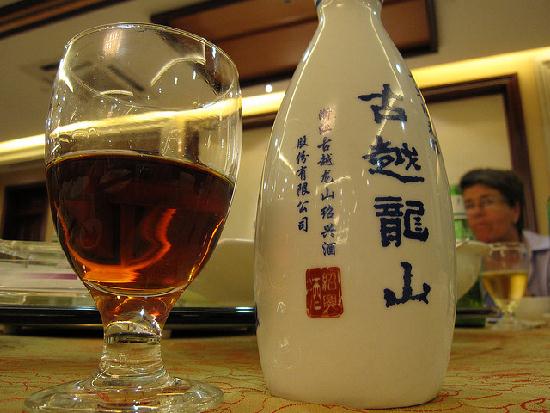 We'd been to Hong Kong enough times to know that the denizens of the City of Life as they like to call it, are adventurous (an understatement) when it comes to food and drink. Nothing, though, prepared us for our drinking adventure which began the moment that Chow Pak Chiu, owner of Ser Wong Hip, a little bar and grill, slid open a wooden drawer and pulled out a live, eight-foot-long cobra to show us the high quality of the snake used to make the wine for which his night spot is famous. "The more venomous the snake, the better the wine," he explained.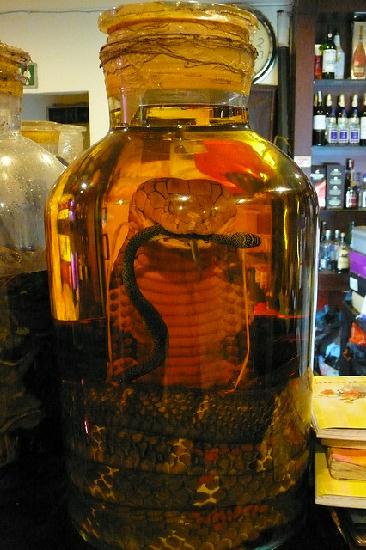 Like a proud winemaker showing off his vineyard's best grapes, Chow stretched the impatient snake so we could get a good look at its head and darting little tongue. "This snake is naughty," he said affectionately. We wondered if "naughty" meant that it bites or chokes and if that mischievous spunk was what gave a little kick to the shots that patrons were downing around us. Snake wine, we observed, isn't sipped slowly, but rather thrown back as if in a bar in Dodge City.
There were, in fact, more than three hundred snakes curled up and napping in a floor-to ceiling set of wooden drawers here. The patrons of this famous watering hole in an unassuming neighborhood sit at little tables downstairs while the actual wine making takes place upstairs, so drinking at Ser Wong Hip is a bit like a visit to a strange version of a California winery. The wine served here ages about four years, our host explained proudly as he pointed to shelves above us where bottles of yellowish liquid and floating sections of serpent were lined up like specimens in a pathology lab.
Snake wine, whose main ingredient is snake bile, is a popular seasonal drink, Chow tells us, enjoyed mostly in winter and reputed to be excellent for health and particularly good for arthritis and nervous ailments. Afflicted with neither, we were more than willing to say goodnight without a drink and continue our alcohol adventures elsewhere.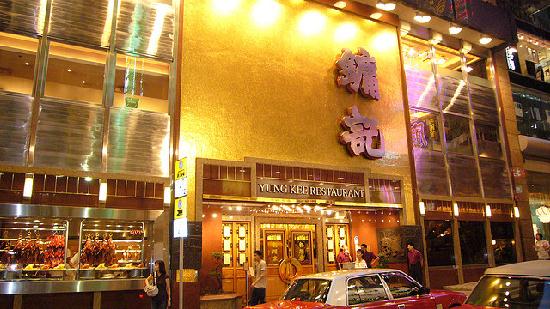 "Elsewhere" was NOT the popular Lan Kwai Fong area where tourists, ex-pats and young Hong Kong scenesters crowd clubs, bars and bistros. We were after a more indigenous drinking experience so we went to Yung Kee, a restaurant world famous for its stunning Cantonese cuisine, but known to insiders as a place with one of the best collections of Chinese wines in Hong Kong. These aren't the ones with overt medicinal properties like viper-on-the-vine, but wines made with rice or other grains (as opposed to wines made from grapes as in the West).
The History
Chinese wines have been around for 5,000 years and praised by philosophers and written about by poets. While the legacy wines have fallen out of favor with Hong Kong's younger generation who are enamored of stylish French, Australian and German wines, the traditional Chinese wines are still popular at banquets and family holiday dinners, and are often used to cement business deals. The wines aren't sipped, but rather used for toasts and drunk like shots. And what a shot!
"Caution!" our host, Hong Kong wine aficionado Eric Wong said, stopping me with a raised hand up like a kindly school crossing guard as I reached too fast for a red and white bottle that looked like a large container of lighter fluid. "The alcohol content of that one is 53%". The bottle he was referring to was Kwai Chau Mou Tai, a wine with a six century history. It looked like water, but when I took the tiniest sip, the inside of my head reverberated like a Neanderthal cartoon character that'd been smacked on the skull with a club.
I shook off the effects of the legendary wine and steeled myself for the others that were lined up on the table. They were in beautiful containers and each had a story. "This one," Wong explained pointing to a striking red and yellow pot emblazoned with a warrior, "celebrates a peasant uprising." I wondered aloud how the peasants, after drinking Chinese wine could stand up let alone rise up, but Wong assured me Shao Shing Hwa Diu, a wine made from sticky rice, is ONLY 22% alcohol.
Another wine, Mei Kuei Lu, in a plum shaped jar with a red cloth tied over its cap like a little babushka, is made with rice but has a guarded ancient recipe, a mix of herbs and rose petals. Wong called it a "relatively light wine." The "relative" part scared me but while it packed a punch, the smell of the roses was soothing.
As a finale and possibly to keep me from having to be carried out, Wong, like a mischievous sommelier, suggested Kuai Fa Ching , an amber drink that smelled sweet and floral (and at 15-18% seemed reasonable). Kway Fah Ching is reputed to have special cosmetic qualities. "For centuries only royals drank it," Wong said in hushed tones, "and it's said the mixture of flowers and herbs that kept all the king's wives (he had many) young." The wine tasted like a sherry on steroids but a shot at renewed youth made it worth it.
I can't say I was looking any more youthful by the time we left, but the benevolent and cumulative effect of the wines was clearly that I'd ceased caring. As the famous Tang Dynasty poet Li Bo observed,
A jar and the world is yours
The rapture of drinking and wine's dizzy joy
No man who is sober deserves.
*****
Judith Ritter is an award-winning independent radio and print journalist whose reports from Canada, China, India, Europe, the Caribbean and the U.S. cover travel, science and technology, business, entertainment and international development.
Her stories have aired on public radio programs in the US and Canada and her print stories have appeared in places such as The Globe and Mail, The National Post, The Boston Globe and South China Morning Post.
Ritter has introduced audiences to bomb squads, big rig drivers, demolition experts and longshoremen. When not on "hardhat" assignment. Judith also covers issues such as labor abuses in China, homeless children in India, community policing in the developing world, airline security and military technology.
*****
Photo credits:
Shaoxing Hua Diao Wine:Â Bernt Rostad
Snake Wine: Augapfel
Yung Kee Restaurant: Kent Wang
Chinese Wine:Â Ah Beng Tan
Chinese Rice Wine: Russ Bowling