By Sarah Katin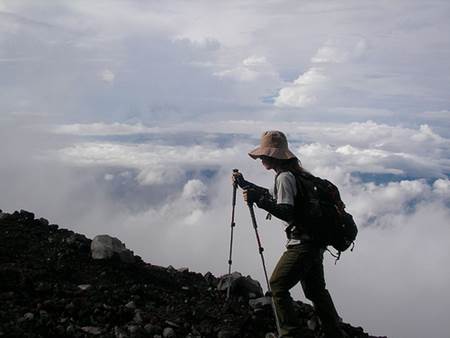 "Pack warm clothes it's going to be cold. I checked the weather reports. It's supposed to rain," Jen warns me. Cold? It's the middle of July. As I lie on the floor in my underwear, soaking in a bath of sticky sweat, it's hard to imagine putting anything resembling "warm clothes" on my body. Summertime in Tokyo is a sweltering nightmare of mind-bending heat and humidity. Sweaters have become my enemy; they are currently being held prisoner under my bed where I don't have to see them and be reminded of their wooliness. Also, there isn't a whole lot of room for storage in the teeny tiny box the school I'm working for calls an apartment.
"I've heard reports of a monsoon and gale force winds," Jen adds.
I'm not exactly sure how forceful a gale is, but deciding to heed Jen's advice I toss a long sleeved t-shirt and an extra pair of socks into my backpack. On my way to Shinjuku Station, I pop into a 99 yen store, buy myself a plastic raincoat and think, yep, that should do it!
"I'm freezing!" I shiver miserably at the base camp of Mt. Fuji after I've layered every bit of clothing I could get my hands on.
"I told you it would be cold," Jen says not at all sympathetic to my plight.
"How was I supposed to know there'd be snow? Who's ever heard of snow in July?"
Mt. Fuji is only open to the public during the months of July and August as the weather is too severe any other time of the year. Apparently monsoon season doesn't rank high on the weather severity chart for the Japanese. These real hikers view climbing Fuji as a rite of passage that must be honored at some point in their life. For this reason the mountain is teeming with hordes of pilgrimage-hungry mountaineers decked out in the finest gear. Teams of them are sporting matching streamlined sub-arctic snow jackets, argyle socks stretching to their knees, spring-loaded walking sticks, heat-activated gloves, spiky shoes, lamp hats, fog-proof goggles, and blinking tracking devices in case of an unfortunate tumble off a cliff. I stand, clearly inferior, in a few lumpy mismatched layers and what is essentially a trash bag with armholes masquerading as a raincoat.
"Anthony, what else have you got in your bag?" I plead desperately, scavenging for more.
"Just this bottle of champagne."
Anthony has been waiting weeks to make his move on Jen, and he's decided this trip is the perfect opportunity. He plans to impress Jen by pulling out the bottle of bubbly, at the top of Japan, as the sun pokes its sleepy rays out to awaken the day, bathing them both in its golden love. Anthony has a dreamy far off look. I can tell he's playing out his foolproof seduction scenario in his head.
"You got that champagne from the 99 yen store. It was next to my coat. Classy," I give him a look that says: good luck with that, buddy.
"Here," Dion says offering me his extra hoodie.
Dion didn't have anything better to do, which is how he came to be the fourth member of our not so stylish, nor adequately prepared, English teaching expat Fuji climbing team.
Most people, not us people, begin the 12,388-foot ascent at around ten o'clock in the evening. This allows time to hike throughout the night and arrive at the summit in time for the sunrise. We decide to start at eight, which will give us a nice head start from the crowd and allow us to travel at a leisurely pace. Jen takes the lead and Anthony eagerly trots along after her. Dion and I hold up the rear enjoying the relative serenity and surprising ease of the trail.
"How come we're not going uphill? Isn't that the point of climbing a mountain?" I ask.
"Sometimes, depending on how the trail is made, you have to go down before you start going up," Dion answers, somewhat unconvinced with his own reasoning.
I choose to believe his sound logic. I like this kind of non-strenuous hiking. After about an hour, it's becoming more evident that we are traveling in the wrong direction. It becomes obvious when we hit a paved highway, the very highway that led us to base camp in the first place.
Two hours later, we find ourselves back at the beginning. We set off again, but now we are amongst the horde and this time it's hard. I had envisioned a wooded trail with forest critters and the hoots of the old night owl to serenade our quest. It turns out that when you get this high nothing grows and the trail is just a zigzagging straight-up crawl through rock, gravel, and dirt. If you could see the line of people making their way up the narrow path, it would have looked like one great, impossibly slow-moving exodus, like out of one of those biblical epics. You couldn't actually see though because the rumored monsoon finally hit rendering visibility nil.
A strong gust of wind–perhaps a gale–rips me from my holy fantasy and takes my dollar raincoat with it. I clutch a large boulder as to not suffer the same fate. The wind lets up for a brief spell, allowing me to stumble from my rocky refuge and resume my crawl to the peak. I hear nothing except the rushing of wind through my ears. I can see even less. We are shrouded in a cocoon of fog, mist, and rain. After what feels like hours, we stumble upon an oddly located tin urinal and the four of us clamber inside hoping for a respite from the elements.
"I'm not going any farther," Jen declares sliding to the floor hugging her knees to her chest.
"I'm staying with Jen," Anthony says falling to the floor beside her, content with this arrangement.
"Who would build a toilet here?" Dion muses.
It was never my plan to climb Fuji. I had come along solely because Jen had suggested it over a few Asahis last week. After a few more Asahis, it had seemed like the best idea ever, and a cool thing to be able to tell people. Fuji, yeah, done that. For some reason though I'm overcome with a sudden desire to finish what we've set out to accomplish.
"Come on, guys, we can do it!" I rally as if I'd swallowed a cheerleader on the way up.
"I spent 21 days hiking the Annapurna Circuit in Nepal at heights of 17,000 feet, without a Sherpa. This is worse," Jen responds shooting me an icy glare.
"I'm gonna do it. We're already over halfway there. Who's with me?" I look around expectantly.
Anthony snuggles closer to Jen.
"Oh, alright," sighs Dion.
Dion and I continue on for I don't know how long; time seems to be as frozen as my toes. My eyes sting and burn with the little bits of dirt and debris that fly into them. Running on adrenaline, I want to surge forward but I can't. I'm stuck in a traffic jam of pilgrims and suffering the worst kind of pedestrian trail rage. You always hear mountain climbers extol the virtues of their passion. They speak of the spiritual highs and the soul enriching beauty and peace of the journey. I don't feel this.
Mt. Fuji is a bitch and I don't care for her.
Just as I'm cursing her name under my breath we happen upon a cabin, which stops us in our tracks. This must be the top! You build structures at the top of mountains, not perched precariously along its edges. I feel a fellow crusader gently tap me on the back.
"No, no, my child. Just rest. Still farther we must travel," he says with Yoda-esque composure. At least that's what I surmise he is saying, but I can't speak Japanese.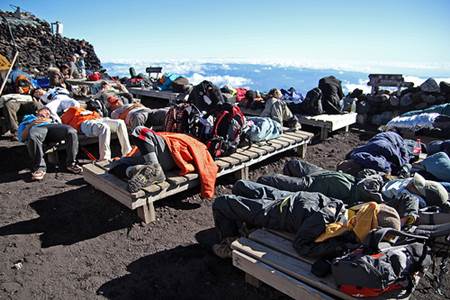 I don't want to go farther. I want to rest. I imagine a kindly hermit woman residing inside tending to her fire. She would bring us piping hot pots of green tea and make a cozy bed beside her hearth for us to lie down. After all, anyone who would build such a place must want to aid those on their journey.
"Thirty dollars," is all she says.
"What?" we respond. This doesn't seem very welcoming.
"Thirty dollars or you get out."
We have to pay the nasty hermit lady thirty dollars each to sleep on the floor of her hard, cold hut for one hour. There is no tea. Dion and I huddle for warmth, serenaded not by the crackling blaze of the fire, but by the howling winds that rattle and shake the rickety cabin to its foundation. We must have dozed off for only a few minutes when I feel a sharp jab in my ribs. I open my eyes to find the evil proprietress kicking me in the side. She kicks Dion too, which makes me feel a little better because I don't see why I'm the only one getting kicked.
"Time over. Out."
Dazed and disoriented we hobble outside to discover that daylight is coming. I sense light on the horizon, but it's still skulking behind the storm. We still can't see any more than a few feet directly in front of us. We must be close, but I'm torn as to how we should proceed. We've already lost two of our team; somewhere Anthony is wooing Jen in a urinal with a bottle of cheap champagne. I hope that goes well for him. Dion appears to be losing it, clutching himself tightly and rocking back and forth.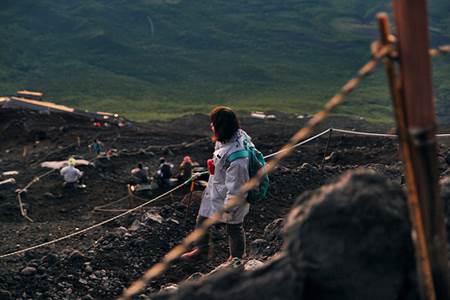 As I contemplate my desire to continue, I realize something. I don't really care if I get to the top. I've never been the type of person to look at a mountain and think, yeah, I should be on top of that. The view is nice and all, but so are a lot of things in life. Like vision and the ability to feel one's extremities.
"You wanna get outta here?" I shout to Dion, breaking him from his muttering hysteria. I don't wait for his reply. I'm already twenty steps closer to warm toes and civilization when I hear his jacket rustling behind me. He trips a few rocks that roll past me and knock into my heels as if to say, who's the bitch now? I laugh, not defeated but relieved as I inch closer towards my new goal–the bottom of Mt. Fuji.
*****
Sarah Katin has been a television host in Korea, professor in Japan, treehouse dweller in Laos, house painter in New Orleans, sangria swiller in Spain, dragon hunter in Indonesia, and fishmonger in Australia. These days she can be found in her Southern California office (the cushy chair by the window at–insert café du jour) where she writes for film and television. Or in Costa Rica bathing baby sloths. You never can tell about these things. Find out by following @SaresKat on Twitter.Â
*****
Photo credits:
Woman on Mt. Fuji: Hajime NAKANO via Flickr
Freezing on Mt. Fuji: Banzai Hiroaki via Flickr
Mt. Fuji Pilgrims: Hajime NAKANO via Flickr
Mist on Mt. Fuji Trek: Hajime NAKANOÂ via Flickr
Asahi Beer: Eduardo via Flickr
Tired Hikers: Azlan DuPree via Flickr
Woman Descending Mt. Fuji: Azlan DuPree via Flickr