by Caitlin Dwyer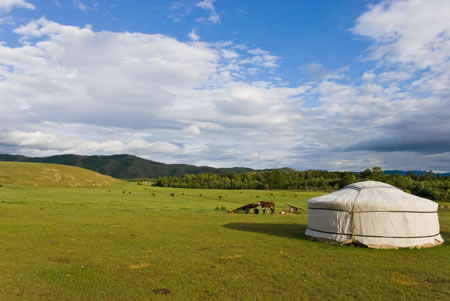 Everything in Mongolia is named after Genghis Khan.
Dark, spacious, and noisy, Grand Khaan Irish Pub reeked with the smell of sizzling fat. A veil of cigarette smoke shrouded the dark upholstery. Waitresses buzzed everywhere, smiles pulled taut across their cheekbones. One placed a frothy pint in front of me.  Chinggis Khan beer is Mongolia's national quaff, one of the many products named after the feared conqueror. Other namesakes include vacuum cleaners, the airport and vodka.
Grand Khaan hulked over a corner of central Ulan Bator, beckoning to travelers and upper-class Mongolians, who fancied themselves international by eating in an Irish pub.  The Dutch fellow next to me was desperately scanning the menu for bangers

and mash.  He found mutton and Ruffles. I suppose Genghis Khan's empire did spread far and wide, but I'm not sure it reached Dublin.
The next morning, I was scheduled to take a three-day trek into the Mongolian steppe.  Arranged by a tour company that prided itself on sustainable tourism, the trek would take me to visit nomadic families. We would eat with them, sleep in their ger tents, and help with chores; in return, they would receive a small stipend, and I would earn my stripes as a seasoned adventure traveler.
When you think of the typical adventure-travel destinations — Costa Rica, Kenya, Thailand — you form a certain image in your mind. There will be bamboo huts, or tree houses, appropriately rustic but charming. There will be a long trek with some type of exotic animal, perhaps an elephant, and porters to assist with the baggage. Perhaps a harrowing river crossing.
The porters will also pack beers, which they will surprisingly unveil at the end of the day when everyone puts down their packs. They themselves will not partake, but the gringos will proceed to scrub the day's experiences with a shiny wax of adventure and alcohol.  There will be photo opportunities at natural phenomena, perhaps a waterfall or volcano. The resulting epiphanies would be somehow expected and therefore more satisfying.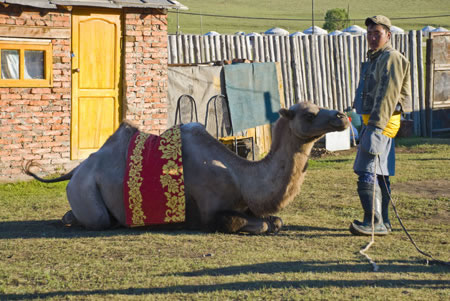 Mongolia held none of these mental expectations. I could barely conceive that I was in Ulan Bator, let alone embarking for the steppe. Our train had rolled into the Mongolian capital that morning. Sun shattered along the bright green rim of unbroken rolling plains. Then the dirt-smeared concrete blocks, the traffic-clogged streets, the ragged frontier-town: Ulan Bator. It seemed real enough, but I couldn't shake the feeling that I had walked into a myth.
When I signed up for the trek, I had had no idea what Mongolia meant. What the currency was, or who lived there. It seemed like a story. A place where men rode horses, always at a gallop, and vast deserts separated tiny pockets of civilization. I was pretty sure that a trek here would not include elephants, tree houses or beer; but I had nothing to replace these comforting expectations. I had a thick coat and a pair of hiking boots. I was nervous.
The next morning, I was running. Our tour company had told us that a bus would transport us to Terelj National Park; they'd failed to mention that it was a public bus,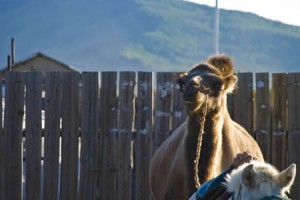 caught on a crowded street. My backpack slammed into my spine with every step; the shopping bag of rented camping equipment tore permanent welts in my palm. The bus stopped, "in front of, you know, that big hotel," so it was with some relief that we actually saw what appeared to be the correct bus, an ancient blue junker idling at the curb.
My hand went numb about an hour into the ride. As the last passengers to board, we had been given standing-room only tickets. This entailed wobbling in the aisle as the bus wove through U.B.'s notorious traffic, hemmed by seated French backpackers and Mongolian farmers clutching their babies. I was straddling backpacks and a bleating lamb with bound legs, who occasionally mourned up at me with uncomprehending black eyes. The bus bumped along, leaving behind the potholes of the city for a long stretch of road. I clutched the rail above my head. The blood slowly drained out of my fingers.
The Mongolian steppe rose out of nothing: shockingly green, making the grey rock and grey road seem somehow less alive. It was the only real thing: the still, unbroken plain of green.
The bus climbed between blocky rock spires. We weren't sure where to get off — somewhere in Terelj National Park, whose boundaries were unmarked, a seamless current in this ribbon of green. Boundaries seemed artificial, imposed from outside; who could say where the park began and ended? It was just land, just green space. A woman climbed aboard, wearing jeans and a thick embroidered jacket. She pointed to us. I grabbed my backpack and followed her.
The trust a traveler sometimes puts in strangers is remarkable. Our guide was middle-aged, but her skin was smooth, the color of darkened milk: barely cloudy, somehow youthful. The little town where we found ourselves consisted of a few humps of muddy road, spotted with grass; fenced pens for animals; a countable number of scattered,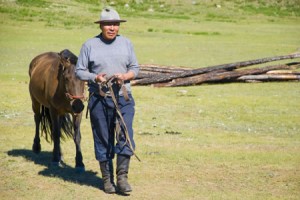 low buildings. It looked like an American western, barely clinging to civilization. She hustled us inside a tiny concrete building with a single window and handed us cups of tea.
I spat out my first sip. Salt. The thin, milky tea tasted strongly of salt. An aroma of earth and comfort steamed out of the mug. After a few sips, I expected the salt taste and began to enjoy it.
Next came dumplings; they fell apart as we lifted them to our mouths. A thin casing of wheat surrounded a lump of mutton. The white-flecked meat looked just off an animal.  I didn't know who these people were, or why they were feeding us. A few young cowboys wandered in for lunch. They wore long blue coats, which vaguely resembled Russian military uniforms. These were sashed at the waist with brightly colored silk.  Their riding boots were caked with mud. They removed their hats, and began slurping milk tea.
Eventually, our guide — who had been chatting with the canteen cook — collected us.  We found ourselves sitting on an oxcart, driven by the largest man I had ever met. An ox with reins running through its nostrils stood patiently in front of the two-wheel cart. A dirty mattress had been spread for our comfort. The driver, who also wore the sashed coat, beautifully embroidered in gold thread, lashed the animal. We lurched away from the canteen.
"How many oxen do you have?" I asked the woman, who sat opposite me, feet dangling off the side of the cart. My friend Matt sat up front, as was the privilege of men. He looked askance as the driver, clearly intimidated by the man's bulk.
The woman smiled, her face suddenly warmed by affection. Asking about herd animals is a polite conversation starter in Mongolia.
She held up one finger. "27 horses," she said. That was the extent of her English. I pulled out my guidebook. Oxcart is not a luxury ride. The small print Mongolian vocabulary jiggled each time the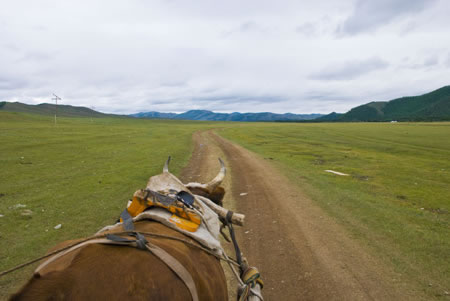 ox took a step.
We managed to establish a few essentials: she was the mother of our first nomadic family and her husband, the silent, giant, chain-smoking driver, would take us to their yurts for the night. We would travel 10 kilometers out into the steppe.
Perhaps I should have been worried. But as the town melted away, the ox hauled our cart across a shallow, pebbly river. The cart bucked; the woman instinctively grabbed my hand. She gripped it tight, to keep us both from sliding into the water. We lifted our feet up and grinned at each other.
The Bold family lived in a narrow valley. On one side rose hills, shimmering with grass.  The grass ran down the slopes and furred the floor of the valley, and terminated at the banks of a river on the other side. A few deciduous trees shaded the river; from the far shore, mountains rose. There was nothing out here. No people, except a round, white yurt every few miles, strikingly isolated in the midst of vibrant green. No trees, except those that gathered tentatively by the banks of the river. Only the sloping grass, fodder for the nomadic animals, and the plodding sounds of our oxcart.
Our cart climbed a rise. In the distance, a white-swathed yurt stood out against the grass. Smoke curled from its chimney. Our driver spat out his thirtieth cigarette of the ride, and yelled, "MY GER!"  His voice boomed across the plains. He glanced back at us.  His face was the size of an immense pumpkin. Heavy folds of creased, dark skin and narrow twinkling eyes — he was laughing. Laughter burrowed out of his belly and up through his whole body. His glowering and silence had been an elaborate practical joke.
That night, he showed us his horseracing and wrestling medals. They dangled from the roof beams. The northern curve of any ger is considered sacred; there hung the medals, above a family photograph, incense and a figurine of a horse.
Only a man may sit on the north side of a ger. Puffing a pipe, the immense man of the house straddled a stool beneath his medals. The rest of the family clustered around the central stove in descending order of importance — from wife to sons and daughters, and finally, guests.
In a ger, beds line the circular walls. In the center of the room, a cast-iron stove piped away, warming the hut and pumping smoke up a long chimney. Various practical items — toothbrushes, spoons — were tucked into the wooden slats of the roof. And there was a small generator, where the family's cell phones — the only evidence of modernity — charged at night. Occasionally, the mother stopped pounding flour with a wooden mallet to check for text messages.
I felt itchy, as if my skin weren't my own. I wanted to excuse myself. Having exhausted our Mongolian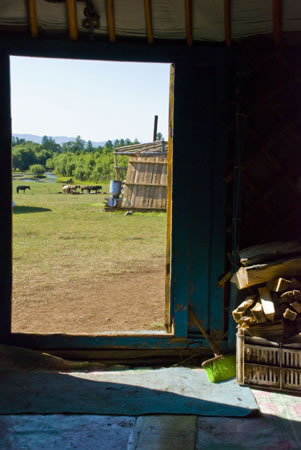 conversation skills, and the family's limited English, we found ourselves sitting in silence. Our hostess lifted a cloth draped over a large metal bowl, and skimmed congealed milk curd off the surface. Scooped into a dish, it became a buttery topping for donut-like twists of fried bread.
We were in a family's home. This wasn't a hotel; it wasn't a homestay. They were being paid to host us. I wasn't sure if I should offer help — although using a mortar and pestle to grind flour wasn't on my C.V. For the moment, sipping milk tea and listening to the sound of Mr. Bold slurping down curd and fry bread, it seemed painfully obvious that we did not belong. I had no way to communicate with these people. We were many miles away from civilization, in a tent in the middle of endless darkening steppe. What exactly were we supposed to learn, let alone contribute, when we could not even have a basic conversation?
After a meal of hot mutton soup, we retired to our sleeping ger. As I walked the twenty feet from the communal ger to our beds, I glanced around. The steppe had drawn a silence over it like a vow, a soft refusal to communicate its secrets. Above us, stars sharded their gleams into tiny splits of light. I was waiting for my gringo beer, my shiny wax. I was waiting for my epiphany. But the steppe kept its silence.
Even in mid-summer, the Mongolian steppe is cold. I wrapped a thick blanket around my own Columbia soft shell, and stepped out into the morning.
White light, hard and weightless, hovered over the landscape. Under its diffuse brightness, the grass seemed false — too green to be anything but velvet, mown to perfection. Up the valley, our host and his son were driving horses into a ravine — standing up in the stirrups, galloping here and there. Barely audible shouts whistled down the valley, and then the herd disappeared into the cleft in the green.
I started up a hill. It was one of many, furred with grass and studded with small rocks. I figured I would make it halfway up, and catch a dawn view before breakfast.
The exercise felt good. Sore from the oxcart, my legs wanted to move. Breath ragged out of me. Up close, the grass didn't look so uniform: there were bare patches, and clumpy bits of tiny flowers and lichens. I stopped to gasp a little, and looked up. The top of the hill was a few hundred yards up, steeply inclined. Something in me wanted the challenge; I started to jog on the balls of my feet, knees high.
The top of the hill kept receding. No matter how much I huffed, I didn't seem to progress; as I mounted a rise, another would appear, in seemingly endless humps. Like everything in Mongolia, it defied easy realization.
As I finally stumbled onto the rise, the sun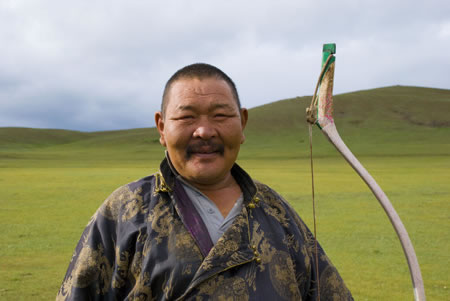 rose. It spread across the green, warming it, animating it. Running away below was the wide carpet of steppe, and the tiny white circles of our gers, clustered together like cold birds. The river curved through the middle of the plain. Unfenced cows picked their delicate way across the grass. There were no other animals, and no other dwellings, in sight.
This was Genghis Khan's land. Not the pubs and dirty streets of the capital, but this: wide open, unpeopled, wild. A land without boundary or definition.  A hard, cold, rough place. The kind of place that would breed hard, rough men and women; people who could survive in the barest of conditions, and who could transfer that toughness into anything: even conquering the world.
Piled on the top of the hill were a few rocks. The pile looked manmade, although decayed — like the Buddhist stupas I had read about, which Tibetans stack at sacred places. I wondered if this, too, was a stupa. Mongolian Buddhism shares many characteristics with Tibetan.
The rocks seemed to want me to do something. I vaguely recalled that Tibetans circumnavigated their holiest mountains. I gazed down at the pile. Walked once around it. Stopped, and looked around me, just in case anyone was watching. The steppe stretched out empty and uncaring.
I made another circle. And another. Three times I walked around the rocks, feeling slightly stupid, but somehow correct. As if, for once, my behavior matched my surroundings. Then I sat down, alone on a hillside, wrapped in an oversized Mongolian blanket. It wasn't exactly an epiphany, but it was what I wanted: to walk so far away from anything I knew that I circled myself, and came back again.
* * * * *
Caitlin Dwyer is a freelance writer from Portland, Oregon.  Poet, journalist, screenwriter, and teacher, she works with language in many forms.  She was born with a travel itch, and has traveled in the Mediterranean, Thailand, Russia, Southern Africa, and China, and circumnavigated the globe in 2010.  She lives in Nanning, China.
Photo credits:
All photos: Matt Bozigar