by Jules Atkins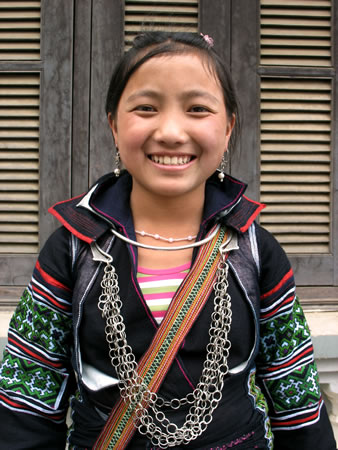 We were in Sa Pa, the tourist Mecca of northern Vietnam, known for its colorful markets, and equally colorful indigenous people — the Black, White and Flower Hmong. The women usually wear their tribal costume — black jackets and skirts, with heavily embroidered sleeves and aprons; bright-colored hats and head scarves; black leggings from ankle to knee; and multiple silver collars and chains and giant hoop earrings.
Hoards of Hmong women ply the city streets, draped with purses and bags, big wicker baskets on their backs filled with scarves, blankets and bags, looking for tourists. Son was one of them. She traipsed doggedly along after us as we passed through the market, holding out two little tubes wrapped in brightly-colored thread.  I'd seen lots of them around, and wondered what they were.
I was attracted to Son's broad open face, and despite knowing that it might entangle me in a lengthy bargaining session, I asked her to show me one. Her face brightened as she unwrapped the string from the tube, tipped it on end, and slid out a little brass mouth-harp. She gave an impressive 30-second concert, ending with, "You buy one? Buy two! Only three dollars for two!"
Knowing that I'd never use it, and unable to think of anyone who might appreciate it as a gift, I said, "No thanks, no buy. Very nice but no buy."  Undaunted, her smile undiminished, Son said, "Okay, maybe later you buy."
I was impressed with Son's sunny resilience. I knew her life was hard. Wanting to know a little more about her I asked, "How old are you?"
"Forty-five," she answered, holding up four fingers on one hand and five on the other, to make sure I understood. "How old you?" she asked. I held up five fingers, and then eight fingers. Son gasped, "no!"
"How many children?" I continued. "Three," she said, again holding up fingers. "All in school," she said proudly.
Son's children are fortunate. In a country this poor, and among a people who themselves are just barely eking out a living, the concept of education as something of value is rare. Sending their kids to school represents a significant financial loss for these families. While they're in school, the kids are not available to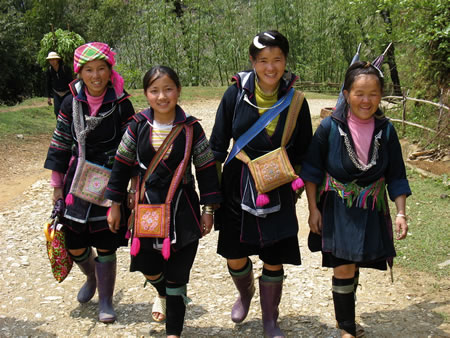 work at home, in the fields or in town to help support their family.
I put my hand on Son's arm, and said, "Good for you, Son. Good for you to send your kids to school." That's when Son and I made our first connection, no longer would-be seller and reluctant buyer, but two women sharing personal stories.
I told her we were going to go for a walk down to Cat-Cat village. "Okay," she said, "I wait here. I see you. I remember you." I bet she would.
Several hours later, we were again passing through the market when I felt a tug at my elbow. And there was Son.
"I see you back!" she said. "You tired? You hungry? You eat at market?" she asked.
"Maybe," I said. "We see."
Son tagged along as we headed towards the food stalls in the center of the market.  The kitchens were crude, but appeared more or less clean. I noticed that Son was eyeing a table where several Hmong women were sitting. It was the busiest stall in the market.
"Over there," I said. "That one looks good. Many people eating. Food good."
The cook, a wiry middle-aged Vietnamese woman, motioned for us to sit down and handed us some dog-eared menus. Amazingly, they were written in both Vietnamese and English! Why is anyone's guess — there were no other tourists here.
We sat down, but Son remained standing. I asked her if she was hungry. She shook her head, "I finish, you eat." I showed her the menu, and pointed to the Vietnamese words for noodle soup with chicken. She put her finger beside mine and said, "Yes."  Again I said, "You hungry? Sit down, eat soup." She just smiled and shook her head.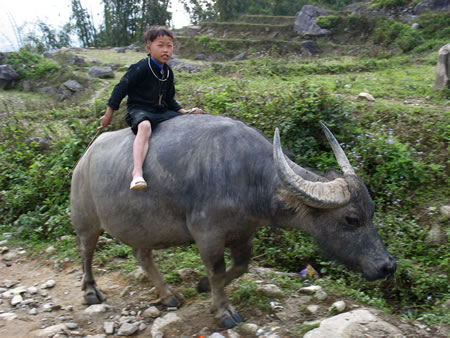 One of the young women at the table looked up and said, "She can't read. None of us can read. She's hungry, but she's shy."
I took a more directive approach. "Sit down Son. We buy you soup. You eat." I patted a spot on the wooden bench beside me. Son beamed, wrestled out of her basket backpack and sat down beside me.
As we slurped our noodle soups we chatted with the Hmong women. The younger women spoke better English. They said they hadn't learned it in school, as most of them hadn't been to school, but from talking — and selling — to tourists.
They all came from the same village. It takes them three hours to walk into Sa Pa, as most of them do every day, carrying their wares — and sometimes their babies — in their basket backpacks.
We chatted some more, showed the women photos of our kids, and were about to take our leave when Son pulled out the little colored tubes.
"You buy from me?" She was laughing even as she said it. I'd already decided I would, but started to bargain with her just for the fun of it. Son asked me for 40,000 dong, or around $3. I countered half-heartedly with 35,000. "No, no, 40,000!" she exclaimed. In the end I gave her 40,000 — I wanted to give her so much more.
As we were leaving for Hanoi the next day, I gave Son a parting, hug and said, "Good luck with your business. Good health for your family. I will remember you."
Although her smile never faded, tears welled up in her eyes. "I remember too."
As we walked away I felt happy to have made a connection with Son, but also sad, heavy of heart, at the circumstances beyond either of our control that make my life so easy and hers so terribly hard.
We weren't more than a couple of blocks from the market when Son appeared by my side, holding out a little silver bracelet. "For you," she said. "I give to you. You keep. Remember me."
Now there were tears in both our eyes. She laughed and said, "I cry again!" I hugged her one more time — goodbye, good luck — and she was gone.
Several months later we visited Sa Pa again, on our way to China. I was hoping to see Son. We headed down to the food stall in the market. Son wasn't there, but a few of the young women were. They
recognized us right away and greeted us with big smiles. When I asked about Son, one of them said, "Yes, she's not here today. She's in the village. But I will tell her you're here. She's my auntie!"
We told them the name of our guesthouse and invited them to come by any time.  The next morning, before we'd had breakfast, Son and her niece, Zee, were waiting outside our guesthouse. It was a happy reunion. Son's winter had been relatively good. "Many tourists. Some buy." I was glad for her.
We had wanted, during our first visit, to do a longer walk out to one of the many villages around Sa Pa, but the weather was just too cold. I asked Son and Zee if they knew a good one-day walk. Their eyes lit up. "Come to our village! We will walk with you. Tourists don't come there because there's no shops and nothing to buy."  That sounded perfect to us. We agreed to go the next day.
That night a crashing lightening and thunderstorm howled up the valley. Rain bucketed down from the roof onto our balcony. By the next morning the storm had abated, but a thick fog enveloped the town. We weren't certain this would be a good day for a walk. But as we were having an outdoor breakfast at a cafe near our hotel we saw Zee, who'd just walked the three hours into town to pick us up. How could we demur?
"Where's Son?" I asked. "In the market. She came in early." Zee went off to look for her, but a few minutes later Son appeared, having somehow missed Zee. We gave Son 50,000 Dong and asked her to go back to the market and buy some beef for lunch. She looked at us quizzically and asked, "Beef?"  We got the message across by sticking our fingers on our heads like horns and mooing.
The walk was spectacular. Sa Pa, known as the Queen of the Mountains, sits at an elevation of 1650 meters. Our walk took us higher. We climbed for the first hour, until were above the clouds, looking down on the valley below.  As the sun broke through the clouds, the crescent-shaped rice paddies that covered the hillsides were transformed into cascading prisms of silver and gold.
We passed men and boys slogging barefoot through the cold, heavy muck of half-flooded rice paddies, working hard to control old wooden plows pulled by massive, plodding mud-encrusted water buffaloes. A group of ragged, snotty-nosed kids ran towards us, wanting to pose for photos they'd never see. They peered at the LCD screen, pointing at themselves, and one another, giggling with delight. The eldest, a girl of maybe eight or 10 years old, had a baby strapped onto her back. I wondered if the baby's mother was one of the sellers in town, and how long and often the baby was left in the care of this little girl.
After about two and a half hours of steady hiking, along ridge-tops, across streams, and through bamboo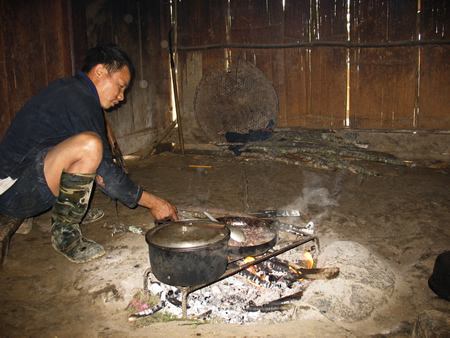 groves, we came to a small clearing. Son stopped and pointed, "My house, over there."  Half an hour later we were there.
Son's house was typical — a small crude one story box with wood-slat walls, one or two windows, covered with cardboard to keep out the cold, and a pitched corrugated tin roof. No paint, no landscaping.
Inside all was dark. There were no lights, and precious little light penetrated through the wooden slats. There appeared to be three rooms, separated by smoke-smudged thin wood paneling. The floor was dirt. There was no furniture. A few clothes and a machete hung from nails on one of the walls. It was perhaps the poorest and meanest dwelling I had ever seen — and Son lived here with her husband and three children.
After our eyes adjusted, we ventured from the main room into a smaller room where Son's husband was cooking our lunch over a fire. The open fire was set in the middle of the room — there was no chimney. A big pot and a cast-iron frying pan were balanced on a heavy metal grill over the fire. Son's husband was tossing strips of meat into the frying pan. He looked up briefly and gave a shy smile. He spoke no English. He likely had had very little contact with foreigners — the Hmong men tend the land, and sometimes the kids, while the women go to town.
From somewhere appeared a low wooden table, black with years of use, smoke and grime, and several low bench seats. I sliced the cucumbers and peeled the oranges that we'd brought along, and set them on the plastic bags they'd come in — the cleanest surface I could think of.
Son and Zee brought in bowls of noodles, rice, meat and scrambled eggs. The eggs had been contributed by a neighbor, a special treat in honor of our visit. Just before we sat down to eat, another neighbor arrived with Son's three children. They were as ragged, dirty and snot-nosed as any kids I've ever seen, but their eyes were bright, and they looked healthy.
As we were eating I spied Son's daughter, a girl of around two, squatting on the floor in front of the frying pan that had been used to cook the meat and eggs. She was scooping up the few tid-bits that were left. The older kids hung round the table cadging for slices of cucumber and orange. I wished we'd brought more.
After lunch we walked down the valley to Zee's house, about 15 minutes away. The path was a muddy and
very slippery streambed. Son held my arm to make sure I didn't fall, but she was slipping too. I laughed and said, "You go down, I go down; I go down, you go down." Son laughed uproariously, "You go down, I go down," she sang out. She was happy. We were friends, sharing a joke.
Zee's house looked like Son's, but the inside was slightly more inviting. There were a few pieces of furniture — an old treadle sewing machine, a plastic chair and — a TV and DVD player! A couple of light bulbs dangled from oft-spliced wiring. When they can afford the fuel, Zee's family can run a generator, have lights, listen to music and watch television. They didn't have money at the moment, but they did have potential and that is promise, if not progress.
I noticed a poster on the wall with a few letters in English: HIV/AIDS. I asked Zee about it. She told me that her husband had learned to read and write Vietnamese.  So he'd been hired by the local health authority to translate information and dispense medicines to villagers. He's paid 40,000 Dong (about $3) a month. That's his only cash income. Mostly he works in the rice paddies or vegetable gardens, some of which are 30 to 40 minutes' walk from their house. And he is constantly collecting wood for their fire, which provides some warmth, if you sit close enough, and over which all of their food is cooked.
Zee said that there had been some cases of HIV among the Hmong people, likely the result of relationships with foreigners. It's unfortunate that increased tourism brings not just increased commerce and interchange between foreigners and lcoals, but also increased intercourse, prostitution and sexually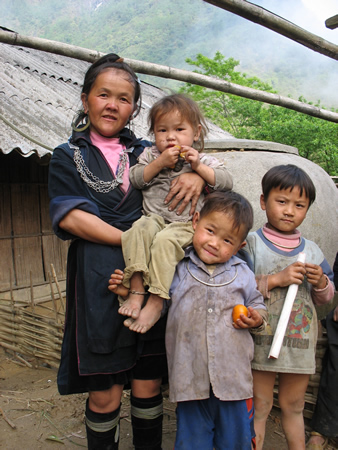 transmitted disease.
Son had come with us to Zee's house. We were leaving for China the next day. This time we were saying goodbye for good. We wouldn't be back. Son walked us a little way down the dirt track towards a road where we could hitchhike back into town.
I had a little woven bracelet that I wanted to give her as a token of our friendship, a way of remembering. Tying it around her wrist, I pointed to the bracelet she'd given me, which I'd worn every day since, and to the one I was giving her. "Friends," I said.  "Good friends. I will not forget you Son."
She held me in a close embrace. "I not forget too," she said. "I not forget you."
I still get a catch in my heart when I think of Son, wondering how she and her family are doing, and what their future may hold.  Best wishes Son, from your friend Jules.  I not forget you.
* * * * *
Jules Atkins is a traveler, writer and midwife who lives in British Columbia, Canada.  She has traveled extensively in Asia and South America. She particularly enjoys making connections with local people and getting to know more about their cultures and their lives.  If you would like to read more articles by Jules, you will find them at www.julesatkins.blogspot.com and www.atkinsinmotionmexico.blogspot.com.
Photo credits:
All photos: Author