By Tara Vicars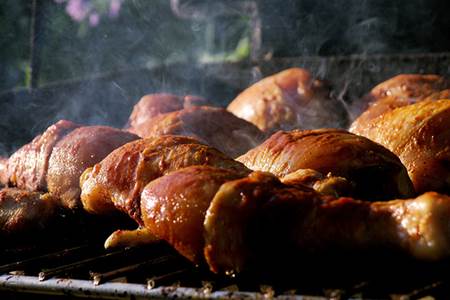 To me, "impromptu" means coming up with an idea then calling some friends to see if anyone wants to join the fun.
Of all the lessons I'm learning in this small town in Tanzania, the most important one is that Tanzanians take "impromptu" quite literally.
After many days of Christmas hosting, family obligations and general busyness, my boyfriend and I were planning a quiet night at home on the couch with some leftovers, a few glasses of South African wine and a movie. Standing in the kitchen, we hear a car at the gate and give each other the look that says "there goes that idea."
Sure enough, out pile some friends with two frozen chickens, a side of goat that they claim is lamb and a bottle of vodka. They hand it all over and announce that we are going to have a barbeque. Right now. There are no questions as to our plans, our availability or if we even want to host a barbeque. The fact of the matter is, someone came up with the impromptu idea and it never crossed his mind that we wouldn't agree. And with good reason. In Tanzania, you don't turn away guests no matter why you may want to.
With customary Tanzanian good manners, we smile, accept the food and start scrounging the kitchen for side dishes, mixers for the vodka and a way to make this goat edible. Charcoal is sent for, chicken is flash thawed in warm water, and goat is soaked in red wine and spices. All I can think is "back home, impromptu means calling ahead."
It's not polite to ask guests for help, rare for a guest to offer assistance and quite unusual for a guest to bring anything to the party. Alone in the kitchen, I realize that I should be thankful that they brought the meat and more importantly, that the meat was already dead.
Our little town in Tanzania has some immense benefits; rich avocados, fresh tomatoes always in season, tropical fruit and a warm climate. It also has some definite drawbacks; no 24-hour supermarket or corner store, mosquitoes with malaria, and a lot of "impromptu."
With the meat thawed, seasoned and ready to cook, we light our charcoal barbeque and heat our tiny oven. Beer bread is baking in the back of the oven and the goat masquerading as lamb is wrapped in foil and placed at the front to roast as slowly as possible in a time crunch. The chicken is placed on the outer rim of the grill to try to keep it from burning before it cooks through.
Before the food is ready, our guests have finished all of the sodas and the batch of fresh orange juice that I made this morning. The next thing we know, one of the guests, already unsteady from the vodka, is climbing the orange tree in the dark. The last thing we need in this part of the world is a broken bone and guests airlifted to a city with a decent hospital. But orange juice must be made and so oranges are procured.
Eventually, regardless of the impromptu nature of the visit, a feast is laid out on the picnic table, glasses are full and we all dig in to what has turned into a delicious meal. Apart from the goat; there really is no good way to serve goat.
We get rave reviews on the food. All our guests utter surprise that it tasted so good with so little planning. To celebrate, the shisha pipe is taken from its storage place and drinks and shisha continue for the rest of the evening.
Eventually, I take my leave and head to bed, leaving the men to continue their gossiping while they nibble at the remaining food.
I enjoy being in Tanzania. I am thankful for the benefits that this place and these people bring. But I look forward to going home to a place where impromptu still means calling ahead.
*****
Photo credits:
Barbecue Chicken: Yandle
Backyard Barbecue: Jose Maria Silveira Neto
Guy with Shisha Pipe: Lara