By Mandy Huggins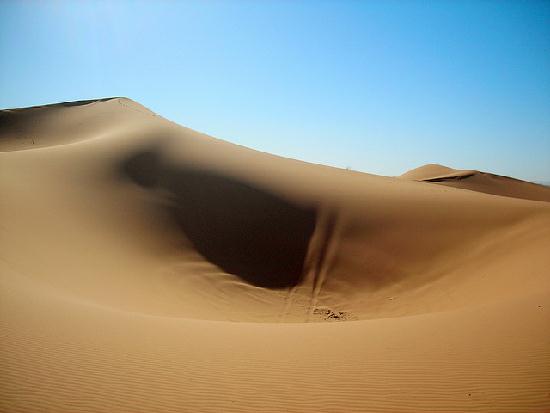 When Marnie and I embark upon our journey across the Tunisian Sahara I am already hallucinating. I am constructing my own beautiful mirage in the distant desert. I imagine leading camels through the dunes in the soft dusk, and camping with mysterious nomads under moonlit skies.
I read the guide book and keep my eye on the map, as Marnie takes first turn behind the wheel. Periodically, I spout my nuggets of newly gleaned knowledge. "This desert is the Grand Erg Oriental," I inform her. "Erg means 'field of dunes'."
We drive along narrow dusty roads, passing through small towns of low whitewashed houses; two women starting out on an adventure at the edge of the Sahara.
Just three hours later we are standing by our car in the unforgiving glare of the afternoon sun. An archway spans the road ahead, carved with Arabic script, and it appears we are not allowed through. Apprehensive, I pray that the soldier will return with our passports and allow us to leave. Our attempt to explain where we are heading – in rather disjointed French – is met with unreadable eyes. Something tells me not to argue further. With an impatient flick of the hand, the soldiers indicate that we should open the car boot. One of them gives our luggage a cursory once-over, his gun slung nonchalantly over his shoulder. The other stands watching us, an acrid cigarette pinched between thumb and forefinger. I feel a trickle of sweat snaking slowly down my back.
The spell is broken by the appearance of a ball of yellow dust. A jeep screeches to a halt at our side, and the driver shouts brusquely to the soldiers. Abruptly, the boot is swung shut, and our passports are handed back with a nod and the vestige of a smile.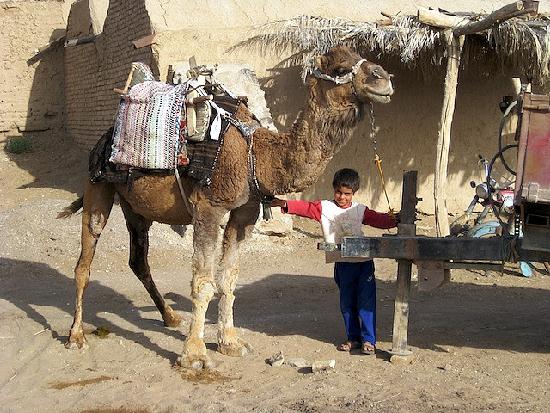 Relieved and confused, we turn the car around and drive back towards Tozeur. I open the map. Our mistake was simple; we had been heading west towards the Algerian border, instead of south as we had intended. We had just encountered some over-zealous border guards, and now we feel slightly foolish.
We carry on south until the road dissects the Chott El Jerid, the largest salt pan of the Tunisian Sahara, where temperatures can soar to 50°C. Halfway across, we park at the edge of the sun-baked road and tentatively step out onto the salt crust. Mirages shimmer in the distance; castles and spaceships, elusive as rainbow-ends.
Eventually we reach the desert town of Douz, where minarets and blue-shuttered houses appear ghostly in the half-light of dusk. Pale dunes, as fine as icing sugar, roll into the seeming infinity of the Sahara.
The next morning we rush headlong to the edge of the desert, feeling the sand rush softly between our fingers, scooping it into a tiny bottle that once held fig liquor. We climb to the top of a dune, laughing and sliding, wrapping our blue berber scarves around our faces. A boy in a neon shell suit introduces himself as Ali, and points to his two camels, Pauli and Pipa. Powerless to resist Pipa's sweeping eyelashes, we agree a price for a two-hour trek.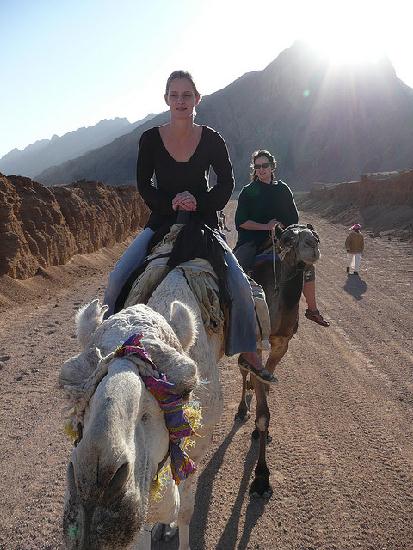 We stroll out into the desert, silenced by the clarity of the light and the depth of the shadows. Eventually Douz disappears from sight, and we lose all sense of direction. Marnie asks Ali if we can go faster. He lets go of Pipa for a moment as he starts to run with Pauli's rope, giving him a quick thwack with his stick for good measure. The camel expresses his dismay with a loud bellow, and as he digs his heels in, Pipa takes the cue to set off at full tilt.
At first I am in shock. I hold on tightly to the pommel as Pipa gallops into eternity, heading further and further into the dunes. I shout at her in vain as my scarf unwraps itself and floats upwards like a distress flare.
Then I panic. I am scarcely managing to hold on, and we are still accelerating. I resort to drastic action, and jump. I land awkwardly, winded, on what feels like concrete. Pipa keeps right on galloping without missing a beat.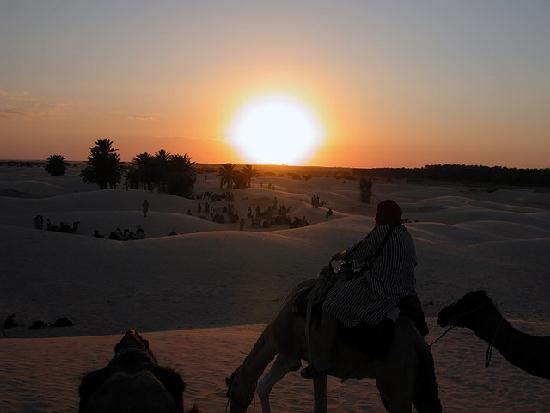 With nothing except sky and dunes (an erg, I remind myself) as far as the eye can see, it seems impossible that I will find my way back without a camel, a compass or water. The thought of water brings with it an instant raging thirst, and in no time at all I am hallucinating.
There is a mirage on the horizon; the tiny neon-pink figure of Ali, running towards me, waving his arms. Marnie follows, leading Pauli.
It turns out Pipa was following the trekking route back to the other camels and I wasn't really lost. "Good fast camel, non?" beams Ali as he helps me to my feet. Needless to say, he doesn't get a tip.
*****
Mandy Huggins lives in Yorkshire, England. She writes travel articles and short stories, and her work has appeared in various national newspapers and magazines. She has also achieved success in numerous writing competitions, and won the British Guild of Travel Writers' 2014 New Travel Writer Award. You can read some of her other work on her blog, Troutie Mcfish Tales.
*****
Photo credits:
Sahara Dunes: Raúl Santos de la Cámara
Douz Sahara: Leonora Enking 
Boy with Camel: Nick Taylor
Camel Riding in the Desert: Steve & Jem Copley
Sahara Sunset: Pavlo Boyko