By Carol-Ann Warr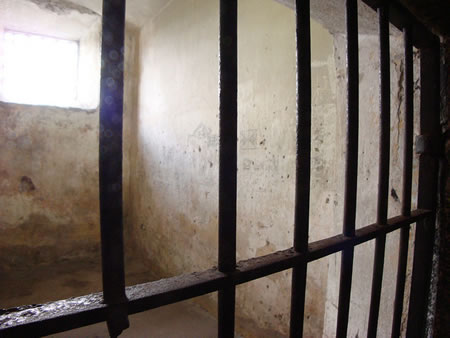 No one ever escaped from Robben Island. The lepers and other cast-offs who were banished to this place so long ago could not. Nor could Nelson Mandela, who spent over 20 years of his life imprisoned here. And, in a way, I can't escape it either.
As fate would have it, I was born white in apartheid South Africa — privileged by default,  raised under a racist regime where we knew less about what was really happening in our own country than the rest of the world did. Whether I liked it or not, that land of secrets and lies was my home.
Apartheid is dead now, and in 1996 the last prisoners left Robben Island. Today the island and its prison are open for guided tours and it's time for me to learn the truth of what was happening here while I was growing up.
I hate crowded group tours, but it's the only way to do this, so I head to the Nelson Mandela Gateway in Cape Town's V&A Waterfront to buy a ticket for the 3 ½ hour excursion. About 300 other people had the same idea. We all line up in the shadow of Table Mountain to wait for the island ferry on a bright blue day.
Robben Island lies at the southern tip of Africa, eight miles off the coast of Cape Town, in the deep blue Great White Shark playground where two oceans clash. It's surrounded by a veritable graveyard of ancient shipwrecks, a fact that only intensifies the sense of treachery and isolation befitting a former place of exile; most recently, the iron-fisted outpost of South Africa's penal system, where Nelson Mandela was jailed from 1964 until 1982. Robben Island is a UNESCO World Heritage site, a symbol of the triumph of the human spirit over the evil of oppression. Nelson Mandela embodies that bloodless victory, and he is a hero to me.
I have to focus on that thought when I cling to my seat while everyone else seems unfazed by the bucking and rolling of the crossing. The violent swaying of the giant catamaran belies assurances that the wrecks on the ocean floor, so far beneath us, got there in winter when this "Cape of Storms" lives up to its name. I tell myself that it
must be safe, or they wouldn't be conducting four of these tours a day. As it is, I can barely concentrate on the video showing the grim history of the place.
It's a relief to disembark and walk the half mile on solid ground to the waiting tour buses. I try to think what it must have been like to arrive here as a prisoner, but my imagination fails me.
So far the island is unlike any I've seen before — no palm trees, no sign posts, no welcome party; unless you count the seagulls hugging the edges of the pier.
On the non-air-conditioned bus, our guide tugs at her blazer and stumbles over her words as we drive along the island's perimeter. Outside, the odd shrub looks thirsty. The prison buildings in the distance, the barbed wire fences, the roads — all remain as they were left, un-embellished. Robben Island is seven miles around and the short drive takes us past a cluster of buildings and a rugby field, the village where the prison guards and their families lived. The guards used to hunt the rabbits that dart this way and that, but there's no stopping them now, according to the guide.
The arrival of the buses at the prison is timed so that there aren't too many people crowding into the cramped spaces at once. Even so, there are a lot of us. The guide who greets us at the entrance is a former inmate himself –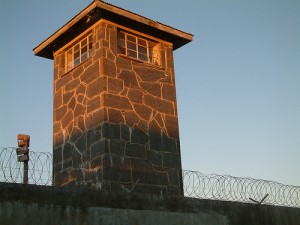 an ex-political prisoner, like all of the prison guides. Derrick Grootboom is broad-shouldered, handsome. "I got seven years for sabotage," he tells us. At 41, he has the look of a younger man, though he seems tense, his eyes unreadable behind tinted glasses. As we follow him into the prison yard, he points out the pretty blue stone of the building. It was quarried on this island by the prisoners who built the jail. We gather around him while he recites hard facts in a soft accent. A picture starts to form as he talks of isolation, hard labor, beatings, inadequate food and clothing, hunger strikes. He also speaks of camaraderie, of learning and teaching, of the strong supporting the weak, and of the few guards who were kind.
It's hard for me to listen to Derrick's story, played out at the same time as I was living my life, shielded by the pallor of my skin. He shows us the communal cells where he was jailed from 1986 until his release in 1991 — while I was graduating from high school, marrying, bringing my children into the world; immersed in the details of my life. He invites us to find a place to sit while he demonstrates his blanket-folding technique. The still-familiar ritual seems to relax him and shows us his smile when we ask questions, like;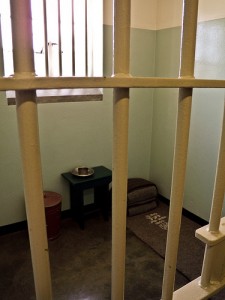 "How old were you when you came here?" and "How come you seem so normal?"
"Okay," he says, "I was 18. I learned to be a man in this place — it was a daily battle against the common criminals. The guards incited them to attack us, but when they found out we were converting the thugs to our cause, they segregated us. I completed my high school education in this prison, and my dad died while I was here. The older guys helped me a lot. We treated each other with respect, you know. 'Each One Teach One' was our motto."
The political prisoners were mostly young when they arrived. All men: Black, Indian, Colored (Non-Whites) they risked everything to fight against apartheid.
Someone asks about the warders, and Derrick says: "They were white Afrikaners. Actually, they changed our warders every now and then because they were scared that they would grow to respect us too much. That happened. Still, many heroes died here over the years. It was the most feared prison in South Africa."
This strikes a chord with me. Robben Island was a name I had seldom heard, in those days of heavy-handed censorship, but it was always uttered in tones of awe.
Derrick says he got through his time by refusing to personalize his pain, by taking note of the suffering of others. Like so many of the Robben Island "alumni," he left with that focus intact, going on to earn a Nelson Mandela Scholarship and a law degree.
We follow him into the maximum security prison building and shuffle single-file past the first three in a long row of cells. We stop at the fourth one. It's the only furnished cell, the only one where the steel gate stands open. It's really small and the "furniture" consists of three folded-up blankets on the ground, a bucket in the corner. Derrick tells us that we will have to accept that this is Mandela's old cell. This is as far such a large group can go. And Nelson Mandela was housed in one of these identical cells. I take a moment to pause in the doorway, to look at the small barred window high up in the corner, to gauge my reaction before the person behind me nudges me forward.
It's still there — that familiar tug of guilt. Though I grew to despise apartheid, I didn't suffer, and I certainly didn't do anything brave enough to land myself in prison.
We barely have time to thank Derrick and say goodbye before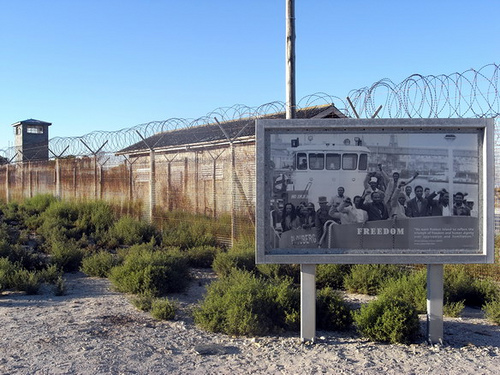 being ushered back onto the bus to head for the quarry, the final leg of the tour. I'm sweating in earnest now, and the glare from the limestone would be unbearable without sunglasses, which the prisoners were denied. They spent most of their time in hard labor here, among them not only Nelson Mandela, but also Jacob Zuma. Those two laborers became the first and the third President of post-apartheid South Africa, respectively. The Robben Island of today is presented as an inspiration to people everywhere with its message of hope, and redemption.
It's a humbling experience to stand in the footprints of the courageous men who suffered and endured here, emerging with such an improbable spirit of forgiveness to begin the long journey to healing in this country. I close my eyes against the sun, and a whiff of eucalyptus drifts by from the bedraggled stand of trees in the distance. My memory stirs. I remember a dusty little mining town, a bleak landscape, a harsh glare. I remember climbing trees like these, feeling small. I remember daydreaming about growing up and escaping. I remember feeling so sure that there was a world full of promise waiting out there, in the distant future. Now, I feel connected to this place, I feel connected to those who suffered here, and they're connected to me. We were all tainted by apartheid. But we have all been redeemed by the grace that flowed from here.
We go back to the ferry named "Sikhululekile." In Xhosa, that means "We Are Free." That's how I feel now.
* * * * *
Carol-Ann Warr was born and raised in South Africa. In 1996, she immigrated to America with her husband and 2 children. Carol-Ann has traveled to thirty countries, so far – she now calls Sarasota, Florida, home. Carol-Ann also contributes to a collaborative writing blog.
Photo Credits:
Bars: Alberto
View from Robben Island: aprillynn77
Robben Island prison cell: Smath.
Prison Tower: johan.seland
Outside the prison: kudumomo