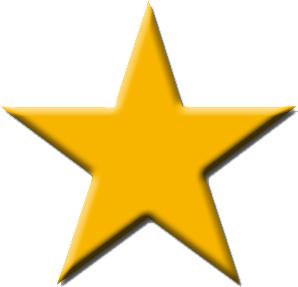 Grand Prize Winner in the 2013 WanderWomen Write Travel Writing Contest! Rebecca wins a 6-night stay at the Westin Golf Resort & Spa, Plaza Conchal, Costa rica, including airfare vouchers.
By Rebecca Myers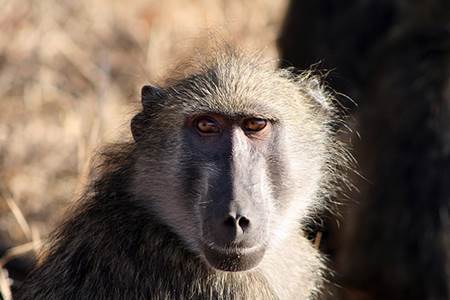 As I hold the smooth, crude carving of the baboon, I see his face even now and shiver. His eyes avoiding mine as if he knows he's going to do something bad…
***
Sharon grows weary of me telling Raymond, our driver-guide, to stop so I can take yet another photograph. I'm obsessed with capturing beauty and memories; I want to take all of South Africa home with me. Sharon and I are colleagues working in Pretoria for three months, so on these holiday weekend trips we cram in as much as we can, like an overstuffed suitcase you have to sit on to shut.
Raymond's van hugs the coastal road where the green cliffs meet the crashing spray of the Atlantic Ocean as we weave our way from Cape Town to the Cape of Good Hope. I could click a hundred photos, but I bow to Sharon's concerns we won't stay on schedule if I keep at it. I have to be content with my eyes taking the photos, but missing some shots feels downright painful.
Near Simonstown, our cameras come out for the penguins, the main purpose of this trip, along with watching for whales along the coast. Highway signs exclaim "Penguin Crossing!" and we can hardly contain our joy at seeing them in the wild. The African penguins are small, only about two feet high. Some are close enough to touch as they nap among the green shrubs. Others sunbathe on the white sand and boulders, and swim in their Ocean's Eleven tuxedos. What a contrasting scene from Emperor penguins braving the howling wind and ice in Antarctica. This is the Riviera for penguins on holiday.
We are not as successful with the whales. Each year, southern right whales migrate to their nursery off the coast of South Africa to calve and nurse their young in these protected waters. This is one of the few places in the world where you can watch whales directly from the shore. In Hermanus, all we see is blowing spray as one whale surfaces briefly for air. My disappointing photo is more like "Where's Waldo?"
Back near Cape Town, we pass a town called Monkey Hollow. We notice the mansions have bars on gates, doors, and windows, even on the third floor. South Africa has one of the highest rates of violent crimes on the planet. But in this town, Raymond says the bars have nothing to do with human criminals, but baboons.
Raymond regales us with baboon stories from this neighborhood. One small bathroom window on the third floor left unlocked while the owners were away on vacation resulted in a wild slumber party. As he pauses, we lean closer to hear the details.
The family came home to find their home destroyed; sofas and curtains shredded; treasures smashed; food eaten; and baboon excrement smeared everywhere. Another neighbor was walking her precious toy poodle when a baboon leapt out of nowhere onto the white curly fluff, tore out its throat in front of her horrified eyes, and carried it off for dinner–leash and all.
This is baboon country. No sooner do we spot highway signs proclaiming "BABOONS!" when a blur of fur zips by. We spy another baboon loping on all fours across the highway to eat fruit from bushes edging the rocky beach.
I have trained Raymond well. He anticipates my request but cautions me, "Stay close. Shut the van door after you. Baboons are extremely fast and vicious. They jump into vans–even open the doors–to get food, and they're at you before you know it. They have hurt tourists."
As if that wasn't enough, he adds like a danger sign blinking with neon lights, "They are one of few species that recognize the sex of humans and almost always attack women, considering them the weaker sex. And they attack the throat with canines longer than a lion's."
We gasp in unison. No longer do we think of them as cute monkeys. Raymond's caution hastens my shot far better than Sharon's impatient sighs.
I edge my butt along the front grill of the van, take a quick shot over the hood, then run back and hoist myself into the front seat of the van and slam the door as if I am being chased. I am not thrilled with my shot or lack of courage.
Little did I know, I would find out just how much courage I do have.
***
Several weeks later, Sharon, her friend, Jenny, and I fly from Pretoria to the city of George. We rent a car to spend four days driving about 250 miles along the southern coast of the Western and Eastern Capes of South Africa to Port Elizabeth. We want to see the famous Garden Route, so-called not for cultivated gardens but for the fynbos, the floral kingdom that grows wild along the Atlantic and Indian Oceans and blooms in the spring.
Of the world's six floral kingdoms, the fynbos is the smallest and the only one indigenous to just one country. Out of 9,000 species of plants, 70 percent are found nowhere else on earth. A greater diversity of species flourishes in this small belt (about the size of West Virginia) than in the Amazonian rainforest.
That information is hard for me to wrap my mind around, but not my eyes. The scenery along the Garden Route looked like a painter had emptied every color in his palette, yet invented even more colors and shapes just to show off.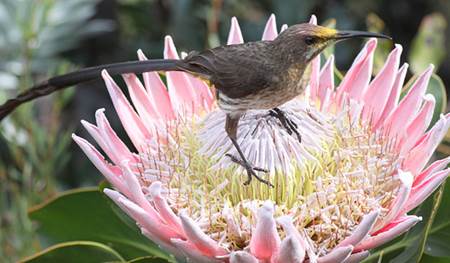 Some of the fynbos blooms are delicate and tiny like fairy bells, but the showstopper is the King Protea, the national flower of South Africa. The huge bud looks like a pink artichoke. Opened, two dozen pointed petals radiate around a wide thistle-like head, blooming as large as a dinner plate. As I snap its photo, I pause, my heart as large and open as this flower with gratitude towards the beauty of South Africa.
By now, Sharon actually asks me to take some photos, because she is driving.
It was raining when we left Pretoria, but the bright sun on the southern coast lifts our spirits. When we spy the Indian Ocean for the first time, we squeal like children and run barefoot on the first white-sand beach we come to, jumping at its heat, splashing in the warm blue-green waves–so unlike the cold, gray Atlantic of the Western Cape.
On our second day, we enter the gates of Tsitsikamma National Park. The baboon signage intensifies: "BEWARE! DO NOT FEED!" "Baboons are dangerous and attracted by food." "Baboons who beg for food will be shot!"
The signs remind me of an experience when I was about seven-years-old. My family and I were camping in Yellowstone National Park, where danger signs warned us not to feed the black bears and grizzlies. Images of snarling bears haunted my dreams. Whenever we went hiking, the park rangers taught us to scare away the bears by ringing bells, clapping aluminum pie tins, or singing loudly.
It must have worked during the day, because the bears only came at night like stealth shadows while we slept in our tents. Shivering from fear inside my green flannel bed roll, I could hear a bear throwing our Coleman ice chest in the stream, bouncing it against rocks until it broke open, then grunting as he took off with our ham.
I wonder whether the South African park rangers use the pie-tin method for scaring baboons away.
The Chacma baboons along the cape are the largest and heaviest monkeys in South Africa. Males range from 2 to 4 feet, but can stand more than 5 feet tall, and weigh 50 to 95 pounds; females are about half the males' size and weight. They're fast and can run about 40 miles per hour. As omnivores, they eat everything from fruit, insects, and seeds to baby antelopes. But they often live in close proximity to people, so they're cunning scavengers.
We spend one night inside the national park in a spacious log cabin that faces the Indian Ocean next to where the Storms River Mouth gushes to meet it. Waves, as high as two-story buildings, crack like gunshots as they pound the rocks, then burst into the sky like fireworks.
The baboon warning signs in this park are relentless and continue inside our cabin. Posters remind us to "Lock your doors and windows before vacating the cabin." We make a ritual of checking and locking the door and all the windows before going to bed.
The front of the cabin is a wall of glass, providing an ocean view from the living room, which doubles as my bedroom. The kitchen window looks out back toward a dirt road that slopes up the side of a mountain.
I awake at sunrise to see the radiant smile of the moon in a sapphire sky appearing like a satisfied lover and the rosy sun raising his arms out of his ocean bed entreating his mate to linger just another moment. Our deck is soaked with sea spray from the undulating climaxes we heard all night long.
I step out of the cabin softly to not awaken my friends, toting my camera. I breathe in the salt air and stifle a cough. The scent is overwhelming, like dense kelp or rotting crab.
Two cabins up, a large metal trash can crashes over. Out scampers a large baboon. I click away using my 55-mm lens, not happy with the distance for the shot, but I squelch the urge to get closer for a better angle. I decide not to risk my throat with a close encounter.
I scurry back to the cabin, shut and lock the door–exhilarated at my mini adventure.
I pull up the blinds in the kitchen, so I can watch his movements if he comes to the back side. I spy another overturned trash can; he has already made his rounds near our cabin.
Jenny wakes up, and we steal outside to take some more shots, stifling our nervous giggles. The baboon is still raiding the trash can two cabins up from us. When he moves, we dash back to the cabin and slam the door, panting.
We peer out the living-room window but don't see him, so we turn our attention elsewhere. Jenny lounges on the couch and looks at some South Africa travel magazines, and I repack some souvenirs while we chat about the hike we want to take along the Storms River. From her bedroom, Sharon shuffles half asleep in her pajamas into the living room, yawning.
Suddenly, she hollers and points, "Oh my God, look!"
The baboon is at our front door peering into the glass like a kid savoring goodies in a candy store. His head and long snout are larger than my head. He stands tall and tests our door handle. I gasp at his height, nearly as tall as me at 5 feet, 4 inches. I hold my breath; I can't remember whether we had truly locked the door. The cabin is dark inside, so I'm not sure he can see us. We're all frozen in place as if he's turned us into stone.
The door holds.
Disappointed, he drops down on all fours to the deck. I grab my camera a split-second too late as he saunters off, and I click his polished rear-end.
"DAMN!" I wail. "I missed the best shot of the whole trip!"
We figure he's on the opposite side, so we three crowd at the kitchen window, watching as he scampers higher up the mountain to another cabin. We can hear people scream as they rush to close their window when he nearly gets in. This is one brazen baboon!
We look at each other, proud and smug that we weren't so stupid; what were those people thinking?
"Gee, didn't they read the signs about locking up?" said Sharon.
He disappears, so the excitement is over. Sharon goes back into the bedroom to get dressed, Jenny lounges in the living room, and I go into the kitchen to stir up some instant oatmeal as I stew over my missed shot. His face was so vivid, peering through the glass. That photo would have been the highlight of the trip. How could I miss that! I sigh and shake my head.
I watch my bowl of oatmeal turn around on the microwave carousel. When the microwave dings, I take out the banana-flavored oatmeal. As I dip my spoon to taste it, I hear Jenny's bloodcurdling screams.
I turn around and face the baboon, now taller than me, sitting upright on the kitchen table. We're both frozen in surprise.
He doesn't look at me, but I can't take my eyes off him. I read somewhere predators can take this as a sign of aggression, but I can't help myself.
The light from the window illuminates his golden-brown eyes set deep and close together under his bushy brow. No alarm in them, just watchfulness. The long, smooth, slide of his nose and rounded chin don't give a hint of his murderous canines. His sideburns give him a hipster look. Through his gray-brown fur I can see his pale gray skin. I have no idea where my friends are at this moment, probably frozen in place like me.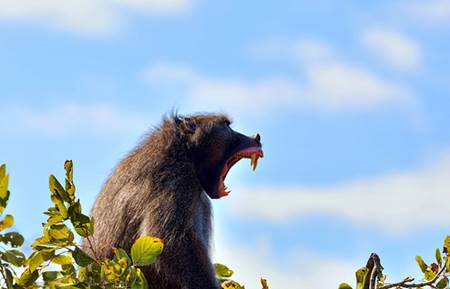 My brain telegraphs all the data Raymond gave us: lion canines… throat…dead poodle…weaker sex…throat…crap…shredded furniture…throat. At the same time, I wish for my camera, but I know if the baboon doesn't kill me, Sharon will if I step away to grab it. And some primordial sense tells me to hold fast. A palpable energy is connecting us, and I don't want to turn my back on him.
I hold my breath, as if my exhale will signal him to attack me. Neither of us move. I'm dead, and rigor mortis has set in. I feel the oatmeal drip from my spoon.
Suddenly my heart starts to throb in my head, and my body heats to a pulsating anger. I shout inside my brain as if I'm pounding my chest like a gorilla, "Not on my watch! Not my friends…not my cabin!"
I roar out loud as I hurtle my only weapon at him, hoping the action and noise will disorient him, but not evoke a gruesome reprise. My spoon hits him between the eyes, and a glob of oatmeal trails down his face, clinging to his sideburns.
He looks slightly distracted like a bored heir apparent who's done and seen it all.
I imagine he'll reach down and scoop the glob and lick it, smacking his lips, and then jump on me for more, grabbing my bowl. And if he hasn't ripped out my throat, he'll leap on the curtains and shred them, the pillows, or the couch, and throw shit everywhere. Surely Sharon and Jenny will lock themselves up safely in the bedroom, and they'll be spared. Later, they'll come out to find blood oozing from my neck, a trail of blood winding through the kitchen and out the window. Do park rangers draw chalk marks around bodies like detectives do for murder victims?
A blur of movement snaps me back to life as my brain screams, "Holy crap, here he comes!" The baboon whizzes past my shoulder to the food sitting on the tiled kitchen counter. He ignores a red apple at his feet and grabs a bag of ginger snaps and stale crackers.
He bounds with them back onto the kitchen table, and flies out the tilted kitchen window like one of the winged monkeys in the Wizard of Oz.
The baboon squats on the hill above our overturned trash can, tearing the bags and eating his prize. We watch his sharp inch-and-a-half canines tear into the hard ginger snaps.
Stunned, we look at each other wide-eyed. Did that really happen? Then we burst into nervous laughter and cheers of relief. We race to the window with our cameras, jostling to get the best view to snap photos. Inspecting the window, we realize the top and bottom horizontal panes were locked, but not the middle one.
Bad boy baboon vanishes, but we wait inside an hour just to make sure before we venture out. Later that day, we pass by the spot where he gorged himself. The ginger snaps were gone, but he left the stale crackers behind.
***
I spend my last days in South Africa traveling alone in the Drakensbergs (Dragon mountains), the highest mountain range in Southern Africa. One day I drive by a Zulu village, stopping at a community craft shop to see what I can buy to support the locals. On the shelves are reed baskets, beaded jewelry, and wooden sculptures. The sculptures aren't the usual elephants, lions, rhinos, leopards, and African buffalo. Here, sculptures depict local animals like antelope, eagles, and baboons.
I'm drawn to a crudely carved six-inch baboon, squatting upright with paws held up to his mouth to eat something–his frozen action so like my bad boy baboon.
The ample women in the Zulu village are wrapped head to toe in their bold, kaleidoscopic prints in bright green, orange, yellow, and purple. I must seem dull and strange, a woman dressed in khaki pants and a purple knit shirt. Their turbaned heads watch me roam around the shop; I'm their only customer.
When I bring my selections to the counter, the shy young clerk lifts her eyebrows over quizzical eyes. She grimaces, "Why, baboon?"
I can only imagine how the villagers have to put up with the baboons' thievery and peskiness with open doors and windows on their rondavels–simple round earthen huts with thatched roofs they call home.
My eyes light up. I point to the sculpture and exclaim, "Ooooh! There's a story behind this baboon!" Like moths to a light, four women come closer and lean toward me.
As I tell them the story, I leap around and live it all over again. They gasp when the baboon flies through the window; they clap their hands when I throw the spoon. They sigh with relief–their hands on their hearts–when he doesn't attack me. They laugh deep in their bellies when he doesn't eat the stale crackers.
And I realize I may have missed the best shot, but I got something better in the end–an experience I'll never forget, and a story I'll be telling the rest of my life.
*****
Rebecca Myers writes about transformation through travel, nature, work, culture, and relationships. She currently translates complex science into language our grandmothers can understand for the Centers for Disease Control and Prevention in Atlanta. She also teaches creative writing to her colleagues and is writing a memoir and a children's book series about the spirituality of nature. Some of her work is published online at FullGrownPeople.com.
*****
Photo credits:
Chacma Baboon: flowcomm
African Penquins: Bas Leenders
Fynbos: Andrew Moir
Cape Sugarbird on King Protea: Derek Keats
Stormsrivier – Tsitsikamma National Park: hyper7049
Tsitsikamma Log Cabin: Brian Snelson
Baboon Jaws: Steve Slater
Zulu Women: Retlaw Snellac Photography