by Rita Golden Gelman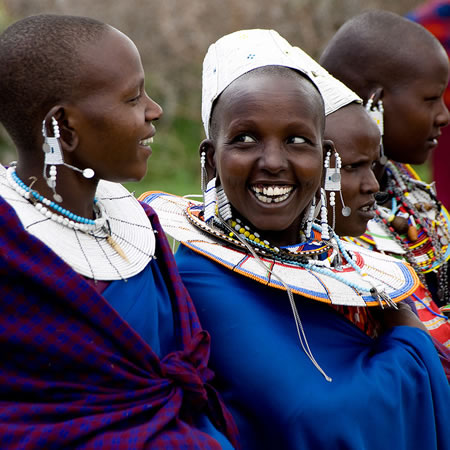 During the three-hour ride to the boma, we see six giraffes, four ostriches and three leaping dik-dik antelope that are only fourteen inches high. The lions and elephants disappeared from the area years ago…but hundreds of weaver-birds and their basket-nests, dozens of termite hills, some taller than the car, and thousands of white, yellow, and blue butterflies are still very much there. And so are the "splendid starlings," birds whose coloring can match the peacock in a contest for shimmering, iridescent beauty. There is a spectral magnificence to the Tanzanian landscape, dry and brown and spotted with ominous and beautiful acacia trees.
My friend Alais, whose family I have been living with for several months, has invited me to spend two days in a traditional Maasai compound called a boma, a multi-household compound that is circled by a three- or four-foot-deep fence of acacia branches, pressed together and virtually impenetrable by human or animal. Every branch, and there are thousands, is covered with thorns that resemble rose thorns…and spines that look like porcupine quills. Alais keeps his cows and goats at the boma. His deceased father's sixth wife, Mama Nanyori, lives there with two children; so does a friend and his family. Just the two families…and three proud Maasai warriors who take the goats and cattle out to graze every day.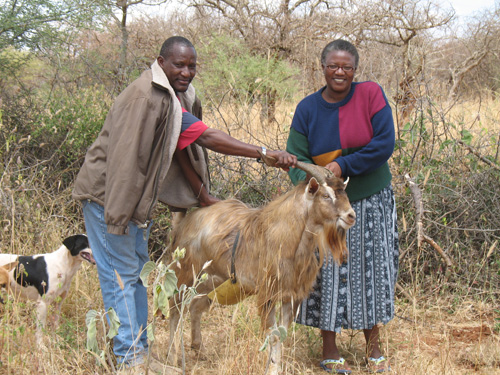 Alais grew up in a traditional boma; his father had 8 wives and 48 children. But today Alais lives with his only wife, Judith, in a house, in the predominantly Maasai town of Longido, close to the border with Kenya. Three of his five children are still in school. One is a trained chef, working for a tourist club, and one is a safari guide. Alais' roots are deep in the Maasai culture, but he dresses in modern clothes, speaks English well, and is a community leader whose main concern is figuring out how to preserve the Maasai culture while bringing his people into the 21st century. He knows that that the traditions and vitality of the Maasai culture are in danger of disappearing.
"There it is," said Alais, finally. Five children run to greet us. Mama Nanyori, has gone off to the mountains to get water; it's a several-hour trek. We had no way of telling Mama Nanyori that we were coming with water.
We walk into the empty enclosure for the goats and the cattle in the middle of the boma; the animals are grazing far from home. Only the cow and goat manure and thousands of flies remain. The flies are bunched on the oiled skin of the kids, on their mouths, on their eyelids, on their bodies. What seem like hundreds are circling and settling on my face. Unlike the kids who appear not to notice them, I swish them away but they come right back.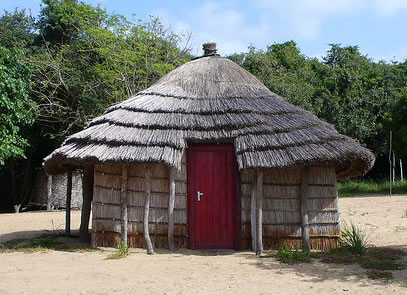 As Alais shows me the huts and explains who lives where. I look at his face. He feels peaceful here. His life has taken him far from his roots, but a part of him is clearly still at home in the boma.
At the end of the afternoon, Mama Nanyori arrives with the water. An hour later, the cows and goats are led in by the young Maasai herders.
Alais decides that we will eat one of his goats for dinner. We are standing surrounded by the animals when Alais turns to me. "Choose one," he says. I laugh. No way am I going to play God. He chooses.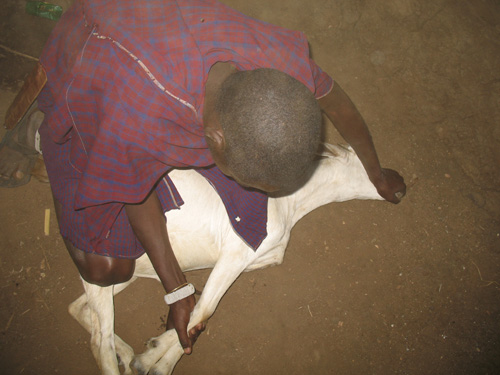 The morani (warriors) are in charge of the killing. They do it by suffocating the goat. One of the young men holds the legs and the nose. There are a few minutes of twitching; and then, the animal is still.
The skinning and butchering are bloody. More than once blood accumulates in the carcass and one of the morani leans over and drinks it. When the heart is taken out, one of the young warriors squeezes the blood into a glass and drinks. I am thankful I'm not offered a sip.
Dinner is goat meat, cooked over a fire. The men sit in one hut and get the choicest pieces. Women and children eat apart in a separate hut and chew diligently on the fringe cuts. If there were old people, I'm told, they would get the soft liver and kidneys because they might not have teeth. Because of my status as a visitor and guest of Alais, I sit with the men.
The meat is delicious, moist and chewy. It is a treat for all. Livestock is rarely eaten. Milked, yes. But killed for food only on special occasions. A Maasai man's wealth is reckoned by his cattle. I feel honored to be eating goat with these gracious and handsome people.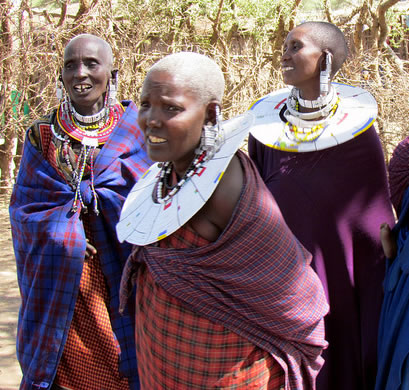 On the way over I had asked Alais how he happened to leave the traditional life. He explained that Julius Nyerere, the first president of Tanzania who was a teacher, asked every family to send one boy to school. Alais was the one chosen in his family. He was a star pupil and ended up a trained veterinarian, a concerned and aware young man, and a devout Christian. Until he went off to the missionary-founded school, he did not even know what Christianity was. Today at his home in Longido, there are prayers before every meal and four-part-harmony hymns before bed. Their religion is a living, active element in their home. But when we are in the boma, it is clear that Alais, standing among his 60 goats and 20 cows, sitting on a low stool talking with his friend, or eating roasted goat meat with his fingers, is also very much "at home" in the boma.
I sleep that night in Mama Nanyori's hut, on a hard, skin-over-board bed. (I have displaced the three morani who usually sleep there.) Mama, a beautiful woman, is up before dawn, milking the goats and cows before they go off for the day. She cooks uji, a porridge of corn meal, goat milk, and sugar; and she begins the day's tasks. Maasai women build the houses, make the fences, patch the problems, care for the children, fetch the water, chop the firewood, and cook.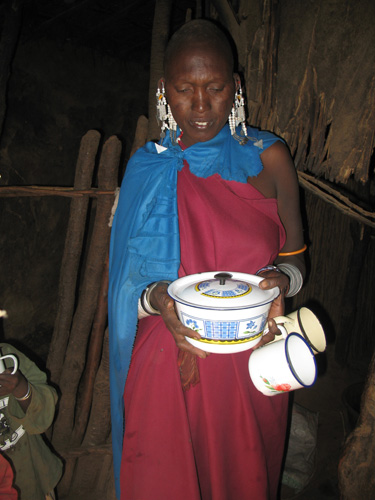 In many bomas, kids between five and ten take the animals out for the day. Here, in the absence of young boys, the morani tend to the animals. Traditionally, it is the job of the morani to protect the boma from lions and marauding groups of cattle stealers. But there are rarely lions around any more; and cattle-stealing, at least in Tanzania, is rare (Kenya to the north still has problems). The elders spend their days sitting, talking, making family decisions, and swishing the flies away with fly-swishers (the long-hairs of cow tails, attached to sticks).
The three morani in our boma have been brought in by Alais and his friend to take care of the animals. They are young, lean, and very good-looking. And you know they know it by the way they walk. We joke a little…in mime…and I wonder whether I should interrupt the tranquility by introducing the bubbles and balloons I have brought with me. There are a bunch of pretty serious kids running around, covered but unbothered by hundreds of flies, kids who would have fun chasing bubbles and taking balloon animals to their hut. Yeah, why not?
I show the kids how to blow bubbles. They learn quickly and laugh while they blow and chase the bubbles. I teach the morani how to make balloon animals and let them present their creations to the kids. The flies have not gone away, but now there is laughter.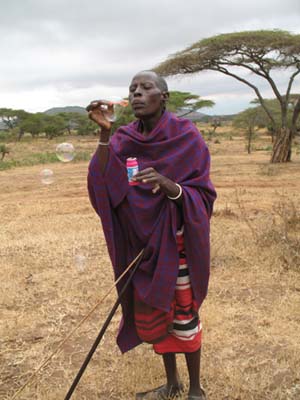 An elder from another boma watches as we blow bubbles. After he has been observing for about ten minutes, I hand him the bottle and the wand. He dips, lifts the wand about six inches from his mouth, and blows a stream of the most perfect bubbles I have ever seen.
We are there for two nights. I want to stay longer, but Alais has a meeting in Longido. A meeting that will be discussing how to preserve the Maasai culture. In recent years, grazing lands have become national parks that serve safari tourists. Once, the Maasai were exclusively pastoralists. Now they are having to learn to plant corn and other crops. They have been pushed and squeezed into smaller and smaller areas, much like indigenous people all over the world. There are Maasai customs such as female circumcision and polygamy that are not a very good fit with growing Christianity. School education, long considered a dangerous and worthless endeavor for Maasai kids, is being reassessed. Educated Maasai are talking about how lessons learned in school can be tailored to the customs of the tribe.
As Alais and I leave the boma, he is thinking about his upcoming meeting. What are the customs that must be kept in order to preserve the culture? And which must be eliminated. What new skills must the Maasai learn in order to protect themselves and their tribe? If the Maasai are to survive, it is men and women like Alais and his family who will save the precious heritage. Though his body and soul have moved to another place, his roots and sensitivities are still very much in the boma.
*****
Rita Golden Gelman, the author of TALES OF A FEMALE NOMAD, sold everything she owned twenty years ago and took off to know the peoples of the developing world. Still "homeless," she lives for months and sometimes years with native families, learning their customs, cooking with the women, eating their foods, singing their songs, and joining their celebrations. She is also the author of more than seventy children's books. The most popular, MORE SPAGHETTI, I SAY, is about a monkey named Minnie who can't stop eating spaghetti. For more information on both of her books, go to www.RitaGoldenGelman.com.
Photo credits:
Maasai women laughing: wwarby
Hut: Leandro's World Tour
Maasai women: David Berkowitz