By Daniela Frendo
The unyielding shopkeeper shoved a leather handbag in my face.
"Smell it! This is real camel skin."
For a second, I genuinely thought he was about to smother me with it. I gasped for what little air I could hope for in that small, stifling shop overflowing with bags, whilst the shopkeeper dumped another three handbags into my arms.
The aroma of spices wafted into the shop, mingling with the pungent smell of old leather. Outside, hawkers' calls were drowned by the buzzing of motorbikes swishing through the crowded aisles. Above all that commotion, the muezzin's call to prayer in the nearby Koutoubia Mosque reverberated over the medina. There I was, caught up in the bustle of the souks on a scorching hot afternoon, trying not to spend all of my dirhams on the first day.
So far in the afternoon, I had a snake crawling on my shoulder (without my consent, I hasten to add) while its owner expected me to express my gratitude by tossing in a few coins. Other street performers had also chased me across the square for tips, and now I was being cajoled into buying a handbag I did not like. I could not have asked for a better way of starting my one-week stay in Morocco. After all, the locals' spontaneity is mostly what makes Marrakech a vibrant hub of Moroccan culture.
The ancient city in Marrakech, the medina, was founded and fortified by the Almoravids, a Berber dynasty of Morocco, during the 11th and 12th centuries. It has since been adorned with lavish palaces, riads and hamams. Nowadays, the medina's winding alleyways host the country's largest traditional Berber market, known locally as souks. Nestled within its red-washed ramparts, hundreds of street vendors from different trades compete against each other in a growing tourist attraction.
I navigated through the narrow, crisscrossing streets of the city, feasting my eyes on a colorful selection of scarves, ceramic plates and babouche slippers. Vendors vied for my attention from every direction, some going for a polite "Bonjour, madame," while bolder ones tried their luck with more flattering comments. Amid the jungle of protruding stands, a young man in a lab coat stood idly in a narrow doorway. The moment our eyes met, he quickly straightened his coat and beckoned me inside. A quick glance at the sign above the door reassured me that I wasn't about to have a tooth pulled out by one of the city's so-called dentists.
Instead, I sat through a thirty-minute talk on different Moroccan cures. The young apothecary picked up some jars of soap and herbs from the shelves above him and lectured me on their healing properties. Having less skeptic views on traditional cures than most other people, I was actually quite intrigued by the demonstration. Unfortunately for the apothecary though, I have no chronic allergies or ailments, and neither am I a hypochondriac. I thanked him for his informative talk and walked out of there with just a bag of saffron.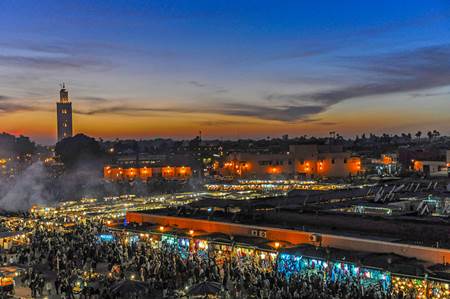 By the time I found my way out of the labyrinth of alleys and into Marrakech's main square, Djemaa el Fna, the sun had almost disappeared behind the mosque's slender tower. Food stalls had been set up along one side of the square, while the rest of it was mostly taken up by storytellers, card readers, henna tattoo artists and, to my dismay, more snake charmers.
One of the evening's star attractions was a Berber folk group, tapping away on their tambourines and frame drums in a circle. The Berbers, an indigenous people of North African countries, have been around since at least 10,000 B.C. During the Middle Ages, the Arabs occupied several regions in the Mediterranean, including much of North Africa, and eventually the Berbers converted to Islam. Nowadays, most Berber tribes inhabit secluded areas, like the Sahara desert and the Atlas Mountains, where they still preserve their centuries-old culture.
A voluptuous woman danced in the middle of the circle. She moved around with utmost fervor to the rhythm of African beats, swaying her long skirts around her, and occasionally making lewd gestures at the male spectators. I had only been sitting down for a few seconds when the dancer seized my hand and pulled me into the performance area. Thankfully, some of my female companions also joined in. We danced around in a circle copying the woman's moves, which mostly required shaking our lady assets. Honestly, what better way to celebrate the end of my haggling wars than to dance away in a square full of strangers?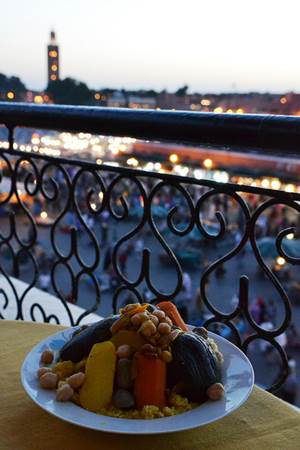 It had been a stressful first day in Marrakech, at the end of which I was quite peckish. The food stalls at the night market offer a selection of Moroccan dishes at a competitive price. Besides an abundance of salads, dried fruit and grilled skewers, a few sheep heads were also on the menu that night. Meanwhile, the restaurants surrounding the square cater for those who'd like to settle for a more tranquil atmosphere. Most of these restaurants are reasonably priced, and if you're lucky enough you'll get a table by a window overlooking the square. In fact, getting a bird's eye view of Djemaa el Fna from the terraces of the nearby restaurants is a must when you're in Marrakech.
I played it safe that night and opted for dinner at a restaurant. My delicate stomach is not a fan of greasy food, and I wanted to make sure I got to sit down while I ate. As my lamb tagine with dates and chickpeas sizzled before me, I gazed out through the window at the medina. The food stalls were sheathed in a layer of haze, their lights flaring through the smoke. After another day of fierce bartering, the medina now slept peacefully, guarded by the watchful eye of the Koutoubia Mosque.
*****
Daniela Frendo is a curious, culture-loving traveler from Malta. When she travels she carries three essentials; a camera, notepad, and tablets for motion sickness. Wherever she goes, she loves to interact with the locals, shop for ethnic jewellery, and explore less-traveled routes. You can read more about Daniela's adventures on her blog.
*****
Photo credits:
Women in Marrakech Souks: Jenny Brown via Flickr
Djemaa el Fna Snake Charmer: Jorge Láscar via Flickr
Marrakech Souks: Scott Presly via Flickr
Djemaa el Fna at Night: Jorge Láscar via Flickr
Berber Folk Group: Suzan Marie via Flickr
Dinner with view of Marrakech: Liv Unni Sødem via Flickr