by Dana McMahan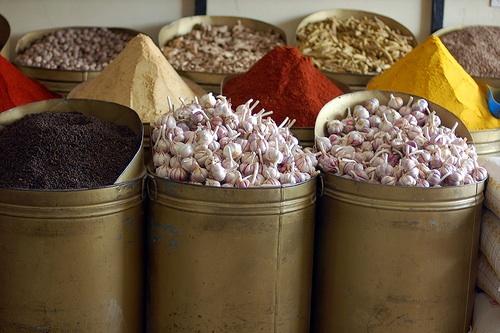 Toto, we're not in Whole Foods anymore.  I stand blissfully unaware as my friend Tracy orders a chicken in her newly acquired Arabic. The merchant chooses one from the squawking, feathery crowd behind him and oooh – snaps its neck before I can blink, much less look away. Anna jai, Tracy tells him. "We'll be back." The newly departed chicken is on the express route to our tagine that evening. In addition to the chickens on display, pigeons and rabbits fill the cages. They're bound for pastilles, a sweet and savory pastry dish, and more tagines. We are in Marrakech, shopping for dinner for our full-day cooking class.
Paul Bowles said every gastronome who visits Morocco should learn to cook at least one local dish. We show up for our class at 9 that morning with hopes to do that and then some. The cooking class at Riad Merdoudi, a five-minute walk from the famed Djemma el Fna square in the medina (old town) promises a full day of cooking, shopping and feasting. Edwina, the Australian expat who moved here seven years ago, puts us right to work. Along with the couple from California in the class, we take frantic notes in our leather-bound notebooks as Edwina and her assistant Mohamed teach us Arabic market survival phrases and the terms for our shopping list. "Ah fahkatini" is not a naughty cocktail, it's how to politely ask for something. I feel pressured, like cramming for an exam in college, as we all receive our assignments for who's ordering what.
The four of us follow Edwina out of her cool, shady riad into the raucous street under a dazzling sun. We head to the market in the Mellah, part of the former Jewish district.
Time for the test. I approach the vegetable seller, consult my purple notebook and dive in.
Ah fahkatini arraba coke. "I would like four artichokes please." That wasn't so bad, and he knew what I wanted (though perhaps only because he's heard it before.) Ah fahkatini wehed kleeahra. "I would like one cucumber please." I continue through my list, buying oranges, ginger, lettuce and tomatoes. Tracy and the others finish the vegetable shopping, and we visit the lemon man. Glistening heaps of yellow lemons fill white bowls in his stall. I stare at the others; brown and slimy. These are the preserved lemons I'd read about in Moroccan recipes? Putting the sniffing dogs at customs out of my mind, I order a package.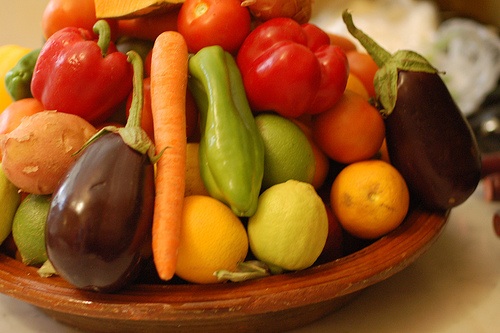 We stop for fresh herbs from the white-haired man slouched on a low chair at the market's entrance. I sink my face into a basket full of mint – the fragrance will always serve as my Marrakech Express – and perform sniff tests on the other herbs Edwina purchases. Next stop, the spice shop. The stuff of Arabian Nights dreams, the store is crowded with bronze barrels piled high with neatly smoothed pyramids of cumin, paprika and spices I've never seen, along with violet-hued garlic. Couscous, lentils and nuts fill the myriad other containers. If only I could send a scratch and sniff postcard.
The shopping expedition complete we plunge back into the melee outside – chatting veiled women casually avoid careening scooters and clip-clopping donkeys. Back in the peaceful riad we gather around a marble table to slice, dice, chop and peel, and roll couscous between our palms. Everything we touch receives a shower of foreign-smelling spices. My fingers are parsley and mint stained and smell of garlic, and my apron is filthy. There's nowhere I'd rather be.
We sip mint tea between tasks, and listen as Edwina describes the layering of flavors that we're imparting, particularly with the ras el hanout. Literally translated as top of the shop, it's a blend of a merchant's best spices. Her spice guy uses 35. Its smell is addictive and I happily tap cascades of it from a spoon onto every step of every dish.
We break to deliver our dishes of butterflied sardines and eggplant to the farnatchi, the community oven. Each neighborhood has its own – a small hole in the wall radiating the smell of freshly baked bread. Every morning I see kids deliver their family's dough for baking. For 50 dirhams per month (less than $7) families can bake all they want. We drop off our dishes and head back to work.
At last we stop for lunch — magically, Edwina's kitchen assistants have transformed our plates and bowls of ingredients into a feast fit for a sultan. We four sit in the open courtyard at the center of the riad in low chairs around a glass table strewn with rose petals. The food before us is gorgeous (Edwin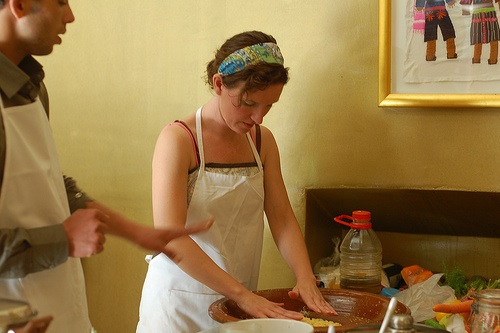 a's favorite word). Did we really make this? I try the tomato jam first and groan at the sweet, lusty flavor, then move on to the cucumber sorbet. Bright and refreshing, the ice cold mix of lemon juice, red onion, cucumber and mint is perfect. My platter of sardines and eggplant is, as promised, layered with flavor. I mop everything up with the fresh flat bread, and consider that we still have courses of food to prepare ahead of us.
Our pace slows after lunch, and it's harder to pay attention to Edwina's rapid-fire instruction. I prepare a vegetable tagine while the others work on their chicken. There's a fish pastille with sauce going on too, and a rosewater meringue filled with dates and nuts. I lose track of what dish I'm chopping and mixing for and my notes cease to make any semblance of sense. At last Edwina tells us it's time for our afternoon trip to the spice store.
We make our way to the souks in the Mellah. She clearly has a good friend in here, a young man who invites us all sit on the cushions on the floor. Edwina's dog Mary Lou curls up behind me to sleep. Mustapha ceremoniously serves us glasses of hot, sweet mint tea, then takes us on a tour of his spice shop. Smell this, taste that, feel this. I buy a quarter kilo of ras el hanout and 100 grams of cumin. May as well draw plenty of attention to my suitcase since I'm sneaking in the lemons. Tracy and I decide to share five grams of Moroccan saffron at 25 dirhams (about $3) each.
Once back at the riad the four of us give up any pretense of cooking or working, and retire to the terrace with mojitos. The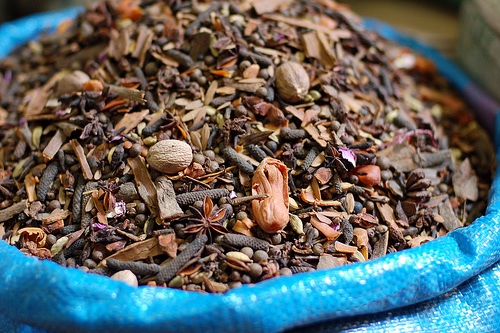 sinking sun tinges the clear Moroccan sky rose and strips the air of the day's warmth. We chat around a table under a Berber tent and pause to listen as the sunset call to prayer echoes from the mosques around us. Mohamed delivers our first course — whole artichokes served with a ginger, orange and cilantro sauce. I barely remember making it. Next up is a crimson bowl of beetroot and orange soup. As dark cloaks the surrounding rooftops our highly anticipated tagines arrive. The conical terra-cotta dishes have burbled all afternoon, cooking our chicken and vegetable tagines in a gentle steam bath that allows the abundant spices to infuse the food. On the side is our honest-to-goodness Moroccan couscous in a wickedly good sauce, sweet as everything in Morocco seems to be. I wish for a more expandable stomach so I can do this feast justice. And then come the baked Mediterranean vegetables and fish pastille — a monkfish secreted in layers and layers of pastry, sprinkled with sugar on top. I can't quite get used to the sweetness of every course in Moroccan cuisine.
It's full-on dark now, our candles flickering in the evening breeze, and the final call to prayer resounds. We convince Mary Lou and the cat to follow us downstairs where we finish up with our meringues.
What a day! It feels like we've been here for a week, cooking, eating, and cooking and eating some more. I debate whether to take my own tagine dish — lugging it home thousands of miles will be no easy task. In the end I can't not take it. We pack up our spices and lemons, pay our thousand and some dirhams each, and set out into the Marrakech night.
* * * * *
Dana McMahan has eaten her way from Inverness to Istanbul, and from Monaco to Morocco. A food and travel writer, she lives to explores the world and tell stories of foods discovered and meals devoured in far-flung lands. She once hand-carried a tagine across three continents in order to recreate a Moroccan feast, her backpack smells of spices, and she has been known to smuggle butter home from Paris. On her next trip she'll spend two weeks as the writer-in-residence at Kitchen-at-Camont, a culinary center in rural southwest France. Keep up with Dana's travels at on her website.
Photo credits:
All photos: Author