By Shawna Cain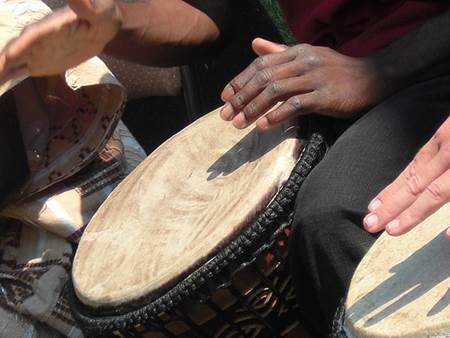 We could hear the drum beating from far down the rocky, dusty village trail. I couldn't remember the last time I heard a drum. It sounded both as new to me as some foreign language and also as old as time itself. It was as if the drum were beating just for us, calling us, enticing us, luring us to explore its mysterious origins and its sacred purpose.
Like obedient sheep, we obeyed the drum's demands until we discovered its origin, a tiny tin shack on the side of the trail. As we stood outside the shack, we could hear bells too, and feet — dancing feet. We could feel the energy pouring out of the small cracks in the boarded up windows. We wanted in. Something miraculous was happening inside this small room, but what? We didn't know why or how, but we felt some primal pull towards this drum and these people and this shack. We were being drawn to this place and we needed to find out why.
We could gather that this must be some kind of traditional church because it was a Sunday morning and here in rural Lesotho, anybody who is anybody is attending church. We knew this fact clear and strong, which was exactly why we planned our big hike to visit the historic caves to take place at this hour on this day. As foreigners in a small village, we were like zoo animals, being stared and marveled at by each and every passing spectator. Each woman, man, child and furry creature felt it their duty to play welcoming committee, and while quite charming at first, it could become draining in only a few hours.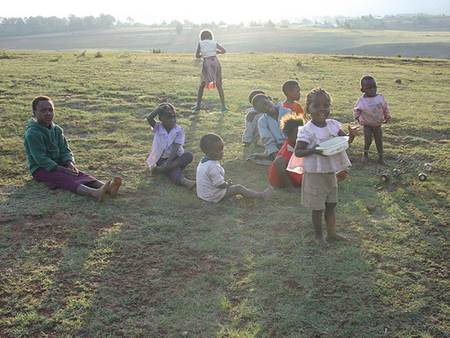 My friend Jenny and I had traveled a frightening five or so hours in a series of rickety overstuffed minibus taxis and hitches to arrive at this village in the middle of nowhere to visit our old friend Wendy. Due to the isolation of Wendy's site and the hassle of transport to finally arrive there, this had been the first time we had made the journey in the year she'd been living there. Now we were all together again, as we had once been a year ago, reuniting one last time before Jenny finished her two-year volunteer service and returned to America. It was a special time for us, a time of reconnecting and also of letting go, and we didn't want to be bothered with greeting each and every villager during our short time together. Our goal was to escape the usual village zoo-like social scene by sneaking away during the church hour so we could venture through the mountains alone and not be followed by a gang of overexcited children. Yet, here we were, at the door of it, begging they would somehow hear our silent wishes and invite us into their church service. How would this happen?
We listened to the wailing drum beating from outside the door, hesitant to "koko" and ask to be admitted to join their worshiping. The ritual appeared to be secretive as the windows were boarded up and the door was closed. I felt unworthy of asking admittance, but longed to participate in whatever was happening beyond those doors. In our uncertainty, we pathetically danced outside the closed door.
As we danced, we noticed the line of shoes along the wall, which the churchgoers had stripped themselves of before entering their church. There were big and small shoes, clean and dirty ones, but all of them were worn and most were falling apart. I have been to a few church services in Lesotho before, but usually they are based on western Christian and Catholic services and are quite similar to an American service. Usually I don't attend, not because I am not a believer, but because I can't understand the fast-speaking Sesotho so I get bored quickly. But this church was completely different. They weren't speaking, they weren't singing, it was only the drum and the dancing.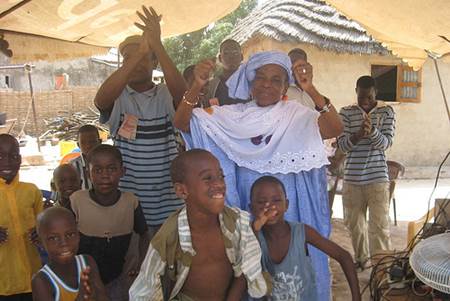 I was excited and compelled to go inside and discover what was going on, but feared they wouldn't allow us in to witness the scene. Perhaps this was a traditional church, maybe with a sangoma or some kind of magic. While the Basotho are incredibly welcoming in inviting Westerners into their Western-based church services, their traditional religion is obscured with mysteries and secrets. To expose their clandestine cultural traditions to foreigners would be risking the destruction of their history and tradition.
However, to my surprise, some child peeked through the door to see us dancing outside, like pitiful dogs begging to be let in. Without pause of their ritual, the worshipers opened the door, silently permitting us entrance into their sacred space. I was both intrigued and anxious as to what we might see once we stepped across that threshold.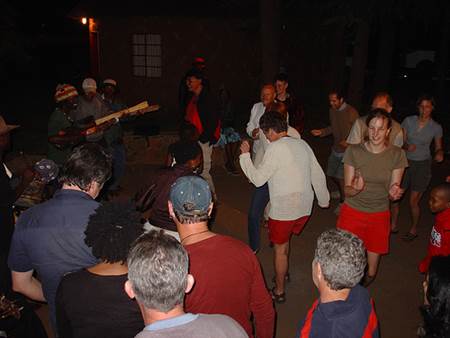 It was dark inside the small room with only a candle and the few rays of sunshine that crept in the cracks of the covered windows and door. I was sentenced to near blindness because I had only been carrying my prescription sunglasses, which would be inappropriate and possibly offensive to wear inside. My blindness added to the sense of mystery and obscurity of the ritual. I could only see shadows of the worshipers, outlines of their dancing bodies against the golden light that illuminated from the candle in the far corner. There were probably about fifteen people lining the walls of this small room. We all surrounded what appeared to be a string that hung from the center of the ceiling. Every so often, individuals who felt compelled went to the center of the room and danced around the string as we surrounded and encouraged them.
Due to the lost sense of sight, I was forced to experience the ritual through my remaining senses. The drum was loud now, and felt strong, as if beating right into my very soul. I felt the coolness of the dirt floor under my feet and it felt raw and natural, like I was connecting to the earth below me. The dancing revelers' sweat combined, leaving the tiny tin shack rich with body odor.
The woman next to me danced with a cow bell that she shook in an effortless rhythm. My initial hesitations of intrusion faded as I became more comfortable with the blurred outlines of dancers and my dark surroundings. The drum carried its captivating beat and it spoke to us as if some kind of magical trance. My body responded. I moved to the beat instinctively as if I had done this dance a million times in a million places. I didn't think about how I looked and I couldn't see how anyone else looked. I could only listen and dance.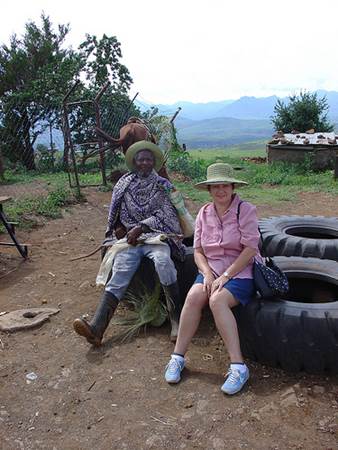 We were surprised to find no one studying our every move or excitedly laughing at the silly foreigners dancing. For the first time in over a year, we realized a break from the relentless special attention afforded to us because of our white skin. These people had permitted us into their sacred area, but they didn't offer us any introductions or special welcoming. Paradoxically, their lack of a distinctive welcome made us feel truly welcome. No longer did our skin color or our country's origins play a role in how we perceived one another, we were simply brothers and sisters of the dance.
I am not sure how long we danced. I can't say what they were singing about or what happened to us in that room. But I know it was something powerful and primal. In that moment, I felt a spiritual wholeness I can't remember elsewhere but also that seemed innate. I felt connected to the people beside me, to the earth we share and to a spiritual world that can't be seen or described, but only felt.
*****
Shawna Cain is an American Peace Corps Volunteer who has lived in in Lesotho since 2012. Read more about Basotho life and culture, service projects, and lessons learned through her many adventures at Sunny Side Up Journey. Â  Â  Â  Â  Â 
*****
Photo credits:
African Drumming: Aine
Lesotho Children: Di Jones
Dancing African Villagers: dorothy.voorhees
Dancing with Local Lesotho Band: Di Jones
Caucasian Woman with Lesotho Local: Di Jones