by Anna Kortschak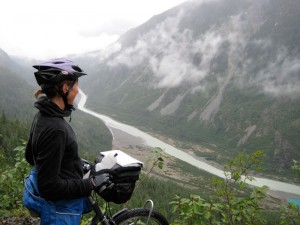 "Are you alone?" It is the first question anybody asks, invariably followed by, "Aren't you scared?" The first matter is easily disposed of — I am alone — but the scope of the second enquiry is never clarified so I am left wondering… scared of what, exactly? Bear attacks, murder, rape, robbery, a traffic accident, illness, losing my way, of the dark, of being alone…
Extraordinary how quickly a list springs to mind; a host of fears can be called forth in an instant, rapidly becoming amorphous and abstract, but the simple answer is, no — I am not scared. Or not, at least, as an underlying condition. Of course, if some of the calamities listed above were to actually occur I am sure I would be absolutely terrified but they are, on a daily basis, merely remote theoretical possibilities.
So what is it that I doing that prompts these queries? All I am doing is riding my bike. OK, admittedly, I am traversing the Americas from Deadhorse in Prudhoe Bay, the northern-most point accessible by road in Alaska, to Ushuaia on the southern tip of the twin continents. It is a long way and the route does have some challenges for the independent cyclist.
When I set off, in mid-summer, from the charmingly named industrial settlement of Deadhorse , at a latitude of 70 degrees north, the temperature was hovering at around zero degrees Celsius. Lurching out into the bitter forty-kilometer-an-hour crosswind from the safety of the tiny airport, where I had spent the last couple of hours reassembling my bike after the final flight from Anchorage, with about 77 pounds of luggage, I felt a trifle foolhardy, especially with the words of a bemused local onlooker still echoing in my head.
"Have you got a gun?" he asked. "No," I replied. "So what are you going to do about the animals?!" was his incredulous response.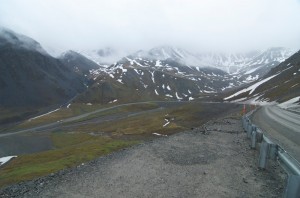 I left the question unanswered — really, what could I say? However, mosquitoes, roadwork and industrial traffic proved to be much more troublesome on the Dalton Highway than bears or wolves of which, sadly, I saw not a trace.
Actually, the real difficulty of the first leg of the trip lay, not in fending off wild animals, but in the simple fact that the next place I could reasonably expect to restock my food pannier was Fairbanks, around 500 miles away. In the Alaskan wilderness you need to be self-sufficient: I was carrying enough food for at least 10 days, a water filter, a camp stove and fuel, a tent, a sleeping bag and ground mat, warm clothing, a first aid kit, toiletries, emergency tools and spare inner tubes and much too much camera equipment.
The Dalton Highway, built solely to service the oil fields at Prudhoe Bay, on the shores of the Arctic Ocean, traverses the tundra and then crosses the Brooks Ranges, via the Atigun Pass at nearly 5,000 feet, before reaching Coldfoot, the next human settlement, with a permanent population of 12 people, 250 miles away. At Coldfoot, there would be hamburgers and chocolate but not much else and another 250 miles of steep, rough and mostly unmade road lay between there and Fairbanks.
In North America, people who spend any time outdoors at all — tourists and residents alike — seem to spend an inordinate amount of time worrying about bears, with scant regard to the facts. Maybe one or two people are mauled by bears a year — perhaps in a very bad year, even three or four — and most of these incidents occur when the people involved do something stupid.
Considering how many bears there are, and how many people are traipsing about in the woods, that is not very many dangerous confrontations and so why on earth would it happen to me? I don't think I'm going to win lotto and I don't think I'm going to be attacked by a bear — the chances are against it.
I presume, also, that the spectre of human violence lurks unspoken behind the questions and it is true that if I did carry pepper spray (commonly carried outdoors for bear 'protection') it would be people — men, specifically — that I had in mind, rather than bears.
However, the fact is, that random acts of violence are also rare, probably even rarer than bear attacks. They do happen, but not often. Violence, of all kinds, generally occurs between people who know each other. This is a truth that deserves to be repeated often and broadcast far and wide: it is not the stranger that is the danger.
What is really striking when traveling alone on a bicycle, far from home, is how kind, generous and hospitable people are. The greatest joy, for me, of long distance cycle touring has been discovering the essential goodness of humanity. It seems that something about the vulnerability of a touring cyclist brings out the best, rather than the worst, in people. Just one example amply illustrates this.
Cycling towards Anchorage on the Parks Highway, I approached a roadside stall in a pullout ahead, clearly with goods for sale. Food is constantly on a cyclist's mind so an array of bags of jerky was like a gift from heaven — classic and flavored beef and more exotic elk, salmon, buffalo were all displayed to their best advantage. It was a hungry biker's dream.
A man on a bike was talking to the proprietor but she immediately turned her attention to the new prospect with her practiced sales pitch and offered me a taste. I sampled some elk and enquired how much. $12 was, unfortunately, out of my price range and I, regretfully, made to leave with my hunger for jerky unsatisfied. The guy rummaged in his handlebar bag and without a word handed me half a bag of salmon jerky.
"Where are you going?" he enquired, and we exchanged particulars. He was on a day ride to Talkeetna, a small idiosyncratic town popular with tourists, off the main highway, which I had just come from. His wife was meeting him there, with the car, for the return trip to Palmer where they lived. I was still uncertain of the day's final destination not knowing where, exactly, to break my journey to Anchorage. In the wilderness I could camp anywhere I wanted but approaching human settlements was making finding somewhere to sleep more problematic.
Again, without a word, the man drew a map to his house in Palmer. "You're welcome to stay", he said.  "If you arrive before my wife and I get back, just let yourself in. The door is open." He added a floor plan of the house on the other side of the piece of paper, detailing important facilities such as the bathrooms and kitchen. "Go in. Have a shower. Help yourself to some food." We discussed cycling trips a little further and then pedalled off in opposite directions.
Some hours later Tom, and his wife, Bridgette, pulled up when I was still on the highway about 25 miles from Palmer. They offered me a lift but, tempting though it was, I only unloaded my gear into their car. An hour and a half later, at a critical juncture in the route where I might have become confused about the way, Tom was waiting to check on my progress and to reiterate his offer of a lift for the final eight miles.
Stoically, I refused the lift, wishing the moment his car disappeared that I had accepted. Finally, after cycling a total of 92 miles that day, I arrived at Tom and Bridgette's house to a very warm welcome, a cold beer, a hot shower, a good meal and a comfortable bed for the next two nights.
The most astonishing thing about this story is that it is not exceptional — that I have had repeated experiences of this kind of generosity and kindness from total strangers on my trip which, so far, has taken me more than 3,000 miles through remote wilderness areas of Alaska and Canada.
Tourists have stopped on mountain passes to offer me fresh fruit and other food, locals have provided maps and offered helpful hints and advice about my route and camping sites, fellow campers have provided superb freshly-caught salmon and trout, and countless strangers have invited me, without reservation, into their homes. Some, like Tom, have an interest in cycling but many simply respond to the needs of someone in a situation with clearly limited available resources.
After the subject of fear has been addressed, the next thing that people most commonly say is, "I could never do what you are doing!" I wonder why because what I am doing is so simple — I'm just riding my bike. It requires no special skills or serious physical preparation and the rewards are numerous and, without question, fantastic. As a way a discovering the world, experiencing the landscape as more than just scenery and connecting with people, cycle touring is an unequalled form of travel.
* * * * *
Anna Kortschak is one of those people who, if she ever happens to write a novel, will have to have a long list of quirky jobs listed in her bio; she has been an acrobat, costume designer, art educator and English teacher, among a few other thing, and she is now adding photographer and writer to the list.
Anna is currently riding her bicycle around the world and, at present, she is traveling in the Americas. You can find her blog at A Thousand Turns.
Photo Credit: Author at Overlook by Richard Tachy
Photo Credit: Author Riding by Jeff Volk
All other photos by the author