Congratulations to Kevin H., a new Newsletter subscriber from Portland, Maine, for winning this month's prize!
*****
The Snow Wonder Vest from Royal Robbins is what you might imagine a live lamb would feel like if you could hug it. It's soft and warm and if you've got the vest in white, like mine, you'd believe that you are actually wearing a lamb. Well, a really tame one.
But no lambs were harmed in the making of this 100% polyester vest (phew).
Believe me when I say it's really really soft. And warm.
We've had some pretty cold days in Seattle already this winter, and I've taken to wearing it underneath my puffy coat. Having that extra layer around my mid-section has really helped keep me warm on long walks, which I'm prone to take all year long, even in the coldest of weather.
The front zipper is high quality and sturdy. It also zips all the way to the top of the wide collar. This is nice because it means I can pull the collar all the way up and I don't need a scarf to keep my neck warm. (In the photo above, this gal has the wide collar rolled down for a different look.)
There's a small breast pocket on the left side just big enough to stash a few dollars or a set of keys and there's a secret zipper pocket inside the left front pocket. Given that the main hand pockets don't have zippers, this is a great bonus and in that smaller zippered pocket there's enough room for credit cards, cash and/or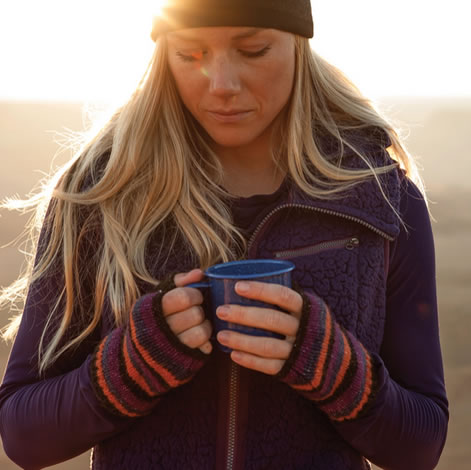 your iPhone.
What I Love
Most of all I love the softness of this fabric
The fact that the wide collar doubles as a (very soft) neck warmer
The pockets are lined and warm for those times when I don't have my gloves on
Not So Much
If I could change one thing on this, it would be the length. It comes down just below my jacket line so when I do wear something over it, it might peek through. Of course, that is not an issue if I'm wearing the vest over a top (as shown in the photo above).
So how does this travel?
Well, I'd recommend this for cool weather destinations, obviously. Best places might be your next ski trip, a cabin retreat in the mountains or a winter getaway to Europe.
It's also quite light at less than a pound. If you're trying to conserve space in your luggage, note that it's just a tad on the bulky side but it's worth wearing it to your destination.
Wanna win your own?
During the month of December, you can enter to win your very own Snow Wonder Vest from Royal Robbins. One winner will be chosen on January 1, 2014.
This month, you have MORE CHANCES TO WIN!
1) Sign up for the Wanderlust and Lipstick newsletter. This goes out just once a month and your information is never shared.
2) Sign up for the RSS email feed (see the "subscribe me" box in the upper right) to receive an email each time I post to this blog (usually no more than 3x per week).
3) Like us and then leave a comment on this post on the Wanderlust and Lipstick Facebook page and tell us where you would wear your Royal Robbins clothes should you win.
Do all three and you've got three chances to win this month!
Oh, and get some good karma by forwarding this to friends whom you think might like to enter to win the Snow Wonder Vest from Royal Robbins.
Value: $75
The Deets
This contest closes at 11:59 pm PST on December 31, 2013 and the lucky winner will be chosen on January 1, 2014. We can only ship to US addresses (sorry!).
The winner will have three days to respond before another winner is chosen.
Feeling lucky? Check out our other contests you can participate in.
Travel Well,
Beth