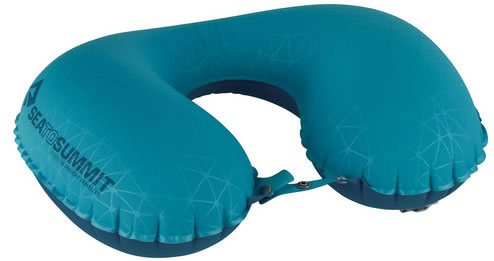 I never, and I mean NEVER, take a flight without packing a neck pillow in my backpack.
Over the years, I've been through a lot of these and have had to toss out a couple because they began leaking after the second or third time I used it. Ugh!
But here's one that I love and trust AND cannot believe how small it packs down.
It's the inflatable Sea to Summit Aeros Traveller Pillow. <3
Though I'm only about a half dozen flights into using this, I have absolute faith that it's going to hold up for the long haul. The quality of the seams is as good as, if not better than, any other neck pillow I've tried and it has other features that make it stand out:
The back area that sits on your neck is smaller than other neck pillows so it allows for a comfortable fit when you're in an airplane seat
It includes a snap to snuggly hold the arms together
It has ergonomically-shaped arms to better hold your head up
It weighs less than 2 ounces
The best quality of all for me is the fact that this inflatable neck pillow packs down small enough to fit in the palm of your hand. I can therefore easily tuck it into my backpack and it doesn't take up a lot of space. (Don't get me started on those beanbag neck pillows that you have to attach to your bag because it doesn't fit inside!)
In short, I'm totally won over by this Sea to Summit Aeros Traveller Pillow and I want you to have your very own!

It's easy to enter and you have multiple chances to win!
1) First, make sure you're subscribed to my newsletter.
2) Then, tell me your favorite tip to make yourself more comfortable on a flight.
3) For a bonus entry, subscribe to the She's Bold Podcast newsletter (sent with the release of each new episode of the She's Bold Podcast).
The Deets:
* Approximate value for the Aeros Traveller Pillow is $35!
* Contest closes at 11:59 pm PST on July 31, 2019 and the lucky winner will be chosen on August 1, 2019.
* Sea to Summit will ship to a winner with an address in the U.S. Winner will have three days to reply once being notified. If no response, a new winner will be chosen.
Good luck!
Be Bold,
Beth