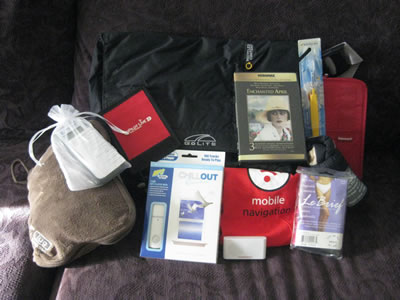 It's time to announce July's contest! This month you have 2 chances to win a Travel Swag Bag FILLED with goodies for your next trip!

Yup, two chances to win and it only takes a moment.
1. Subscribe to the Wanderlust and Lipstick Newsletter during the month of July and you'll be automatically entered.
2. Perhaps you're already a newsletter subscriber?! In that case, subscribe to my RSS feed (at right) via email or in a reader. If you subscribe in a reader, leave me a comment below stating that you've subscribed. Please leave your email address (not made public) so that I can contact you if you're the winner.
Check back here in early August to find out who the lucky one is. Winner will have 3 days to respond once being contacted.
Subscribe to the newsletter AND the RSS feed and you'll be entered twice for your chance to win!
The items in this swag bag of goodies is a combination of items from TBEX, the travel bloggers' conference I recently attended, as well as some very gently used items that I've reviewed. Here's what I've got for one winner:
* Travelite Messenger Bag from GoLite
* Cocoon Inflatable Air-Core travel pillow
* Foxtrot Travel Wallet from Frommer's
* Disposable Underwear from Le Brief (NOT USED!)
* Pre-loaded 1GB MP3 player with chillout relaxation music
* Travel blanket and pillow set from Lug
* Mini travel speakers for your MP3 player
* DVD of Enchanted April
* Soladey-eco toothbrush
* Alarm clock with thermo-hygrometer
* CoPilot Live luggage handle (for easily spotting your bag)
* CoPilot Live t-shirt (small)
Approximate Value: $300
This contest closes at 11:59 pm PST on July 31, 2010 and one lucky winner will be chosen on August 1, 2010.
Please note we LOVE to know that people from around the world are Wanderlust readers and encourage everyone to enter. However, we are only able to ship to the U.S. – so sorry!
Travel Well,
Beth
Join other Wanderlusters and stay updated on travel-related items by subscribing via email or RSS feed.