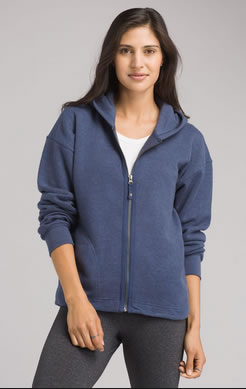 I dunno about you but I tend to get cold on planes. And the only time they provide blankets on a flight now (at least on Delta) is on international trips or, occasionally, on red-eyes (unless you're in first class and then the game changes completely).
So I like to have something warm with me for the flight if not for my destination.
Even though it was hot and muggy in NYC on my recent trip there, I was so glad I brought my new prAna Cozy Up Zip Up jacket even though the only place I wore it was on the plane and in the airport. Oh and in the dang shuttle from the airport to my friend's place because–OMG–the air conditioning was blasting!
Anyway, about the jacket…
The Cozy Up is part of their hemp line of clothes and this jacket is a blend of 55% hemp, 25% recycled polyester and 25% Tencel /lyocell fleece.
What does this mean? Well, it means a pretty darn warm jacket for one. And it's soft. (I'm fairly confident in saying it's softer than any other hoodie I have.)
But more importantly, it's also incredibly sustainable. After being stigmatized for SO long, people are finally coming around to the fact that hemp is a great alternative to many other crops and material used for clothing. It's easily grown, doesn't require pesticides and has a natural microbial property.
The Cozy Up Zip-Up Jacket is for women and features natural odor-reducing technology and UPF 50+ sun protection.
It comes in XS – XL and Cargo Green Heather, Charcoal Heather and Equinox Blue Heather (pictured above).
The only thing I would change on this is to put zippers on the pockets. I tend to put lip balm or other small items in my pockets and, without a zipper, the items can easily fall out, especially on a plane when I'm moving around a lot in my seat. Does this mean I don't love the jacket? Nope. I'm still as cozy as ever in it, I just have to be careful with my items. 🙂
Would you like your very own prAna Cozy Up Zip Up Jacket?
You'll get entered in to a random drawing for each way you participate below:
You have FOUR CHANCES TO WIN!
1) First, I'll need some way to contact you if you win so…tell me about your dream trip. Where would you'd like to go? Use this contact form. It can be anywhere! Let me hear it!
2) Second, make sure you're subscribed to both the Wanderlust and Lipstick and the WanderTours newsletters. Click on that link and enter your email address. Be sure to check both boxes. You'll need to be on both lists for this entry.
* Note that I send each newsletter just once a month, I do not share your info with anyone and you can unsubscribe at any time!
3) Third, follow me on Instagram. Comment on one of my posts with #BeBold so I know you're there.
4) Finally, ladies, make sure you're part of the Be Bold Facebook group.
Want more than a chance to win this prAna jacket? Get 15% off your order by using this promo code at checkout: PHBW18
The Deets:
* Approximate value for the prAna Cozy Up Zip Up jacket is $89!
* This contest closes at 11:59 pm PST on October 31, 2018 and the lucky winner will be chosen on November 1, 2018.
* prAna is happy to ship to a winner with an address in the U.S. Winner will have three days to reply once being notified. If no response, a new winner will be chosen.
Be Bold,
Beth