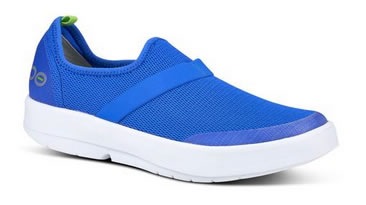 After my first marathon in Honolulu, I wanted nothing more than to take my running shoes off and let my feet just relax. Unfortunately, the flip flops I brought to slip into after the race had a hard-bottomed sole and they hurt my feet even further.
There was nothing I could do right then but soon after I discovered OOFOS recovery sandals.
OOFOS shoes were created specifically for athletes to make a quick recovery from workouts on hard surfaces (i.e. running a road race). The foam technology in their shoes absorbs the shock from walking and provides an incredibly comfortable feeling–especially after a marathon!
When I was at The Running Event in Austin late last year, I stopped by the OOFOS booth and discovered that they now have lifestyle shoes! This means I don't have to wait for the end of a race (or, at the very least, warm weather), to wear my OOFOS. Now I can, as they say, feel the OO, anytime 🙂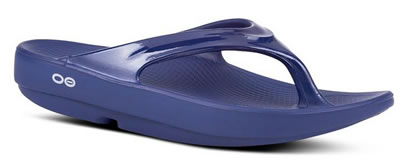 (An interesting side note – when I was in Portland last month, I walked into my friend's home and there was a pair of OOFOS sandals sitting next to the door. I told her how much I loved mine and then she pulled out a pair of well-worn OOMGs that she said she wears pretty much daily. So, there ya go, they're everywhere!)
After discovering their lifestyle shoes in Austin, the folks at OOFOS sent me a pair of the OOMGs to test out. They now sit next to my back door and I walk out with them on pretty much every day–to the store, on a walk or when I'm headed to the gym for a swim. By the way, when I do where them to the gym, I'm also packing my sandals to wear them in the pool area, in the sauna and in the shower.
Yeah, like my friend in Portland, I'm pretty much addicted.
Not only are they comfortable because of the soft foot bed, but I love the fact that they are slip on. That's why they've become an everyday shoe for me–they're just such an easy option.
But, of course, these aren't just ideal for home. They are great for travel as well because of how lightweight they are and how well they pack down.
The OOMGs come in a variety of colors including: Black & Black, White & Black, Black & Gray, White & Blue (pictured), White & Gray, White & Orange and White & Pink. There's also a Black & Gray fiber version as well as a higher cut version.
Note that sizes in the OOMGs tend to run a tad small. I'm normally an 8.5 but needed a 9 in these. The sandals are more true to size.
** Would you like a chance to win your very own OOFOS OOMG shoes? **

It's easy to enter and you have multiple chances to win!
1) First, tell me your  favorite way to pack your shoes for travel. Do you only wear one pair during a trip? Do you use a shoe packing cube? Do you stuff them with delicate items? Lemme hear about it. Use this contact form to let me know.
I'll gather up all the answers and create a post featuring the answers!
2) For extra entries, make sure you're subscribed to both the Wanderlust and Lipstick and the WanderTours newsletters. If you're not already subscribed, simply click on the link above and enter your email address. Be sure to check both boxes. You'll get one extra entry for each newsletter you're subscribed to.
3) NEW! Also subscribe to the She's Bold Podcast newsletter (sent with each new episode of the She's Bold Podcast).
* Note that I send each newsletter just once a month, I do not share your info with anyone and you can unsubscribe at any time!
The Deets:
* Approximate value for the OOFOS OOMG shoes is $120!
* This contest closes at 11:59 pm PST on February 28, 2019 and the lucky winner will be chosen on March 1, 2019.
* OOFOS is happy to ship to a winner with an address in the U.S. Winner will have three days to reply once being notified. If no response, a new winner will be chosen.
Good luck. I can't wait for you, too, to feel the OOOOOOOO!
Be Bold,
Beth