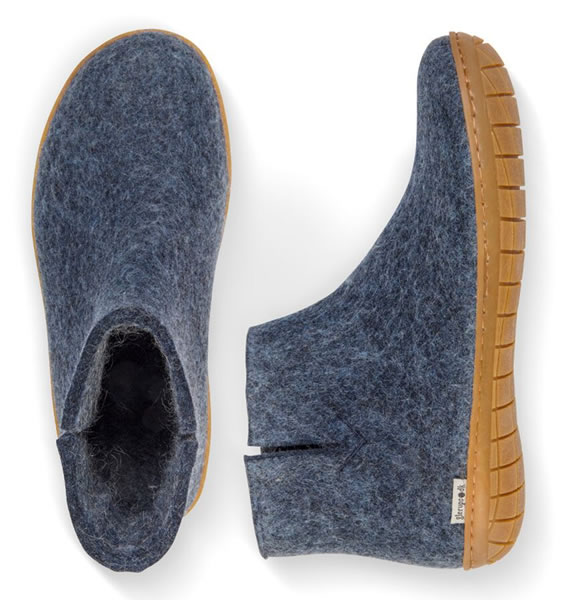 I got (reluctantly) introduced to Glerups at the Outdoor Retailer Show this summer. OR is where I learn about a lot of new gear, clothes, shoes, accessories and other products soon to hit the market.
In this case I say that I was reluctantly introduced to Glerups because I didn't think I'd be interested in felt slippers.
How wrong I was 🙂
All I had to do was slide my hand into the slipper to know how soft it would be for my feet (my precious marathon-running feet!). And it's true, these feel great when worn.
I actually have the low-cut version of Glerups with rubber soles but I want YOU to win a pair of the boots (pictured, above). Same-same but different, you know?
Anyhoo, now that the weather has turned here in Seattle, it's given me a chance to wear these on a regular basis. Although I have the rubber soled version (which you might think would be ideal for outside) they have become my house slippers.
That's because I work from home and spend more time in slippers than I do in outdoor shoes. I want to spend as much time as I can in these so, for now, they're not allowed outside 🙂
The felt is thick–making them warm–but even then, it barely feels like you're wearing anything because they're so soft.
Though I probably wouldn't pack these for a trip where I was having to check luggage, you can bet they'll come with me on weekend getaways to a cabin. I will say that given how much I've become attached to them, my next pair will likely have the calfskin sole as they might be more suitable as house slippers.
You might be reluctant at first as well but, trust me, you just might end up loving these slippers as much as I do.
What I love about the Glerups:
So soft. These are SO soft.
They come in a variety of styles including low- and high-cut and open heel with the option of calfskin or rubber sole.
With wear, the felt shapes to your foot making them even more comfortable.
The wool absorbs water so IF they do get wet, your feet will stay dry.
They'll last a loooong time.
You can win a pair of Glerups!
It's easy to enter!
1) First, make sure you're subscribed to my newsletter.
2) Then, simply follow @glerups_usa and @wandergal on Instagram.
3) LEAVE A COMMENT below or contact me so I know you've followed the two steps above.
The Deets:
* Approximate value for the Glerups Low Boot with Rubber Sole is $155!
* Contest closes at 11:59 pm PST on October 15, 2019 and the lucky winner will be chosen on October 16, 2019.
* Glerups will ship to a winner with an address in the U.S. Winner will have three days to reply once being notified. If no response, a new winner will be chosen 🙂
Good luck!
Be Bold,
Beth