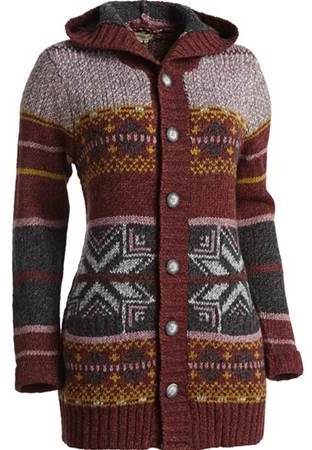 Congratulations to Whitney G. from Gainesboro, TN, a new subscriber to the Wanderlust and Lipstick Newsletter, for winning this month's prize!
*****
There's a word that comes to my mind when I think about clothing from Royal Robbins. It's "soft." Well, more specifically, "snuggly soft." I mentioned this when I wrote about their Mission Knit Long Sleeve Shirt and these are the words that come to mind to describe their Mystic Cardi.
This is the kind of sweater you want to curl up with on the couch in the dead of winter by the fireplace with a good book. True that it's not going to be the easiest item to pack for a faraway retreat–one in which you'll need to fly–but it is great for a getaway in which you'll be driving, like a ski weekend (different fireplace, same book) or a cabin near a stormy coast.
This long button-down sweater is made of acrylic and wool (just 15%, so it's not itchy) and has a hood for extra warmth.
The Mystic Cardi is available in Charcoal (pictured above), Oatmeal and Deep Blue (pictured below).
This month you could win your own–just in time for the cold weather and the holidays!
About Royal Robbins
Royal Robbins produces practical outdoor travel clothing that utilizes performance fabrics, making their clothes not only comfortable but excellent for packing and for adventure activities.
Wanna win your own Mystic Cardi Sweater?
During the month of November, you can enter to win a Mystic Cardi Sweater from Royal Robbins. One winner will be chosen on December 1, 2015.
You have THREE CHANCES TO WIN!
1) Sign up for the Wanderlust and Lipstick newsletter. This goes out just once a month and your information is never shared.
2) Sign up for the RSS email feed (see the "subscribe me" box in the upper right) to receive an email each time I post to this blog (usually no more than 3x per week).
3) NEW for 2015! If you're already a newsletter and RSS email feed subscriber, leave a comment below and let me know where you would wear your Mission Knit Shirt from Royal Robbins. I'll then include you in the random drawing.
If you're new to the site or this blog, do all three and you'll have three chances to win!
Oh, and get some good karma by forwarding this to friends whom you think might like to enter to win their own Mystic Cardi Sweater from Royal Robbins.
Value: $85
The Deets
This contest closes at 11:59 pm PST on November 30, 2015 and the lucky winner will be chosen on December 1, 2015. Royal Robbins will ship to the U.S. only for this contest (sorry!).
The winner will have three days to respond before another winner is chosen.
Be Bold,
Beth
Want to stay up-to-date on all things Wanderlust? Follow me on Facebook, Instagram or RSS/email.
Disclosure: Royal Robbins provided the Mystic Cardi sweater to me for review. Regardless, everything I have said in the post reflects my honest opinions.