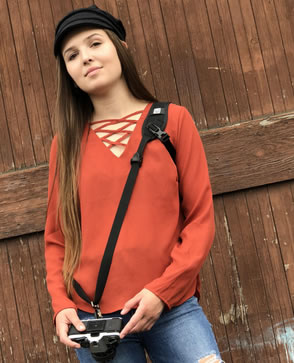 If you've been following me on Facebook, you may know that I recently purchased a new camera. I bought the Sony R10 iv–an all-in-one compact camera that's super easy to travel with.
I had many awesome opportunities to test it out and literally learn how to use it during my recent trip to Peru, the Galapagos and the Amazon rainforest.
Because I knew I'd be hauling the camera around most days for the past month, I wanted an easy-ish way to carry it and a way that I knew would be safe in big cities (where theft concerned me) and on a boat (where my slippery hands concerned me!).
I was delighted to have been contacted by Seattle-based company Black Rapid to test out one of their camera straps. The timing was perfect so I took them up on their offer!
I was interested in their Curve Breathe Crossbody camera strap because it's an over the shoulder strap that I knew would make the camera safe in my hands under numerous conditions.
The strap easily but securely screws into the bottom of the camera using the camera's tripod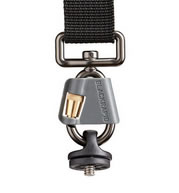 mount. As far as actually wearing the camera strap, I will admit that it took me at least a half dozen times of putting the strap on before I could do it without thinking too much about it, but once I got it down, it was easy peasy. It's worth noting that there's a video on the product page that shows exactly how this works.
In short, the strap goes over your head and your arm goes through a smaller section of the strap. Your camera then hangs down at waste-level (or at whatever level is comfortable for you).
It's easily adjustable for use by any body size and height. I found it was best to carry the camera a little higher (just above my waist) when I was trekking so it wouldn't bounce around when I walked but that I could lower it down a bit on non-trekking days.
The way the strap is configured (see photo above), you'll notice that it takes the weight off of your neck, unlike a conventional strap that simply hangs straight down. For me, this was one of the greatest advantages–to not have the strap and camera just hang down my front.
The only downside to the Black Rapid Curve Breathe Crossbody strap is that it can be a bit bulky/cumbersome when you're not using it. In other words, it doesn't pack down small like a conventional strap. When it's still attached to the camera, it takes up a fair bit of space in a small camera bag and when it's not attached, it's also a bit bulky. This is NOT a show stopper for me. The pros of this strap far outnumber this minor inconvenience.
If you've got a DSLR or mirrorless camera and need a secure way to carry it during your travels, this month you have an opportunity to win your own Black Rapid Curve Breathe Crossbody camera strap!
Would you like a chance to win your very own?

You just have to follow these two easy steps to enter…
1) First, tell me the camera you have and what destination has been your favorite to shoot with that camera. Use this contact form to let me know.
2) Second, make sure you're subscribed to both the Wanderlust and Lipstick and the WanderTours newsletters. If you're not already subscribed, simply click on the link above and enter your email address. Be sure to check both boxes. You'll need to be on both lists for this entry.
* Note that I send each newsletter just once a month, I do not share your info with anyone and you can unsubscribe at any time!
The Deets:
* Approximate value for the Black Rapid Curve Camera Strap is $67!
* This contest closes at 11:59 pm PST on November 30, 2018 and the lucky winner will be chosen on December 1, 2018.
* Black Rapid is happy to ship to a winner with an address in the U.S. or Canada. Winner will have three days to reply once being notified. If no response, a new winner will be chosen.
Be Bold,
Beth