There are plenty of options this holiday season for you to fill the stocking of your favorite traveler. Here's a list of some smaller items to get you started.
PsiBands – For the person who's even slightly prone to motion sickness, the PsiBands are the perfect answer. These fashionable wristbands use acupressure to relieve nausea due to driving, boating or even pregnancy. I carried these with me to Bhutan (where the country's one road has a twist about ever 3 seconds) and found myself putting it on my wrist a couple of times and sharing them with the folks in my group. They come in designs suitable for both women and men and are SO much nicer looking than the cloth bands I'd been using previously. Set of 2, $15.50. Available on Amazon
*****
Wordlock Luggage Lock – Rather than having to worry about keeping track of those tiny little keys or remembering yet another series of numbers, Wordlock allows you to set your lock with a 4 letter word (not THAT kind – though at least one works 🙂 The lock is TSA-accepted and Travel Sentry approved so you don't have to worry about the lock being cut at the airport. From $9. Available on Amazon
*****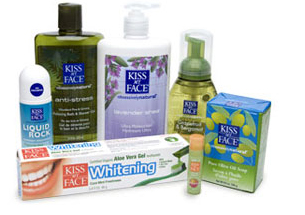 Kiss My Face – This line of body, face and hair care products are available in small sizes that are perfect for travelers. My favorites for my toiletry bag are the Jojoba & Mint Facial Scrub, the Facial Creme and Sunscreen and the various lip balms. Products are made from natural and organic ingredients which is an added bonus. Pricing varies. Available on Amazon
*****
Buff Headgear – These simple garments made of CoolMax fabric can be worn 12 different ways. And because they are so small, they are easy to pack up for any trip, whether you're going to a warm or cool climate. Some ways to utilize a Buff is as a hat, neck gaiter, bandana, helmet liner or scarf. I wear mine around my neck and because it comes in so many color combinations, there's always one to go with your outfit. From $14.95. Available on Amazon
*****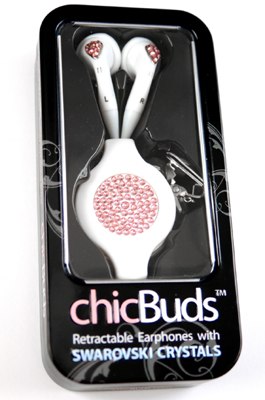 Chicbuds – These headphones feature a retractable cord that ensure they don't get caught up with other items in your daybag or tangled up in a knot in your pocket. For travelers, it means there's one less mess you have to deal with in the airport or in-flight. The Chicbuds are adorned with 85 Swarovski crystals embedded on the cord holder as well as a handful of crystals on the earbud themselves. Various colors. From $34. Available on Amazon
*****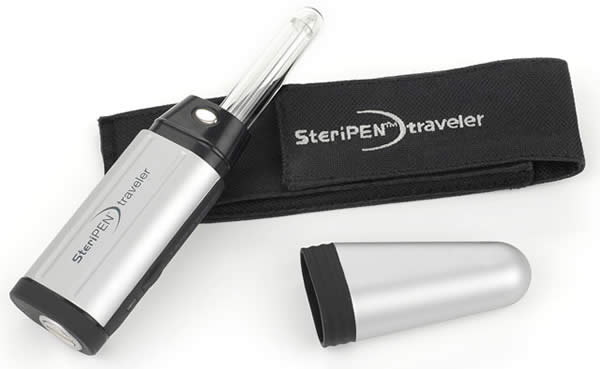 SteriPEN Traveler – For any traveler concerned about the amount of plastic water bottles and their effect on the environment  (especially in countries where recycling is non-existent), the SteriPEN Traveler is the best gift of all. Using UV light to kill 99.99% of viruses, bacteria and protozoa, it's possible to drink tap water in India after using a SteriPEN! From $80. Available on Amazon
*****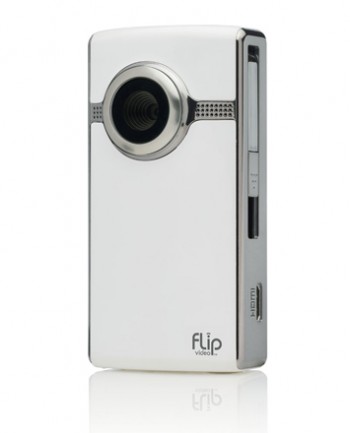 Flip MinoHD 120 Minute Video Camera – These little video cameras come with an internal hard drive, a 2″ anti-glare display and the easiest user interface you can find (next to the iPhone, that is). You simply shoot your video and then upload it to your computer using the USB connector that pops open. Various versions now available including 60 minutes and non-HD versions. From $150. Available on Amazon.
*****
Julbo Sunglasses – It doesn't matter the time of year, protecting your eyes from harmful rays should always be a priority. (Reportedly, Seattle has the highest rate of sunglass sales in the U.S. – go figure.) Their sunnies are designed with outdoor athletes in mind and are great for travelers because they are both durable and made of high quality optics. The Light glasses are pictured at left. $50 – $90. Available on Amazon
*****
Smartwool W's Standup Socks– These calf-hugging socks from Smartwool are not only totally comfortable in the Smartwool kind of way you're used to, but because these provide some compression, they are perfect for wearing on long flights in order to avoid deep vein thrombosis. Also minimizes ankle, leg and foot swelling. Comes in the usual fun Smartwool colors, too. From $20. Available on Amazon
*****
Le Brief Disposable Underwear– I'm generally not one to buy into the whole disposable culture. But sometimes, something comes along that makes me giggle and I know others will get a kick out of, too. That's why these disposable undies are included here. I DO know people who travel with these – they aren't interested in doing laundry while they travel or are out camping and don't have access to water to wash their clothes. These can be machine washed up to 4 times, by the way, and come in brief and thong. $3.50 for package of 7.
Travel Well,
Beth
Related links:
WanderGear: VentureSafe 20L from PacSafe
WanderGear: SteriPEN Traveler
WanderGear: Carry-on Luggage Roundup
WanderGear: Zeal Sunglasses
WanderGear: Tops from Moving Comfort
Join other Wanderlusters and stay updated on travel-related items by subscribing via email or RSS feed.