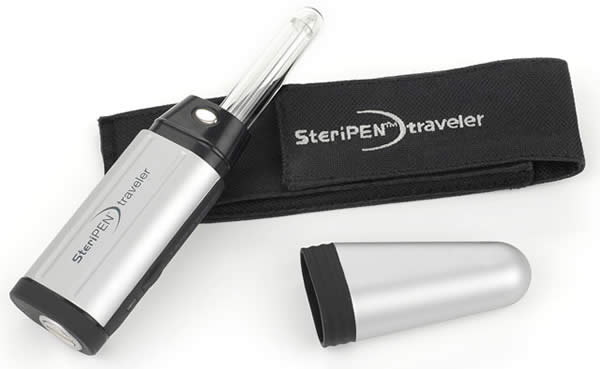 The SteriPEN water purifiers include the SteriPEN Traveler, SteriPEN JourneyLCD, SteriPEN Adventurer and the SteriPEN Classic.
As I prepare for another journey to India, the SteriPEN Traveler is definitely going to accompany me on this trip!
Purchase on Amazon for less than $100
How does the SteriPEN work?

The SteriPEN water purifiers use ultra-violet light to destroy microbes in your drinking water. They can kill 99.9% of bacteria, protozoa and microbes that are swimming around and this includes Giardia and Cryptosporidium. Used properly, that means no more belly-aches from tap water in the most unlikely of destinations.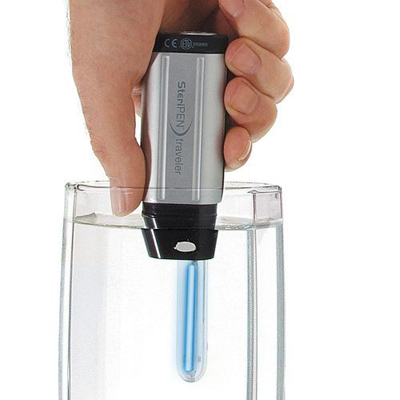 You simply dip the SteriPEN in your glass of water, press a button and the UV light turns on to do its work. Depending on the amount of water you're purifying (up to 32 oz), the light will automatically shut off within 60 or 90 seconds.
I've taken my SteriPEN on two month-long journeys to India and have never been sick. It's good to note that your SteriPEN will not make the water taste any better, but it is very effective. To compensate for bad-tasting tap water, I add flavored Emergen-C powder.
Because the SteriPEN uses UV light, there is no nasty taste coming from chemicals that you might find in other water purifiers.
Are SteriPENs Good for the Environment?
Absolutely! SteriPENs are great for the environment because you aren't contributing to garbage heaps by purchasing bottled water. This is particularly important in developing countries where there may not be recycling programs in place. These are also the destinations where drinking purified water will be most important because the tap water may be contaminated with bacteria.
What's the Difference Between the Four SteriPEN models?
There are several different versions of the SteriPEN. While they all have the same efficacy rate, the main difference is in the size and features.
The SteriPEN Classic is the original model. It's blue and white and slightly larger than the Adventurer and Traveler models, which are smaller and easier to carry in your luggage. The only difference between the SteriPEN Adventurer and the SteriPEN Traveler is the color.
The SteriPEN JourneyLCD (pictured above) is the latest model and includes a digital readout so you can tell exactly how much time is left before your water is completely purified.
Where can I buy a SteriPEN?
The beauty of the SteriPEN is that one size fits all. Therefore, you can buy yours online from a trusted dealer without having to worry whether it's just right for you!
Purchase on Amazon for less than $100.
Travel Well,
Beth
Related links:
WanderGear: Carry-on Luggage Roundup
WanderGear: Pinnacle Camper Cookware
WanderGear: Zeal Sunglasses
WanderGear: Blu Bandoo
WanderGear: Tops from Moving Comfort

Join other Wanderlusters and stay updated on travel-related items by subscribing via email or RSS feed.