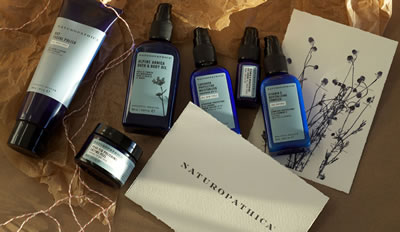 We all know the importance of staying hydrated when we travel, whether it's to counter the effects of a harsh sun, to combat high altitude or to replenish your body after a day of sightseeing. When I travel, it seems easier to drink fluids and keep my insides happy than it is to keep my skin hydrated with lotions (TSA limits are part of that problem for me!).
Naturopathica to the rescue! This company combines natural and organic ingredients in their skincare line and manufactures them in travel-size packaging so your skin can get a healthy hydration while you're on the road. Here's what I tested out:
Daily Skin Care Starter Kit – This is probably the best place for a traveler to start dabbling in the Naturopathica line. For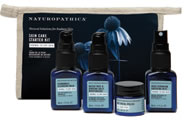 $32, you can have a sample of the Chamomile Cleansing Milk, Oat Facial Polish, Rose Geranium Soothing Mist and the Beech Tree & Ginseng Daily Moisturizer. Each item includes natural products that are gentle and soothing, providing a calming effect while your travels might have your time zone and body turned upside down.
Honey Vanilla Lip Balm – I know, some of you still think I'm a lipstick-wearing gal. But I'm not. I'm all about lip balms and glosses. And I'm also really picky about what balms I put on my lips. Too wet and I feel like I'm spitting on other people, too dry and I feel like I have to keep applying it. The Honey Vanilla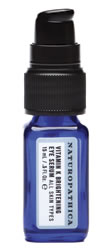 Lip Balm is a bit on the dry side but I like it because it doesn't try to be a gloss like some lip balms. And, I'd love it more if it had just a bit more of the vanilla scent. I'm like that. $12 for .15 oz
Vitamin K Brightening Eye Serum – Vitamin K helps reduce dark circles under your eyes. If you're jet lagged this might be just the thing to perk you up (at least outwardly) before getting off your flight. It also includes Cape Chamomile Oil which has anti-inflammatory properties helping reduce the puffiness that can occur in-flight or when you're simply not getting enough sleep because you're too busy sightseeing. $72 for .5 oz
What I like about Naturopathica
I do like the natural ingredients inside the bottle, most of them are organic, natural ingredients and are not tested on animals. And all the products have symbols to show whether the product is vegan, gluten-free or certified. But Naturopathica also takes care in making choices about their packaging.
Bottles are made from post-consumer PET plastic from recycled containers. Tubes are made from 100% post-consumer HDPE milk bottles and PE plastic.
It's hard to really tell the difference between one product line and another and how effective it is on your skin. The bottom line is that I think we should be making choices based on what feels good to us and how natural the products are. For me, Naturopathica rates high in both categories.
Travel Well,
Beth
Related links:
CLEAN Anti-bacterial Hand Cream
Kiss My Face
Badger Balms
Win a Travel Swag Bag!
Join other Wanderlusters and stay updated on travel-related items by subscribing via email or RSS feed.