I've probably seen the Badger Company kiosk 100 times at Whole Foods and REI but, truthfully, I never stopped to check out their products. Even when I walked by their booth at the Outdoor Retailer show, I gave a quick glance and thought, "What an odd name for a company – Badger." Well, never judge a book, eh?
I stopped at the booth because the folks there seemed open to having a visitor. I was delighted to chat with the owners and to discover this family-run business based in New Hampshire.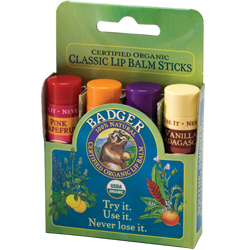 The story of how they got started is pretty cool. Bill Whyte, a carpenter, had been looking for something to heal his dry cracked hands. He created a balm using a New England traditional remedy. It worked wonders and the rest is history. They've expanded their line to include lip balms, moisturizers, muscle rubs, sunscreen and balms for a calm mind, headaches, stress, feet and sleep. They've also got soaps and cocoa butter-based balms.
After having a lovely chat with Bill at the Badger Booth, he sent me off with a number of products that he thought I might enjoy. My favorites are the Vanilla Madagascar and Tangerine lip balms (both certified organic) and the sweet orange and spearmint Cheerful Mind Balm. I'm eager to try the lavender and bergamot Sleep Balm and the Anti-Bug Balm (with citronella – but the smell doesn't seem to be too overpowering).
I've also tried the sweet orange cocoa butter lip balm but the cocoa butter stuff just isn't for me. I know gals who love it but it just seems too thick on my skin and lips.
One last word for travelers… because the soothing balms come in little tins with even the biggest version at just 1 ounce,  you "should" have no problem taking these through security at the airport. I now travel with the Cheerful Mind Balm and use it as a sort of perfume, dabbing a bit on my temples, under my nostrils and behind my ears. I don't know that it's strong enough for others to smell the scent, but I can smell it, and that's all that counts because it DOES keep my cheery 🙂
Travel Well,
Beth
Related links:
WanderGear: Blu Bandoo
WanderGear: Smart Girls Who Surf
WanderGear: SummerWear
WanderGear: Flip Video Camera
WanderGear: Tops from Moving Comfort
WanderGear: Summer Accessories

Join other Wanderlusters and stay updated on travel-related items by subscribing via email or RSS feed.