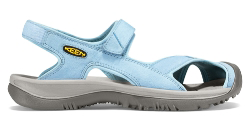 I'm a light packer and am totally against including more than 2 pairs of shoes for any trip. One pair is ideal but sometimes 2 are necessary.
For my 5 weeks in Vietnam, Cambodia, Thailand and Bhutan, I toyed with taking only one pair but then got nervous that I'd run into cold weather along the way and would need something warmer. (More on the second pair in another post.)
What I lived in 90% of the time were the Balboa Sandals from Keen.
Available on Amazon for under $65
I haven't always been a Keen fan. With a size 8 foot, I always felt that their sandals made my feet look a bit clownish with their somewhat bulbous toes – the protector so you don't stump your toe while you're out being all active and such. But I became a convert for 2 reasons:
I took notice of some of their styles that had a smaller toe protector
I heard their president and CEO, James Curleigh, as well as a handful of Keen Ambassadors speak earlier this year
First, a note about Keen in general and their Ambassadors
I attended an event at a bar across the street from the Salt Palace during the Outdoor Retailer Show in January. Food and drink were free-flowing, as was live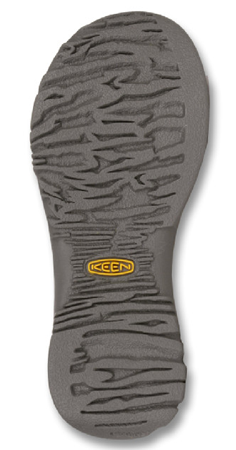 music. But, the story was in the "Keen Ambassadors". These are folks doing REALLY cool things in their Keens and are on a mission to be good to the planet at the same time.
Like, Seth Warren, former professional kayaker who's out to save the environment through his documentary films. Or Alison Gannett, a "green" skier. Or Stiv Wilson, former Wend editor and now full-time conservationist, who's on a war path to put a stop to the garbage that's choking the ocean.
Good people. Good message. Good company.
Keen's motto is Create, Play, Care. They do all 3 and encourage you to do the same. Enjoy the outdoors but be nice in the process. I was inspired that night and eager to give a pair of Keens a test drive.
Now about the Balboas. Love 'em. They're comfortable, stylin', and I walked as many as 11 miles+ in them a day and never felt any pain or discomfort in wearing these. When it got cooler in Bhutan, I simply put on a pair of mini socks.
The bottoms have a grip that allowed me to pass through small streams and some muddy paths with no slippage.
They worked for me walking around Bangkok in 95+ degree heat and they worked for me when I hiked up to Tiger's Nest in Bhutan. I trekked through the Mai Chau region of Vietnam and spent days walking around the temples of Angkor in Cambodia.
I did find that the light blue ones got covered up in dust rather quickly and I was washing them off nearly nightly after some of the hikes I did through the mountains of north Vietnam. No fault of Keen, of course, since I had requested the blue ones.
All in all, two thumbs (or toes) up for the the Balboas. Go Keen!