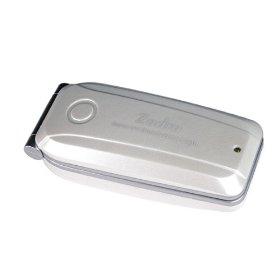 I first was introduced to the Zadro UV Disinfection Light during a trip to Bhutan. Avril, a woman on the trip, carried one of these. It immediately caught my attention because I've become a big proponent of technology using UV light after having had such great success with my SteriPEN in India.
Available on Amazon for less than $80.
The effects of using UV light are scientifically recognized to kill germs and Zadro claims this gadget will kill 99.9% of those little buggers. You simply open it up and click the on button. It has a pre-set length of "on" time of 10 seconds, which is pretty brief if you're trying to cover something like a bed, but for smaller areas, it works well.
It's hard to verify the actual effectiveness but for those with a higher concern about germs than I are sure to have some peace of mind by using the Zadro UV Light.
It really is no bigger than the palm of your hand so it'll be easy to find a place for it in your luggage.
Available on Amazon for less than $80.