It's been less than ideal motorcycle riding weather in Seattle. My bike (a BMW F650) has been all prepped so that Jon and I could take off for a couple of weekend getaways. We love to go camping around the Pacific Northwest and we have had high hopes to take full advantage of this.
But nice weather has been slow in coming. It has appeared a couple of days here and there, but never so consistently that we could actually make plans in advance for a motorcycle camping trip.
Our Harley-riding friends, Ted and Carolyn, suggested we try to squeak one trip in with them to Eastern Washington, where the weather is always sunnier and warmer (in the spring/summer/fall) than west of the Cascades.
Pulling together some last-minute preparations, we remembered that we had been sent a pair of Scala Rider Q2 headsets to review. With hours before we were to leave, Jon powered them up and attached them to each of our helmets. The instructions said that attaching them can be done in about 5 minutes and, literally, that is about what it took.
We've used headsets in the past but we were always very disappointed in their quality. The biggest issue being wind noise that causes it to be nearly impossible to hear each other.
I can report that the Cardo Scala Rider Q2 Headsets had barely a whisper of wind noise and we both came through loud and clear. If you saw any of the Ewan McGregor and Charlie Borman videos about their motorcycle travels, you'd know what we sounded like.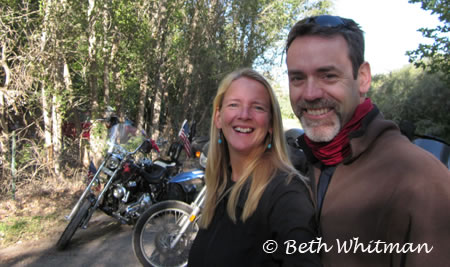 The headsets are voice activated, so once you press a button (which takes just a little bit of getting used to finding once you're riding), all is quiet until you either activate the button again or start speaking. We learned quickly that our first words usually didn't get picked up so we'd start the conversation with some test words until we could hear the headset kick in.
We never had a problem with getting cut off due to the distance between our bikes though we do tend to ride relatively close together. We found that we could continue to chat at even a quarter mile out. (Distance on these is reported to be 540 yards or about 1/3 of mile).
I did need to adjust the earpiece (which gets Velcroed inside the helmet) a few times to get it to sit just right. At first I thought the right earpiece wasn't working, but it turned out it simply wasn't sitting close enough to my ear. At other times, I had it placed next to my upper ear and it ended up hurting my cartilage after some time.
Here are a few more benefits of he Scala Rider Q2 Headsets:
* Unlike a walkie-talkie, these don't shut down the other person when you're talking, meaning you both can speak at the same time making it more conversation.
* Using Bluetooth technology, you have the ability to sync up other headsets, so if you're riding with others, you can all join in the conversation.
* You can connect these with an MP3 player as well as your cell phone
* Up to 8 hours of talk time on one battery charge
* Noise-canceling microphone cuts back most of the wind noise
Definitely make these your top choice for communicating if you're riding with one or more people.
By the way, our overnight camping trip ended with us returning to Seattle in the absolute pouring rain. We were all soaked but we were riding – and sometimes that's all that matters!