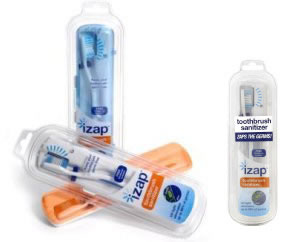 I'm a big fan of using UV light to kill bacteria and germs. It's effective, safe and there have been some great travel products coming out using this technology.
The latest to come to my attention is the iZap toothbrush sanitizer from VIOlight. This handy gadget turns on automatically once you close the case, with or without your toothbrush in it, and stays on for approximately six minutes while it does its job. The UV bulb eliminates 99.9 percent of germs it comes in contact with and the bulb lasts for about 8,000 hours of use (though I doubt the 2 AAA batteries will last that long!).
The iZap comes in its own carrying case (in clear, blue or orange) and only takes up slightly more space than the toothbrush itself. For germophobes and non-germophobes alike, this is a handy little product. Priced under $20, it's a great addition to your toiletry bag!
Related links:
Zadro UV Disinfection Light
SteriPEN