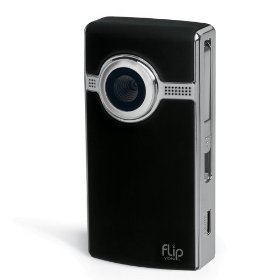 I received a Flip Mino HD camera to test out a number of months ago. I finally had a chance to do a fun experiment this where I took video using the Flip while Jon filmed with my Sanyo HD Xacti 1000. A side by side comparison is below but first, let me say a few words about the Flip.
Note that there are now several versions of Flip cameras with varying specs. I'm specifically talking about the Mino HD here.
It totally rocks in an iPhone/iPod kinda way. It's so intuitive that you don't need any instructions to make it work. You simply turn it on and start pushing on the few buttons located on the front and side to figure out what's what. It gets juiced up from your computer so there's no power cord to deal with. And, the hard drive is internal, so you don't have to remove an SD card to download your video to your computer. Everything is completely intuitive and it's small enough to fit in your pocket – smaller than your phone I'd bet.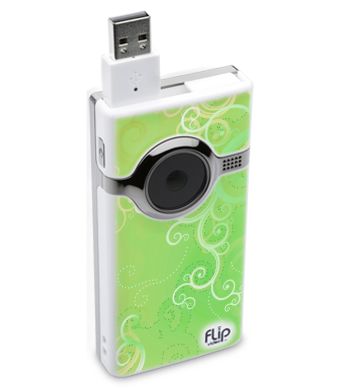 The Mino HD comes with 4 GB of space, enough for an hour of video (you'd be surprised at how much you can capture with an hour's worth of time). The screen is 1.5 inches and the total size of the camera is only about 4″ x 2″. Resolution is 528 x 132.
It comes with a carrying pouch to prevent scratching (more than I can say for Apple products) as well as a wrist strap.
With something this small and practical, it obviously has its drawbacks.
I felt that the zoom, at 2x, was a bit choppy. And, because it is so small, it's not as easy as you might think to hold it still. As for powering it up, if you're not traveling with a laptop, you'll have to purchase a power adapter for it. Because the drive is limited to one hour, you'd need a way to download the video if you'll be taking more than that at any given time.
on Amazon
It really is a handy little camera. And, ultimately, unless you're using your new G3 iPhone to capture video while you travel, there isn't anything easier to use.
Now for the side by side.
In both of these video, the colors are definitely muted as we were in a rainstorm at Old Faithful in Yellowstone. What this demonstrates is that the Sanyo has a brighter picture and was able to pick up on the few dashes of green in the grass relatively well. Otherwise, the Flip held up pretty well.
If I were creating an important project, I'd go for the Sanyo Xacti but the Flip is a great toss-in-your-daybag camera for every day video. And, you'll save a few hundred dollars with the Flip.
First the Flip:
Now the Sanyo Xacti:
on Amazon