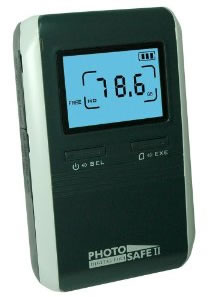 At least I learn from my mistakes.
While traveling in India, I lost about a week's worth of photos when either my memory card or camera went bad. I lost some great photos, including those from Varanasi. Luckily, I was also shooting HD video and can extract stills from that footage. Still, what a thing to have happened!
Now, I don't travel without the Digital Foci Photo Safe.
This nifty little external hard drive-like device makes it easy to upload photos by inserting your memory card directly into the unit. With the touch of a button (or 2) your images are backed up.
Available on Amazon for about $180
This unit comes in 40, 80 and 120 GB and are about $100, depending on which unit you get. As someone said to me recently, if you're traveling and backing up your images anyway, you're paying about $15 per disc at an Internet cafe. You might as well purchase one of these and save yourself some money in the long-run.
I don't need to go through something like loosing my images twice to remember to carry this with me on every trip. Hopefully, you can learn from my mistakes. Next time you're on a trip, please back up those images!
Available on Amazon for about $180