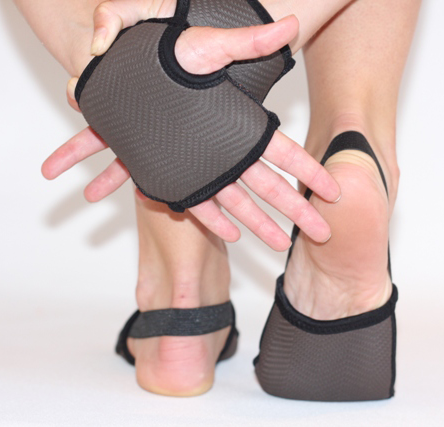 I've been toying with dropping my gym membership which is up for renewal next week. I've been going 3-4 times/week for probably 5 years. I spend 20-30 minutes on the step mill or the elliptical machine and then work out with weights. I rarely take the many classes that are offered though I've been known to pop into a yoga class now and then.
Jon recently bought a bicycle and dropped his membership, preferring an early morning ride to an indoor workout. I, too, have been thinking that it would be nice to save a few bucks by not renewing my membership, and then committing to more power walks and some weights and yoga at home.
This worked out well for me during my most recent travels. I got up early and, before going for an early morning walk, I did 100-120 push ups. This seemed to really get me going for the day and helped to set the tone for feeling good.
That's where the Yoga Paws come in.
These "mini-mats", as the website states, are actually semi-gloves for your hands and feet that provide you with the stability of a yoga mat without having to carry one with you.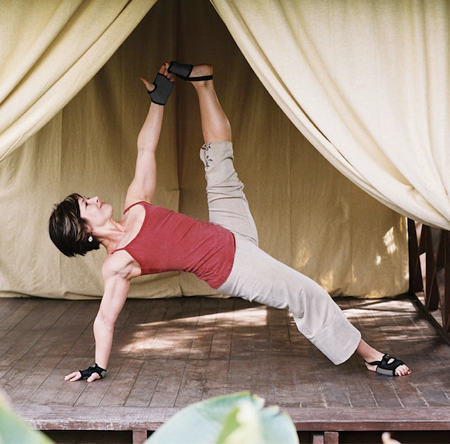 Both the hand and foot gloves have a slim padding for extra comfort on hardwood floors and a strong grip so you're sure not to slip, whether working out on a hotel carpet or bare floor.
These contain an absorbent cloth lining which absorbs dirt, oil and perspiration. It also cuts down on the yuck-factor having to put your hands directly on the floor (which always gives me pause in a hotel room).
Cleaning them is easy, too, and can be done in a hotel room sink. Simply turn them inside-out and hand wash in cool water with gentle soap. Let them air dry.
The "regular" size (2) fits most and is perfect for me. Though I have relatively small hands, there's a bit of extra room in case your hands are just a bit bigger than petite.
For any yoga-loving traveler, these are a must for your travel bag.
As an aside… just yesterday I was speaking with a yoga instructor who will likely be leading a yoga/spiritual retreat to Bhutan for me next year! Interested? Email info (at) wanderlustandlipstick (dot) com and I'll send details as they become available.
Related links:
Cocoon Travel Pillow
Royal Robbins Giveaway
Guilty Travel Pleasures
Overland Equipment Daybag
Creature Comforts