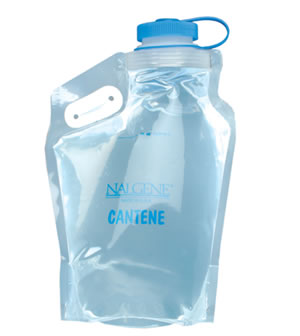 In the travel world, there's a lot of talk about water… the questionable safety of bottled water in developing countries… the garbage that's produced by water bottles purchased during travel… how to best filter your water. These questions weigh heavier and heavier on my conscious not only when I'm at home (where I religiously recycle every tiny piece of paper and veggie scrap) but especially when I'm traveling and rarely see organized recycling programs in place.
As a result, Nalgene collapsible bottles have recently made their way into my backpack. These, along with my SteriPen (see review below), have become important components of drinking safe water and helping keep garbage out of landfills.
I carry two different sized bottles. The 32 ouncer fits nicely in a day pack while I like to fill up the 96 ouncer and keep it in my room for brushing my teeth, taking my vitamins and for just general drinking.
The wide mouth allows enough room to insert the SteriPen or, if you have access to them, ice cubes. For travelers, these collapsible bottles are far easier to pack away than Nalgene's popular hard bottles. I can't imagine traveling without these!
Travel Well!