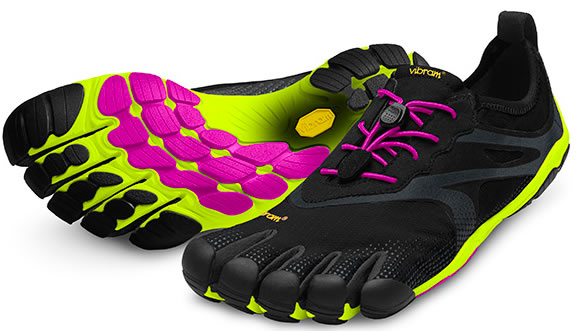 Depending on whom you listen to, you might think that minimalist or barefoot running (and walking) is completely passe. A fad that's gone the way of Crocs.
But for those of us who got hooked on this style, we remain fanatics and there's little changing our minds.
As you likely know, I really only started running a few years ago. I switched from my clunky (very old) gym shoes to minimalist running shoes when I got tired of packing my larger sneakers for trips. My decision to run in minimalist shoes was a practical travel one. I wasn't trying to make a statement or follow a style. I simply wanted running shoes that were easy to pack in my carry-on bag.
I started with the Merrell Barefoot Run Pace Gloves. They definitely served me well (for far longer than they should have) but they needed to be retired. Merrell no longer makes that style which forced me to look elsewhere for a running shoe. While I've had Vibram walking shoes for years, it was only recently that I turned to them for running options and tried out the Bikila EVO shoes.
To understand what's so great about the Bikila EVOs, you should know a little about minimalist/barefoot running…
When running in minimalist shoes, your foot strikes the ground in the front (on the ball of your foot) as opposed to the back (on your heel) as is common with most other running shoes. This way of running forces your body to engage a different set of muscles. Therefore, it's easy to get injured if you haven't properly gotten these muscles used to working in a new way.
As a result, there's been a bit of a backlash from people who've sustained injuries from running in minimalist shoes. The reality is they likely just jumped right in to doing long distances rather than slowly increase their mileage over time. Minimalist shoe companies have been very forthright about providing detailed instructions on how to run in minimalist/barefoot shoes so this is not new or hidden knowledge.
For me, minimalist/barefoot is basically how I learned to run. And other than testing out some other styles of running shoes, I don't really know anything different. Running in Vibrams is pretty new to me, however. But I am now so hooked that you couldn't pay me to stop running in these.
Why so awesome?
In addition to these being easy to pack, the feature that I find the most outstanding on the Bikila EVOs is the additional padding on the bottom that slightly softens the impact on the ball of my foot as well as my heel. I'm a road (well, technically, sidewalk) runner and while most of the paths I run are smooth, the times I'm making my way across gravel means that I can feel what's underneath my foot, but it's not uncomfortable. There's no doubt these are minimalist, but with this extra padding, there's no jabbing, sticking or poking into my foot.
The padding on the heel makes them comfortable for walking (when your heel lands first). I didn't realize this was so important until I wore another brand of minimalist shoes on a walk that did not have this padding and it was pretty uncomfortable with every heel strike on the pavement.
Look, I know they look weird. And for some people that's going to be a turn off. But the comfort level these provide me far outweighs the look. And, honestly? I kinda like the weird factor. 🙂
Unfortunately, fewer stores are carrying minimalist shoes these days but they are definitely available online. These come in Black/Magenta (pictured), Yellow/Pink, Orange/Purple, Purple/Grey and Blue/Green and are available on the Vibram site for $120.
Be Bold,
Beth
Want to stay up-to-date on all things Wanderlust? Follow me on Facebook, Twitter or RSS/email.
Disclosure: Vibram provided these shoes to me for review. Regardless, everything I have said in the post reflects my honest opinions.