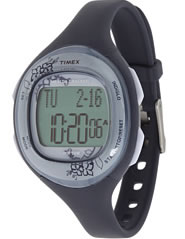 I've been in a bit of a training mode these last couple of months as I prepare for my trek to Bhutan (next week!). Because I've been traveling so much, I knew that a gym membership wouldn't work for me so I figured the quickest way to get myself into shape was to start running because I can do that anywhere. And a runner I am not.
But, I decided if I could start small and just push myself a bit farther every time I went out, I'd be doing OK. And I do mean small. The first time I went out, I stopped after 10 minutes 🙂
To help keep tabs on my progress, I've been using the Timex Health Tracker watch. There are a lot of functions on this watch but the two that I'm using regularly are the ones that track my time out and the distance run. Both of these are easily set and found on the display so that I can keep track even while I'm running. Though I don't like to run in the dark, there's a lighted display which will come in handy this winter as our days get very short in Seattle.
Also on the Health Tracker is a calorie display that shows how much I've burned while exercising and there's a counter too, where I can add the numbers of calories I've consumed (I haven't used this yet).
The watch itself has a sleek band and the face is not too bulky. There are even details of flowers around the face which is a nice feminine touch.
It's water resistant to 50 meters. While I likely wouldn't go swimming with this, I like knowing that when it gets wet, it won't be ruined.
The only feature I wish this had was the ability to calibrate for my own stride for both walking and running. Seems that it automatically detects a person's stride and while I can change the stride length to suit me, I don't know what it actually is while I'm running nor can it be switched from walking to running. This causes the distance tracker to be slightly off when I'm running.
Setting up the watch was pretty easy using the included quick start guide and it took me just a few days of futzing around to get used to it.
While I don't wear a watch at home (I usually rely on my iPhone), I will definitely be wearing this in the coming weeks as I travel through Thailand, Bhutan and Burma.
Finally, because I know you're dying to know, yesterday I ran for just over 25 minutes! Don't ask me how far I went, just know that I was sweating and that I'm proud of this!
Available on Amazon for about $45.
Travel Well!
Beth
Related links:
Revo Heading Sunglasses
Hidden Money Pouches and Wallets
Water Bottles for Travel
Alterna Bamboo Smooth for Hair