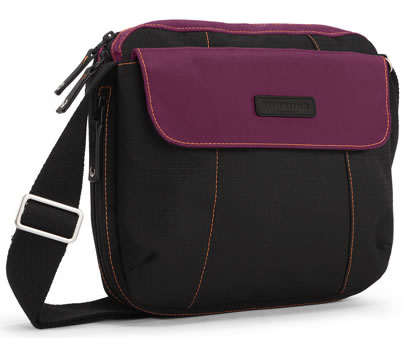 The Timbuk2 Harriet Shoulder Bag is a cleverly-made bag that can be used for multiple uses.
First, it can be used simply as a shoulder bag. Clever Feature #1 is that a zipper located on the outside of the bag zips open so that you've got double the space inside. I've seen this with luggage but never with a shoulder bag.
Clever Feature #2 is that two Velcro straps, hidden in a back compartment, pull out and strap together so that you can wrap them around your bicycle handles. Voila. You've got a bag that's connected to the front of your bike  making items like keys, cell phone, wallet and water bottle easily accessible as you're cycling around.
Full disclosure: I'm not a cyclist. But if I were, I'd think this was the the cutest bag ever for this feature alone. It's still a cute bag… even if you're not a cyclist.
The inside lining is a lighter printed material making it easy to find things inside the bag. It also has a key clip in the front pocket, which closes with Velcro, to help you stay organized. A key clip, by the way, is one of my favorite features on a bag because otherwise I'm always digging around for my keys.
The Timbuk2 Harriet Shoulder Bag comes in four colors (Recycled Pet Black – pictured, Tweed Confetti, Weathered Canvas Dark Brown and Nylon Black).
What I Love
The fact that the interior pocket can be expanded to hold more items.
The interior lining is a polka-dotted print. Not only is this fun but because it's not a dark solid color like so many other bags, it's easy to find items.
Double zipper for the main compartment means it can be opened from either side of the bag. This is great if you switch shoulders while carrying the bag on.
The bag flattens down and can easily be packed away in your luggage to be used at your destination.
Not So Much
The front pocket flap secures down with a couple of Velcro tabs. While these appear quite secure, I always feel better having a zippered pocket to make it more secure and so that items don't accidentally slip out.
Available on Amazon for less than $60.
Travel Well,
Beth
Disclosure: Timbuk2 sent this bag to me for review. Regardless, everything I have said in the post reflects my honest opinions.
Related links:
PacSafe Slingsafe 250
Sherpani Prima LE