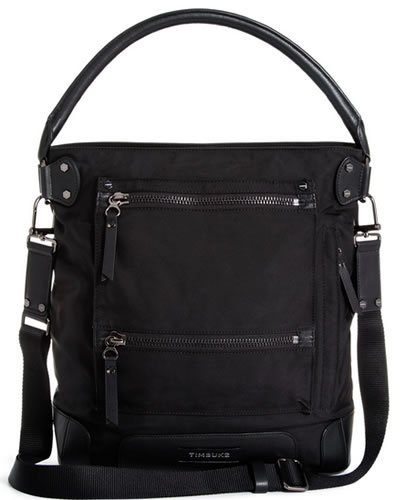 I've always loved the craftsmanship of Timbuk2 bags. But I'm not a messenger bag kinda gal and that's what these folks have built their reputation on. For sure, they have some other great bags (like this Harriet Shoulder Bag I reviewed), but as a go-to bag for travel or daily use, I haven't been as captured as I am now with one of their new releases–the Timbuk2 FEMME Hobo bag.
This multi-purpose tote/over-the-shoulder bag seems to have it all. It's got:
a small clutch handle as well as an adjustable shoulder strap
several exterior zippered pockets that make easy access of sunglasses, phone, notepad and pens
large zippered interior pocket for valuables such as a wallet or iPad
a large pocket with magnetic closure for other items such as paperwork or a water bottle
The bottom is reinforced with leather so it's not going to wear out over time if, like me, you set it down on the floor often.
This bag is deep. That's great when you've got lots of stuff to carry such as the items I typically have with me when I travel: a guide book, water bottle, camera, iPhone, notepad, light jacket. These can all easily fit in the bag. There's plenty of room for an iPad or Kindle, too!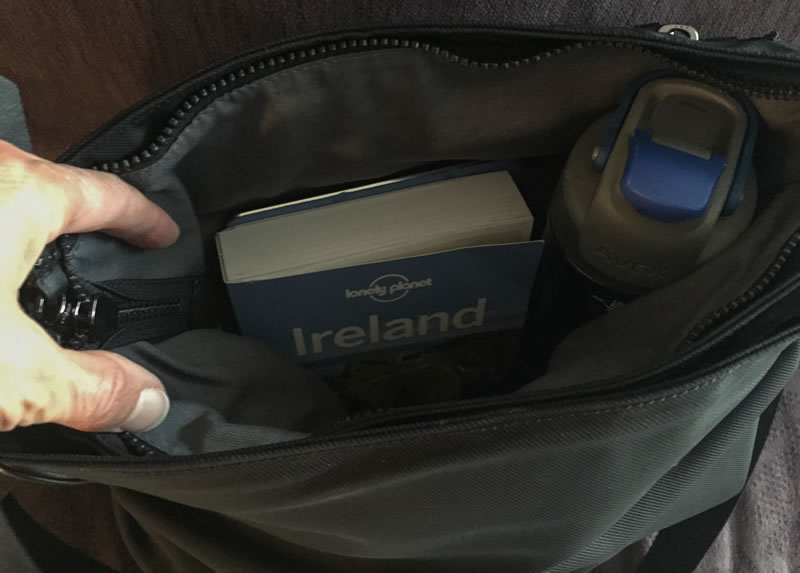 I've even stuffed it with a change of clothes including a pair of jeans, t-shirt and jacket.
Timbuk2 has a lifetime warranty on workmanship and materials on all of their products. So if you ever come across a defect or issue related to its manufacturing, they'll repair it.
When I bring this to Ireland and Scotland next month I'll know for sure, but this may just be my new travel bag.
In addition to it being a bit pricey ($248 retail), the only other thing I would change about The FEMME Hobo is the color of the interior material. With it being black, it's difficult to identify items in low light. Despite these minor drawbacks, I feel certain that the number of times this is going to get used in my travels will amortize into a very affordable bag. 🙂
Be Bold,
Beth
Want to stay up-to-date on all things Wanderlust? Follow me on Facebook, Instagram or RSS/email.
Disclosure: Timbuk2 provided this bag for me to review. Regardless, everything I have said in the post reflects my honest opinions.