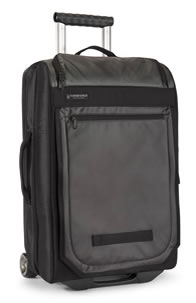 I've been pretty excited to test out my new Timbuk2 Copilot Luggage Roller since I received it more than two months ago. My travels the past couple of months have only been short trips but my 10 days on Maui finally warranted carrying something a bit larger than just a weekend bag.
Admittedly, the Timbuk2 Copilot is a departure from my usual carry-on luggage in that it's a clamshell suitcase. Each side has a zippered netting to hold my clothes and other items tight and then zippers shut.
The best thing about the clamshell styling is that it kinda forces me to be a bit more organized about how I pack. I mean, I don't have to be organized but knowing I can keep workout and casual clothes on one side and dress clothes on the other actually helps me think through the packing process a bit more.
For my Maui trip, I started by putting one compression sac filled with clothes on each side.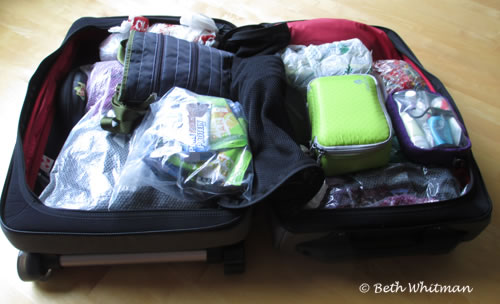 Once I had the compression sacs in, I placed other bags on top. This included my bag of protein bars, a small purse and an Eagle Creek padded bag that held my electronics.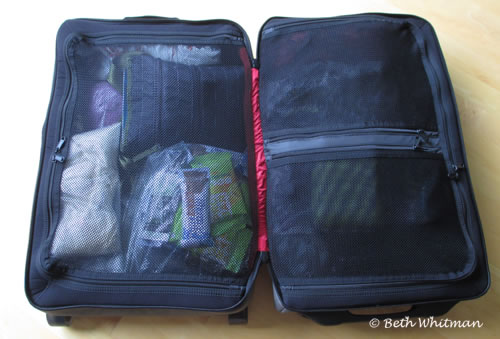 Once everything was placed in the bag, I just zipped up the mesh for each side and it was ready to close shut.
My medium-sized bag is 22″, perfect as a carry-on bag for most airlines.
The Copilot has a top compartment that you can access from the top. It's the perfect size for shoes but because it provides easy access to items, you can put things in there that you want quick access to. I kept my sunglasses in there so I could easily get to them upon landing.
Like other Timbuk2 roller bags, the Copilot has skateboard wheels so the bag is super quiet (and smooth) rolling through the airport. (Side note: I have a small weekend bag from Lipault that I love but it is SO loud when I roll it through the airport it's a bit embarrassing. I'm delighted by Timbuk2's attention to this detail!)
Available in 20″ and 28″ in a variety of colors and fabrics on Amazon. The Copilot goes for about $225.
In short? Love it. And I know I'll find lots of uses for it as long as I can keep Jon from "borrowing" it on our next trip together!
Be Bold,
Beth
Want to stay up-to-date on all things Wanderlust? Follow me on Facebook, Twitter or RSS/email.
Disclosure: Timbuk2 provided this bag to me for review. Regardless, everything I have said in the post reflects my honest opinions.