There was a time when socks simply served a purpose for me. They were the layer between my foot and my shoe. But I've been having more fun with my sock choices lately and discovering not only some really fun designs but also styles that do more than just create a layer – they make my feet feel more comfortable.
Darn Tough Vermont
Darn Tough Vermont is a 30-year old company specializing in fine-gauge knit socks, making them quite comfortable.
The Squiggles Crew Light (left) are a great option as we transition out of summer because they aren't the heavy knit that you'll want in winter. The reinforced heel and toe give strong protection from wear.
The wool/nylon/Spandex blend make them soft and just stretchy enough that they neither fall
down your calf nor are they too tight.
I can hardly believe I'm saying this because I'm not a jogger but… I have started jogging in order to train for my Bhutan trek in October. The Merino Wool 1/4 Sock (right) have been lovely for this purpose. These sporty socks are great looking and provide a nice layer during my little jaunts around the 'hood.
Added bonus? Darn Tough Vermont guarantees that theirs will be the most comfortable socks you've ever worn, or your money back!
Darn Tough socks available on Amazon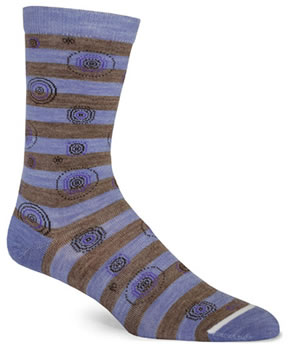 Goodhew
Also new in my sock drawer are Independence Day Socks and Sedonas from Goodhew.
I'm not sure I would have ever guessed that I'd be wearing bamboo on my feet, but the Independence socks are made from 30% bamboo (in addition to Merino Wool, Nylon and Spandex).
Goodhew uses Spandex throughout their socks, preventing them from slipping down your leg (and bunching up in your shoe) like so many socks do.
The top of the socks feature a turn welt, preventing slippage (how frustrating is that!) and the toes and heels are reinforced to prevent wear.
The styles are fun, too, with collections labeled Modern (like the Independence) and Eclectic
(with additional unusual designs).
I'm also wearing the Sedona outdoor socks (yes, for my new running experiment). These lambswool/nylon/alpaca/Spandex blend socks are strong and feel like they will last me a good long time – even if my jogging experiment doesn't turn into a long-term venture.
Goodhew socks are available on Amazon
Long ago I put away the white gym socks. I put away the knee-high black socks when I hung up my 9-5 job. I really get to have a little personality on my feet every day – and I love that. Now when I look down at my feet, I smile. Makes me feel like every day is a great day 🙂
Travel Well!
Beth
Related links:
7 Tips for Trek Training