This year I had the chance to test out a few clothing items from companies that I've long been a fan of (Mountain Khakis and prAna) as well as some shoe and clothing companies that were new to me (SKYPRO and TREW).
Here are some highlights (favorite things, you might say), that you could put on your wish list (or your gift-giving list) this holiday season.
Florence Barnes shoes from SKYPRO
Alert to all you flight attendants out there. And, doctors. And nurses. Really, anyone who might spend long periods of time on their feet. Here are some shoes that are actually comfortable!
SKYPRO shoes come in many different styles (including heels, boots and flats), but given my practical sense, I wanted to test out the Florence Barnes boots as I knew I could not only wear them out to dinner but also (I hoped) wear them to a trade show where I'd have to be walking in them all day.
And I did just that when I attended The Running Event in Austin! I spent two full days in these, walking (not running – HA HA) for miles both to and from my hotel to the convention center and also on the show floor as I walked from meeting to meeting.
They rocked! Not only did they class up my jeans but they kept my feet comfortable. These are definitely keepers 🙂
If you're seriously considering a pair of Florence Barnes, know that they are true to fit and they took no time at all to break in.
*****
TREW Pack Jack

Look no further for a great, lightweight, water-resistant windbreaker that's perfect for travel!
The TREW Pack Jack is a jacket that's easy to carry and travel with as it packs up into its own pocket! AND that pocket then becomes a waist pack you can wear simply as a way to carry the pack OR use it to store items in.
This came along with me on my South America trip and was quite handy in Peru while I was hiking the Inca Trail. The fact that it's water resistant and good as a light windbreaker kept me comfortable on days where the weather was iffy.
*****
Mountain Khakis Peaks Flannel Shirt – I'm often a late adopter when it comes to most things –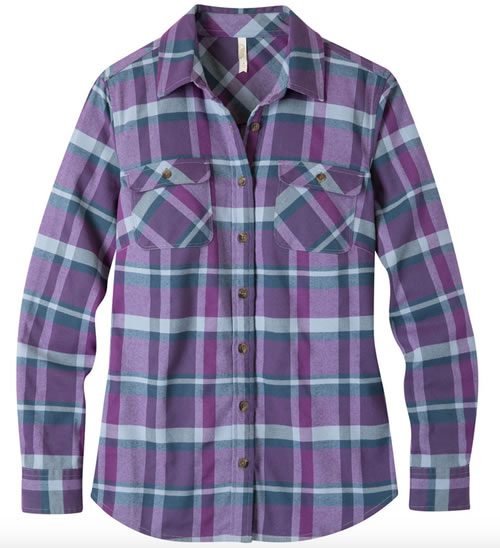 technology, books, music, fashion. That may be why it took me so long to own my first piece of plaid clothing. Well, it could be that this was the first time I found it in purple!
And, uh, I'm kinda hooked.
I don't need to tell you how comfortable flannel is. Everyone (hipster or not) already knows that. But I will tell you a couple of things about the Mountain Khakis Peaks Flannel Shirt that I happen to love:
Purple!
The fit. Thank you, MK! What a great fit for women!
Purple!
Seriously though. There are lots of options when it comes to a flannel top but Mountain Khakis really nailed it with this one. And it is all about the fit. For a top that could easily look more boyish, it's not at all ( because it's a great feminine fit for a style that is often more boyish. As their website says, "Designed by women for women."
*****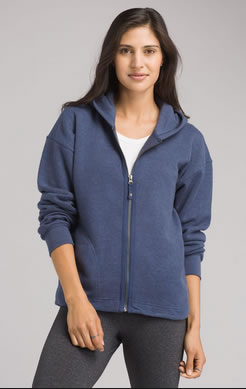 prAna Cozy Up Zip Up Jacket – I've written about this jacket before when I ran a giveway in October, but it deserves another mention here given the weather has really changed (at least here in Seattle – brrrrr).
I find myself gravitating to this hoody often when I'm chilled, whether it's in the house or just running off to the store. At home, it's something I can count on to keep me warm–this and a cup of tea by the fireplace!
Right now, you can get 15% off your order by using this promo code at checkout: PHBW18
What were your favorite clothing items from 2018?
Be Bold,
Beth