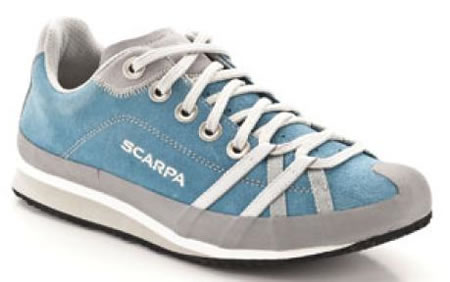 Unless it's my imagination, it seems like a lot of outdoor shoe companies (those specializing in hiking boots, trail, and climbing shoes, etc.) are crossing over into the lifestyle market.
I am not complaining. Because what's coming out are shoes like the Scarpa Caipirinhas.
These cross-over shoes can be worn hiking (they've got a nice grip sole and a toe cap) but have a distinctly European look. With Scarpa located in Northern Italy, it makes sense that they've developed a totally cute street shoe. But for me, having such a stylish shoe that means I'm more inclined to wear them in the city than on the trail because, frankly, they're so pretty I don't want to scuff them up in the woods.
I've got relatively large feet (size 8+) for my size (5′ 2″) but this style looks short so I'm not self-conscious about looking like I have clown feet.
The shoe itself is quite light, with a suede upper (light) and a microporous midsole (lighter). They've also got a Vibram sole, so you know it's not only high quality but doesn't add much weight to them. All this adds up to a shoe that, while bulkier than a sandal or the Merrell Barefoot Run Pace Glove, is still easy to travel with.
The Caipirinhas have a removable insert so if you need to add your own orthotics, these will work well.
At this time, only available in Dusty Blue (but they're beautiful, eh?).
Note that these are sold in European sizes. I'm generally a 39 and I'd say these are just a tad, JUST a tad, large. Like I might be able to go with a 38 1/2. But the 39's ARE fine.
Available on Amazon for about $100.
Travel Well,
Beth
Related links:
Vasque Rift Shoes
ECCO Sculptured GTX Ankle Boot