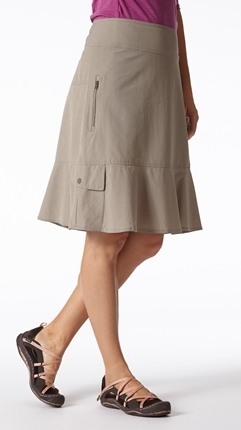 Congratulations to Kirsten L. from Ventura, CA, a new subscriber to the Wanderlust and Lipstick Newsletter, for winning this month's prize!
Check out our contest for May here.
*****
I've never quite been a big fan of skirts. But I think my mind has just been changed by the Royal Robbins Embossed Discovery Skirt.
The main reason for my newfound crush is simple. The fit. It's rare, no it's been never, for me to find a skirt that fits me well in the waist and then hangs in just the right manner (not too tight, not too billowy) and at just the right length (not too short, not too long) that I'm comfortable in it. Yay for Royal Robbins.
But with the Embossed Discovery Skirt, it's not just about the fit. This skirt has some features that are good for travel.
On the right side, it's got both a mesh-lined zippered pocket and a lower hanging pocket that snaps shut. The zippered pocket is large enough for a passport or cellphone although I don't know if that's where I'd place either. More likely I'd keep some small amount of cash in there. On the left side, there's another pocket that snaps shut. Again, good for some lightweight items such as a bus or train ticket or even a small notebook.
The embossing throughout the skirt is subtle but still quite feminine as you can see from the photo below.
The material has a bit of Spandex in it so there's also a nice stretch to the skirt, making it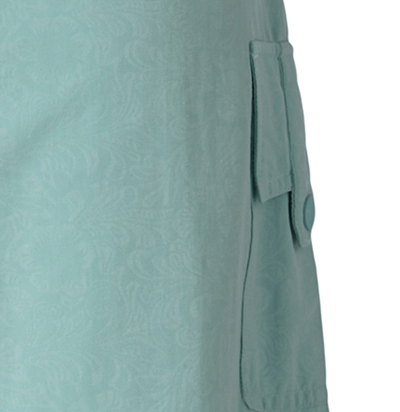 easier to get in and out of a plane seat.
A few other deets:
The material is UPF 50+
The skirt zps in the back
The Embossed Discovery Skirt comes in three colors – Light Taupe (pictured at top), Light Aqua (at right) and Obsidian.
About Royal Robbins
Royal Robbins produces practical outdoor travel clothing that utilizes performance fabrics, making their clothes not only comfortable but excellent for packing and for adventure activities.
Wanna win your own Embossed Discovery Skirt?
During the month of April, you can enter to win your very own Embossed Discovery Skirt from Royal Robbins. One winner will be chosen on May 1, 2015.
You have THREE CHANCES TO WIN!
1) Sign up for the Wanderlust and Lipstick newsletter. This goes out just once a month and your information is never shared.
2) Sign up for the RSS email feed (see the "subscribe me" box in the upper right) to receive an email each time I post to this blog (usually no more than 3x per week).
3) NEW for 2015! If you're already a newsletter and RSS email feed subscriber, leave a comment below and let me know where you would wear your Embossed Discovery Skirt from Royal Robbins. I'll then include you in the random drawing.
If you're new to the site or this blog, do all three and you'll have three chances to win!
Oh, and get some good karma by forwarding this to friends whom you think might like to enter to win an Embossed Discovery Skirt from Royal Robbins.
Value: $65
The Deets
This contest closes at 11:59 pm PST on April 30, 2015 and the lucky winner will be chosen on May 1, 2015. Royal Robbins will ship to the U.S. only for this contest (sorry!).
The winner will have three days to respond before another winner is chosen.
Be Bold,
Beth
Want to stay up-to-date on all things Wanderlust? Follow me on Facebook, Twitter or RSS/email.
Disclosure: Royal Robbins provided this skirt to me for review. Regardless, everything I have said in the post reflects my honest opinions.