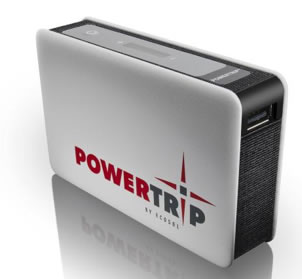 Ever find yourself at the airport (or on a flight, bus, or train) and discover that your cell phone is nearly out of juice? And there's no power plug in sight? Yeah, me too.
The PowerTrip from Powerstick solves that problem. This little device, a bit smaller than your iPhone (but twice as thick), stores up power so that you can charge your electronics via a USB connection. 
There are three ways to fully charge the PowerTrip: via a wall socket for a full charge; through a USB port for a supplemental charge; and through the solar panel for those times you've got no other power source (or you just think that solar's cool).
Once it's completely charged, it's got enough juice to power up your smart phone three times or your iPad once.
When you purchase it on the Powerstick site, you have the option to add on storage to the device ($10 for 4GB, $20 for 8GB, and $40 for 16GB). This is helpful if you need a backup drive. Just drop your photos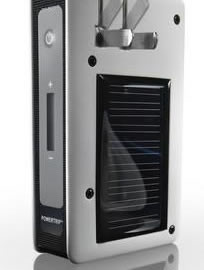 or docs onto the device via your computer for retrieval later.
You can use your own connector but the device comes with three small (meaning they have short cords) adaptors, each with a different sized connector (mini, micro, and Apple).
I've been using this to power up my iPhone with nothing more than solar power juicing up the PowerTrip – leaving the device and my phone on the window sill of my office. Though it appears the best way to fully charge the device is through a wall outlet, the solar panel's done a great job on our sunny summer Seattle days.
Note that when your device is fully powered, the PowerTrip detects that and automatically shuts off. At first, I thought there was a problem with the device because it had turned off on its own, but after discussing it with the folks at Powerstrip, I learned this is a power-saving function. Smart.
What I Love
Having a power source with a solar option for those times I'm on the road without access to power plugs (I'm thinking the Sepik River in Papua New Guinea and on treks in Bhutan).
I could see using this at the beach (bring on the solar power!) and on camping trips.
Not So Much
This will, I'm sure, come in time, but I'd love for this device to be about a quarter of the size it currently is. I can absolutely see the need for this during my travels (see, What I Love above), but my electronics definitely weigh more and are starting to take up more room than my clothes these days.
Available on the Powerstick site for $99.
Travel Well,
Beth