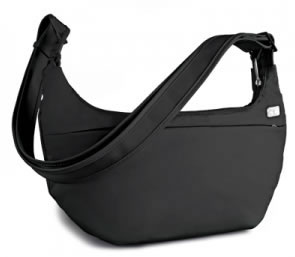 I've gotten way more use out of my PacSafe Slingsafe 250 than I imagined I would. Initially I thought because of its anti-theft properties (slashproof handle and locks on the handle), I would only use it for traveling to more iffy destinations (big cities, around large markets, etc.). But it's so, well, normal looking (it just looks like a purse), I find myself using it as an every day bag.
OK – so what makes it unique?
As with other PacSafe bags, the handle is slashproof – carry it across your body and a thief will have no luck snatching it from you because they won't be able to slit the handle and run.
The handle also fits into a turn and lock hook. This allows you to take off the strap but only after you've turned a little lock to allow the strap to release. More protection.
The lower front, side and bottom panels have ExoMesh slashguard in them, in this case preventing a thief from slitting open the bag and stealing the contents.
And for those concerned, the interior pocket is RFID protected.
I've carried this bag with me to Berlin and Kauai and in both instances was able to pack a lot of items into the main compartment including my Lumix camera, a telephoto lens, notebook, small Canon camera, and, sometimes, a small bottle of water.
And I can slip my passport into one of the interior pockets and my business cards and iPhone into another one.
What I Love
The fact that it looks like a purse and not like something that someone wouldn't want to steal anyway 🙂
The exterior is water repellent
The interior is printed, making it easy to find things (it's not just a black material) but doesn't show any dirt (like, um, melted chocolate)
The shoulder strap easily adjusts so I can choose to wear it over one shoulder or as a cross-body bag
I actually wouldn't change one thing on this bag.
Comes in five colors including Black, Cypress, Skyblue, Berry, and Flamingo Orange. 
Available on Amazon for under $70.
Travel Well,
Beth
Related links:
Sherpani Prima LE bag
Ethnotek Wayu Daybag