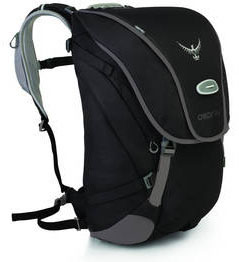 The more room you have, the more you pack, right?
That was what I found when I took the Osprey Metron 35 to Zambia with me.
This commuter backpack is, indeed, rather large. And as such, I managed to fill it so full that it was almost as heavy as my Briggs & Riley carry-on bag. (I exaggerate. But because many of my electronics were in here, it was on the heavy side.)
The Osprey Metron 35 is a commuter backpack. Meant for the biking crowd, this comes with an integrated rain cover, a retractable key clip, lots of easy to get-to pockets and 2 helmet attachments. All good for the biker who wants to access things quickly and who may need that rain cover if, let's say, you live in Seattle.
But I found that this can be a good travel bag, too.
The Metron 35 has plenty of space for everything you'd need in-flight (flying to Zambia takes a a long time, remember). I was easily able to carry my MacBook Pro, Bose headphones, Lumix Camera (with 2 lenses) and Kindle. That's in addition to my usual items – toiletries, snacks and a journal.
I love all the pockets, both inside and out. And as long as I can remember where I put everything, I'm OK.
This features a flip-top lid, something that bikers will appreciate as it prevents water and dirt from seeping into the main compartment. But it is just a tad cumbersome to get into and out of frequently. When I'm not sleeping on a flight, I'm generally fidgety and constantly in and out of my bag. Still – I can't complain because this wasn't necessarily meant for the fidgety traveler.
The Metron also comes in a 25 liter version. I have a friend with this smaller pack and it, too, is good, but missing a couple of the outer pockets that are on the 35.
For a weekend getaway, I could pack enough clothes in the 35 but couldn't do it with the 25. So, yeah, I appreciate this bigger bag (but it may not be for every traveler).
Comes in Earth (brown) and Black. Available on Amazon for under $140.
Travel Well,
Beth
Related links:
Mountainsmith Swift FX Camera Bag
Lipault Wheeled Carry-on Duffel Bag